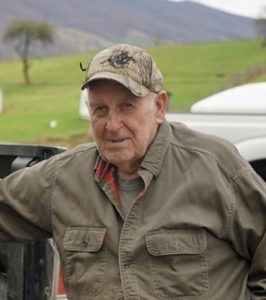 George "Goog" Junior Colaw, 92, of Blue Grass, Virginia, passed away June 8, 2022, in the Blue Grass home in which he was born.
Born April 11, 1930, he was a son of the late George Edward and Virgie Belle (Swecker) Colaw.
Mr. Colaw spent his youth working on the family farm and his free time hunting. He was particularly passionate about hunting foxes, but he was also an avid deer and turkey hunter.
A veteran of the U.S. Navy, he served in Korea from October 1950 to August 1954.
As an adult, he was the Highland County Special Game Warden and Animal Warden for more than 30 years. He was a proud member of the Blue Grass Ruritans and the VFW, as well as the Highland Mixed Bowling League. He posed for many pictures as part of the League Champion bowling team. Additionally, he was often found at his daughter's store, Blue Grass Mercantile, where he would happily argue politics, reminisce with old friends, or tell anyone who would listen how proud he was of his grandsons, James and Lane.
While Mr. Colaw was known for being extremely stubborn and strong-willed, the love he had for his family and his farm ran deep. He spent his entire life trying to better the lives of those he would leave behind, and he will be sorely missed by both his immediate family, and the entire community.
On July 4, 1956, he married Anna Louise Rexrode in Moyers and the couple continued to run the family farm on Hardscrabble Road while raising their children, Greg and Martha. His wife preceded him in death.
Surviving are a daughter, Martha Colaw of Blue Grass, Virginia; a son, Greg Colaw of Blue Grass, Virginia; a brother, John David Colaw, and wife, Crissy of Big Valley, Virginia; a sister, Dorothy "Dot" Shepherd of Staunton, Virginia, and formerly of Monterey, Virginia; grandsons, James Curtis Hancock and wife, Marissa of Monterey, Virginia, and George "Lane" Hancock of Mount Sidney, Virginia; John and Billy Jones, who he considered grandchildren; and numerous nieces and nephews.
He was also preceded in death by brothers, Cyrus, Paul and Wayne Colaw; and sisters, Rebecca Hull, Mary Ruddick and Virginia Curry.
A graveside funeral was held Sunday in Blue Grass Cemetery with Rev. Andre Crummett officiating.
Active pallbearers were James and Lane Hancock, Jody Colaw, Pat Hull, Jim, Jackie and Joe Will and Jake Colaw.
Memorial contributions may be made to Highland County Volunteer Rescue Squad, PO Box 268, Monterey, VA 24465.
Condolences and memories may be shared with the family at www.obaughfuneralhome.com.