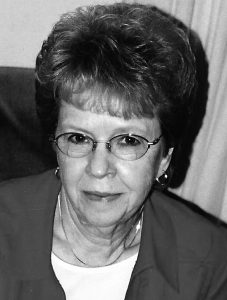 Delores Jean Landes, 83, of Franklin passed away Oct. 26, 2023, at the Pendleton Manor in Franklin.
She was born on Oct. 27, 1939, in Franklin, the daughter of the late William Isaac and Gladys Laura (Huffman) Hedrick.
Mrs. Landes was a 1957 graduate of Franklin High School and a member of the Friends Run Church of the Brethren. She was a former member of the Franklin Volunteer Fire Department Ladies Auxiliary. 
She had worked as a teacher's aide for the Pendleton County Board of Education for 39 years (1972-2011). She had a kind heart and a love for children and her career as an aide allowed her to develop everlasting relationships with students. She made an impact on many children's lives and past students would reward her with hugs.
She was a resident at Pendleton Manor for the last six months, where her caregivers were many of her former students. She loved spending time with her family and friends.
She was married to Dale Landes, the father of her children, who preceded her in death in 2017.
Her companion of more than 40 years, Gene "Crafty" Eye, also preceded her in death on March 13, 2016. 
She leaves behind to cherish her memory two daughters, Mary Ellen Wimer (Tom) of Sugar Grove and Vickie Bennett (Jimmie) of Riverton; four grandchildren, Thomas and Phillip (Sara) Wimer, Isaac Bennett (Kaylee) and Allison Fawley (Jacob); six great-grandchildren, Forest, Henry, Cora, and Genevieve Wimer and Reece and Zellie Bennett; a sister, Ada Belle Huffman of Franklin; an aunt, Alice Johnson of Franklin; and numerous nieces and nephews.
She was also preceded in death by a daughter, Sheila Jean Landes; and a sister, Catherine Mae Bowers.
Funeral services were held Sunday in the chapel of the Basagic Funeral Home in Franklin. Interment was in Cedar Hill Cemetery in Franklin.
Memorials may be made to the Friends Run Church of the Brethren or Pendleton Manor.
Memories and words of comfort may be left at www.basagic.com or on Facebook at Basagic Funeral Home.