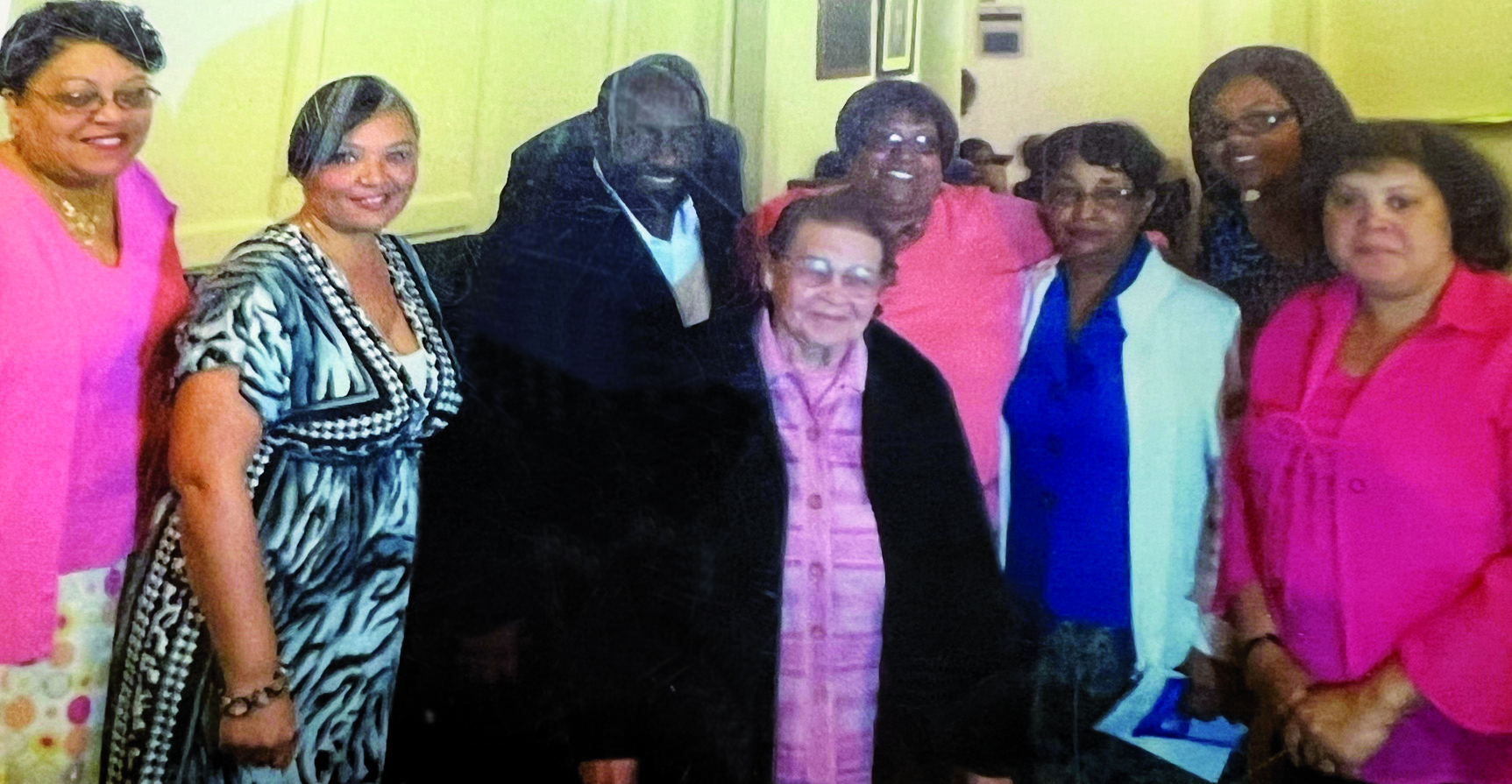 By Stephen Smoot
It all started in 1969, according to one of the founders of the Moatstown Choir, Gail Wright-Wilson.
"My grandmother Cleriece Moats got six of us together. Three of us were Ward Moats' kids. He was the pastor back then," she remembered, adding that, "We just sang out of the book on Sundays and that was it."
Back in the 1960s, Sundays at church was just as mandatory, perhaps more so, than going to school during the week. The Biblical day of rest meant attending services in the morning, coming in one's "Sunday best," hearing the sermons, praising God in prayer and song, then spending afternoons catching up with family.
In those days, as Thelma Moats remembered in a 2005 recording the church congregation had "quite a few people."
As Anita Moats told the Charleston Gazette in 2005, "Sunday was the big day, who now lives in After church, you went to somebody's house, and you ate all day long … There was softball games and horseshoes and reminiscing, cooking and eating … a lot of eating."
The center of religious and community life was the elegant Moatstown Chapel, which still serves its local congregation. Thelma Moats described a self-sufficient community where craftsmen "made baskets and chairs and cedar buckets." Well before state and local tourism officials took up the idea, Moatstown residents made their own maple syrup as well. 
She added that "the original building is still there. We built on." 
Music and performing before a crowd came naturally for children who grew up on the church stage. "For Easter," Thelma Moats described, "they would have a program, and of course there would be singing and kids reciting poems. There'd be people clapping and praising their kids." Most programs took place "weather permitting," except for Christmas. "Christmas programs were always done," she said. 
Lawrence Moats, who led music in his Cleveland, Ohio, church, "came down to help my grandma start a little choir." With sheet music in hand, as William Rexroad wrote, "he got all the girls together and started teaching them different songs, not taking no for an answer if any reluctance was shown."
The choir came together to bring into being the spirit of the 100th Psalm, to "serve the Lord with gladness, come before His presence with singing." In doing so they joined, then made their own substantial contributions to, a powerful tradition of singing and instrumentation that has strongly shaped both Southern and Appalachian culture.
"My Mom pushed us a lot to sing," Wright-Wilson shared, adding that "if we wanted to play ball instead, she'd get on to us!"
According to Wright-Wilson, original membership was composed of "me, Robin, Carey, Dorothea Moats, Cleriece Presley, and Pat Moats. Originally, according to Rexroad, "the choir sang without accompaniment," but soon included a guitarist and other instruments. Wright-Wilson remembered that Reginald Moats and Ray Lambert joined with their instruments and John Jones played bass. Otis Moats became featured as a lead guitarist. Gene Grandison also played bass with the group. 
Early in West Virginia church music traditions, according to Ivan Tribe, author of Mountaineer Jamboree: Country Music in West Virginia, frowned on using instruments. They called the fiddle a "devil's box," and Tribe said, "The back-up instrument, the banjo, fared little better." By the mid 20th century however, those old ideas had faded and the Moatstown Choir's combination of both singing and instrumental excellence would help to spread their reputation as performers throughout the region.
At first, according to Wright-Wilson, "We just played churches around here," but they soon grew into a major draw throughout the mid- Atlantic. They started played churches through the South Branch Valley region, traveling to Franklin, Petersburg, and Moorefield.
Choir membership changed often. Family members would join, sing and/or play, and then move on. Only Wright-Wilson and Robin Moats remain from the original group, with Tessie and Brooke Redman, Norma Jean Moats, and Kanika Shipe contributing their talents on their CD "Singing Out the Glory."
Grace Moats, Wright-Wilson's aunt, led the choir organization. "I took all the engagements and she was president," Wright-Wilson said.
Other members through the years included Cora Grandison, Ruth Lynch, Ruby Moats, Denise Scott, Tameka Grandison, Gwen Moats, Noah Moats, Zephan Wright, and Desiree Varner.
Wright-Wilson explained also that Beverly Gardiner "was our spokesman when she was in the choir. Now her daughter Ruth does it." She added that Beverly "was really good."
As their reputation grew, the choir traveled to Virginia, Pennsylvania, Washington, DC, and Maryland. They also made television appearances and remained the most popular music attraction at the Treasure Mountain Festival for decades. 
Wherever the group came together, they'd do what they loved most. Wright-Wilson shared "We had a good time singing. We'd sing in the van on the way" to performances.
They drew from a rich tradition of Christian music to share with their audiences. They recorded "I Saw the Light," a popular Christian tune penned by Hank Williams, as well as "Just a Closer Walk with Thee," covered by Patsy Cline, but with its origins most likely in black gospel music prior to the Civil War. 
They also recorded "Rough Side of the Mountain," written and sung originally by the pastor and performer Reverend Fair Cloth Barnes. Not only did they sing one of Reverend Barnes' songs from his certified gold album, they got to perform with him at James Madison University.
To get to that gig, the choir had to overcome strong obstacles. As Wright-Wilson recalled, "It poured the snow. It was icy and bad. It wasn't fun getting there, but we were so excited to do it."
Compared to the rest of the groups assembled, the Moatstown Choir displays a bit of a contrast. "They didn't sing the old true gospel like we did," she remembered, "they sang contemporary music."
But gospel music crowds always appreciate authentic old time music and this occasion was no different. "When we sang, we had the whole place up on their feet," Wright-Wilson remembered proudly. Then, Reverend Barnes himself took the stage to talk about their performance.
Afterwards "people were crying and hugging us and saying this was why they came."
Jennifer Taylor-Ide, who has worked with many musicians and also plays music herself, noted that "they could sing from their hearts and have a rockin' good time doing it." She added that the Moatstown Choir had a talent for helping those with a more sedate religious background to appreciate the energy and style they brought to their performances.
"They are renowned for having kept their quality high over many years, even as some members age," Taylor-Ide added. 
They also performed alongside the "Queen of Country Music," Kitty Wells. 
Alongside God, however, family remained at the core of the choir. Norma Jean Moats recalled, "I enjoyed going around with all the cousins." Wright-Wilson talked about "the love we all had for each other." Norma Jean Moats added that sometimes they even "cried with each other." 
"It's hard to sing with your kids," Wright-Wilson smiled, remembering a time when her son corrected her after a performance. That always was good-natured, however. "If we didn't remember the words, we stepped up for each other," she added, then said "If we messed up, we laughed about it."
She said "all of us are just family."
As time has passed, however, the trends that have caused a decline in local population have also taken a toll on the choir. Some older members have remained active, but many in the younger generations have moved away to find opportunities and establish their lives. 
Paul Clayton, president of the Pendleton County Historical Society, noted that "Their music was very much appreciated and looked forward to by the majority of the county. I hate to think of having that talent not doing programs anymore." He added that they also served as excellent "goodwill ambassadors" for the region. 
The choir has paused their performances. "We still want to sing," Wright-Wilson said. "We don't want to give it up." The desire to keep performing remains strong and they would bring their act back if they could restore a full instrumental accompaniment to their voices.
Wright-Wilson urged bass players "come and find us!"