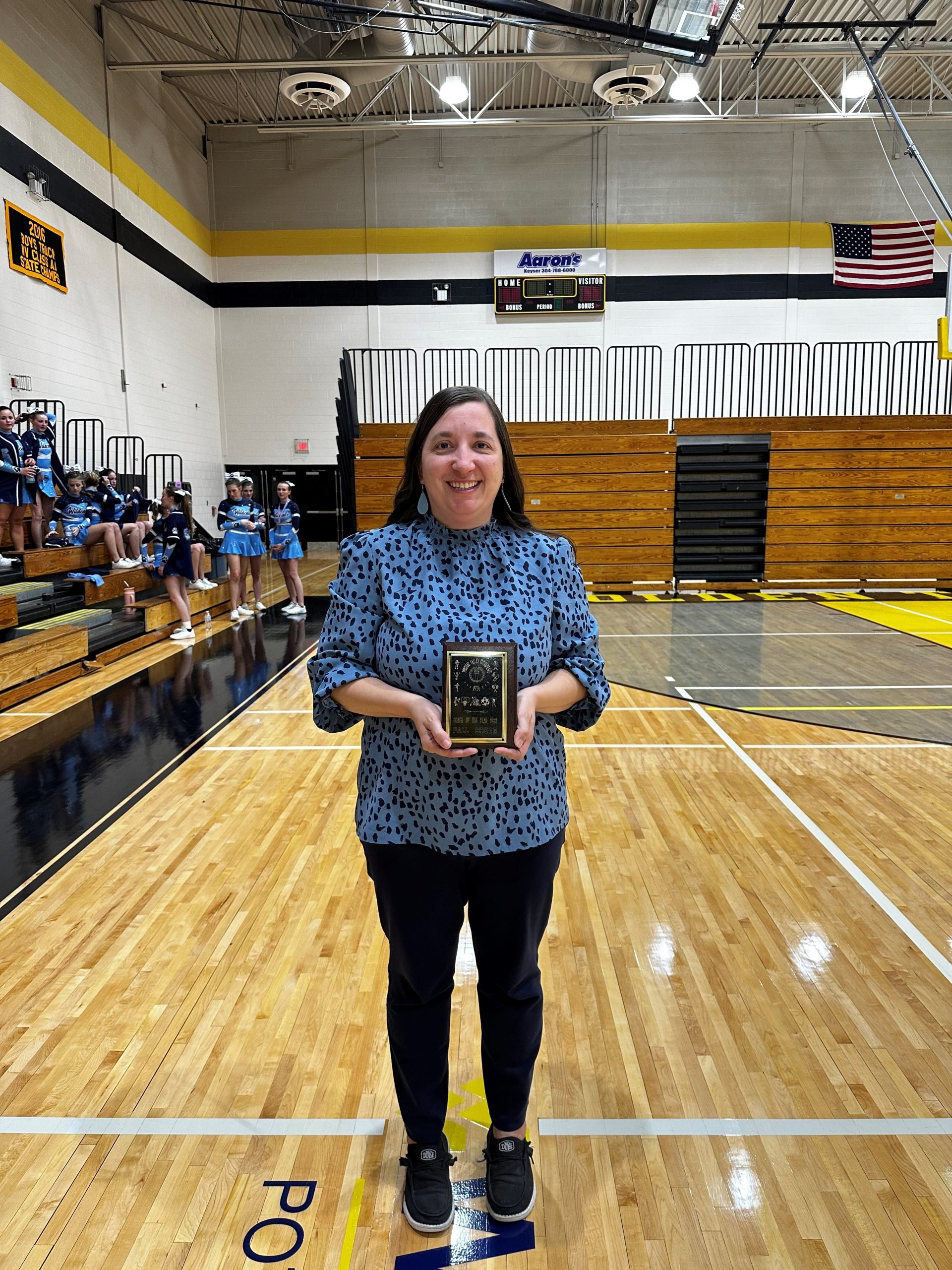 By Stephen Smoot
Rebecca Miller, head coach of cheerleading for Pendleton County Middle/High School, has brought passion, pride, and mentorship to the sport of cheerleading since the fifth grade. 
"I've loved the sport, always, my entire life," Miller said.
Last month, her fellow coaches in the Potomac Valley Conference rewarded her dedication, capability, and work. They voted her the honor of Cheerleading Coach of the Year.
After a full cheer career from fifth grade through graduation, Miller first chose to study to work as an X-ray technician, but could not stay away from coaching. "When I got out," she shared, "I decided that I wanted to give back."
She coached at Pendleton County for two years, then moved to Front Royal, Virginia. In 2017, Miller returned. "I dreamed of getting back home," she shared. Once she returned home, it wasn't to look at X-rays. Miller serves as the secretary at Franklin Elementary School.
When she returned, she assumed the head coach position for the middle school squad. They earned the Potomac Valley Conference title in 2021. 
Then the position for the high school cheerleading coach came open last year. Since then, Miller has coached both the middle and the high school. "I was blessed to take our team to states for two years," she said, adding that she wished to "pass that pride on to the girls."
One of the parts that makes the honor so sweet comes from the fact that her peers voted for her. "I have a good relationship with all of those ladies," Miller shared, but "it was definitely a surprise to get it." Additionally, she stated that winning the honor shows what one can do with hard work, saying "it shows that I like to give 100 percent in everything I do and it encourages the girls to do the same."
No coach wins personal honors without having a great team. The Wildcat cheer squad earned their way to compete at regionals at Lincoln High School in Shinnston, Harrison County. They also appeared this fall at football games to encourage the players to give their all.
Last week, they flawlessly executed a brand new routine to welcome Penny, the school service dog, in front of a state cabinet secretary.
Miller explained, "I have a lot of girls who want to cheer in college," and that the work they do together can put them in a good position to do it. 
That work includes both physical and mental discipline. She explained that "the girls come in every day and give 110 percent day in and day out," then added that "they can have a bad day at school, but they leave it at the door. They push through injuries. They push through personal issues," to bring their best performance to practice and the public eye every time. 
"It just makes you proud to be their coach," she shared.
Miller also praised her squad's parents, saying "I have got a great group of parents. The parents congratulated me as much as the kids did.
But she takes the most pride in representing her alma mater saying "it's very special to me to coach where I cheered." Miller praised those who taught her as well, adding that "I've been coached by some pretty great coaches in the past."