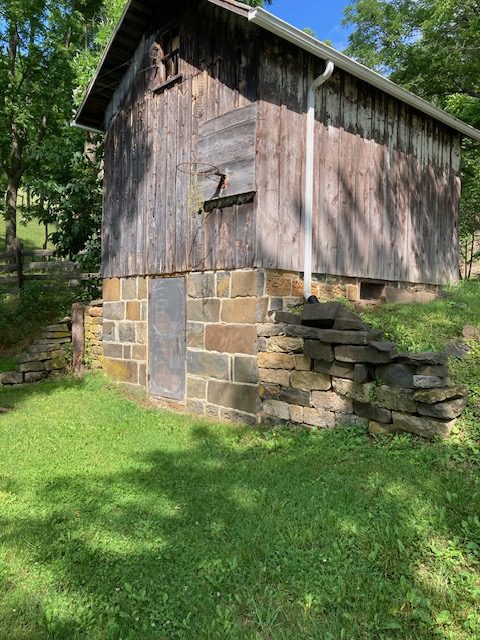 Sugar Grove
By Paula Mitchell
One of the beautiful things about the Appalachian Mountains is the abundance of food and fresh water available in some areas. However, until one knows the lay of the land, basic survival can be a challenge, especially food preservation. Electricity and appliances make a person's life easy, but hill folk had limited power. An ice box was a luxury most couldn't afford. The ancestors learned to work within the sustainability of the mountain, and some folks still do.  In those days without supermarkets and fresh vegetables not available, a root cellar, a cool place to "put up" food for the winter, was a necessity.
 Cellars stayed cool without a freezing temperature. Root cellars were common on most properties. The canning jars were sometimes also stored on shelves with the vegetables.
The cellar had shelves, a few inches out from and lining the walls. Beneath the shelves were bins that held the heavier vegetables and fruit, such as potatoes and apples. There were large wooden barrels and bushel baskets on one side as well, and they held seed potatoes and other things that were saved for the next gardening season. 
The root cellar kept apples, carrots, turnips, onions, brussels sprouts, white potatoes, pumpkins with stems, rutabagas, turnips, squash, and possibly late planted tomatoes for a short time. All sustained a family through those cold winter months. Salt pork and smoked meats were also kept in the root cellar if they did not have a smokehouse, complete with its attending spider. 
How was food preserved? Dried, canned, smoked, salt cured, and stored was the version from the harvest and the hunt.  Jams and jellies were one way to preserve fruits and berries, and could be used in a variety of ways. Jelly on bread was a real treat during the Great Depression, as food was scarce.
Hunting provided meat, as beef was a delicacy many in the Appalachians couldn't afford. Some folks had chickens, milk cows, or goats, which were only eaten when they quit producing, or if the family was starving. The mountain provided meat in the form of wild hog, turkey, rabbit, possum, squirrel, groundhog, raccoon, fish, or venison, if a person got lucky. For immediate use, meat was either tossed in a hearty stew, roasted, pit fired, or ground for sausages.
Options for preserving meats were limited. Many hillbillies would smoke meats in the smokehouse. It took months to dry out, but the flavor was exquisite. Different wood was used for flavor. Hickory and oak were among the most common. Any molding would be cut off.
Salt packing was another popular means of preserving meat. The secret was to make sure the entire portion was covered in salt. Salt packing dried after several months. Salt packing extended the life of the meat.
Cellars and smoke houses are still around in this section of the world. 
Life's little instructions to point the way to happiness include the following:
Learn to make great chili.

Learn to play a musical instrument.

Have a hobby.

Buy great books even if one doesn't read them.

Never mention being on a diet.
Showers of rain are being enjoyed by all.  
The Buck or Thunder Moon is shining now.  It is the July moon.  
Dog Days enters the July scenery. The old adage states that if they come in dry, they will go out wet, and vice versa.  Sad to say that the humidity has finally entered the stage.  
Reid Homan's field is covered with the blue thistle.  It has covered the entire field this year.
This week's quotes are as follows:
"Wherever life takes us, there are always moments of wonder." — Jimmy Carter
"Half the world is composed of people who have something to say and can't and the other half who have nothing to say and keep on saying it." — Robert Frost
"To plant a garden is to believe in tomorrow." —  Audrey Hepburn
"Whether you think you can, or you think you can't – you're right." — Henry Ford
"Knowing what's right doesn't mean much unless you do what's right." —  Teddy Roosevelt
Sitting on the front porch is where one can hear the "Talk of the Grove."
Wesley and Ben Puffenbarger visited with Jeff, Tyler, Rick and Blake Moats while they were camping this past week
Wesley, Becky, Ben, Emma and Nathan Puffenbarger are vacationing at Chincoteague Island in Virginia.
Bob and Marti Fisher of Romney and Benny and Linda Custer of Verona, Virginia, were Friday visitors in the home of Willard and Judy Rader. They all enjoyed going to Gateway for a delicious dinner. On Sunday, Michael Simmons of Charleston, South Carolina, visited with Willard and Judy.
Wedding anniversary congratulations to Christene and Ronnie Bowers for their 52nd, as well as Paula and Wayne Price for their 45th.
Jesse Losh has been getting tomatoes from his garden. Brenda Fisher ate her first one Sunday.
Visitors of Rosalee Grogg were Madison Grogg, Asher Mauzy, Steven Grogg, Marleta and Junior Wimer, Terri Grogg and Claude Castleberry.  Rosalee notes that Asher has her birthday on the third, as well as Dora Grogg on the 13th.
The Canadian smoke has been reaching as far down as the South Fork and other areas in the county.  The recent showers brought on a front which shifted the smoke away from the area, and hopefully it doesn't return.
Good to hear that Davey Simmons has returned home following a hospital stay.
Clickety-clacks for the chin waggers are as follows:
In ancient China, crickets were believed to bring good luck to the owners.

Native brook trout move upstream to spawn.

The nation's oldest cattle ranch was started in 1747 in Montauk. New York.

Lifeguard Ronald Reagan saved dozens of people from drowning.

Mark Twain had no formal education beyond primary school.
Concerns for this week are many. They are as follows: Charles Anderson, Roger and Joan Ashley, Mercedes Aumann, Vernon "Fuzzy" Baldwin,  Lynn Beatty, Marie Cole, Jed Conrad, Jeff Craig, Jeff Evick,  the Jack Eye family, Mary Eye, Donna Fleisher, Lola Graham, Jordan Greathouse, Marvin Hartman, Steve and Armanda Heavner, Grace Hedrick, the Gary Hills family, Jackie Hills, Virgil Homan, Jr., Myrtle Hoover, Debbie Horst,  Mike Jamison, Alice Johnson, the Tom Johnson family,  Richard Judy,  Danny Kimble, Dennis Kincaid, Kim Kline, Melissa Lambert, Robert Lambert, Rex Landis, Angela Lung, Linda Malcolm, Betty Mallow, Roger and Skip Mallow, the Nick Mason family, Neil McLaughlin, Melvin Moats, Aaron Nelson, Ruth Nelson, Don Nilsen, Cheryl Paine, Barbara Parker, Sutton Parrack, Shirley Pratt, Alda Propst, Kathy Propst, Linda Propst,  Harley Propst, Jason Rexrode, Jimmy Rexrode, Pam Rexrode, Donna Ruddle, John Ruddle, Annie Simmons,  Barry and Phyllis Simmons, Davey Simmons, Erin Simmons, Robbie Sites, the Ona Smith family, Rosa Tichenor, Sandra Vandevander, Amy Vaus, Judy Williams and Margaret Wimer.