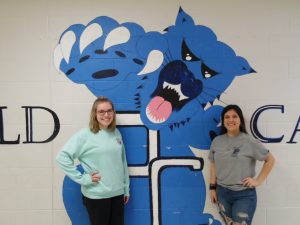 Kiersten Ceely and Kourtney Hedrick have been named outstanding students of the month for April at Pendleton County High School.
A senior, Ceely is the Academic Student of the Month. She is a member of National Honor Society and was a finalist in the West Virginia Council of Teachers of Mathematics state poster contest. She is a member of Faith Lutheran Church and works at Subway in Franklin. She plans to attend Blue Ridge Community College and then finish her education at James Madison University, majoring in elementary education. She is the daughter of Richard and Crystal Ceely of Franklin.
Hedrick, a senior, is the James Huffman Responsible Student of the Month. The daughter of Robert and Ashley Hedrick of Riverton, she enjoys fishing, hunting, four-wheeler riding and art. She has been awarded the Higher Education Grant and the Pell Grant. She plans to utilize them at Potomac State College, where she will pursue an associate's degree in business administration.