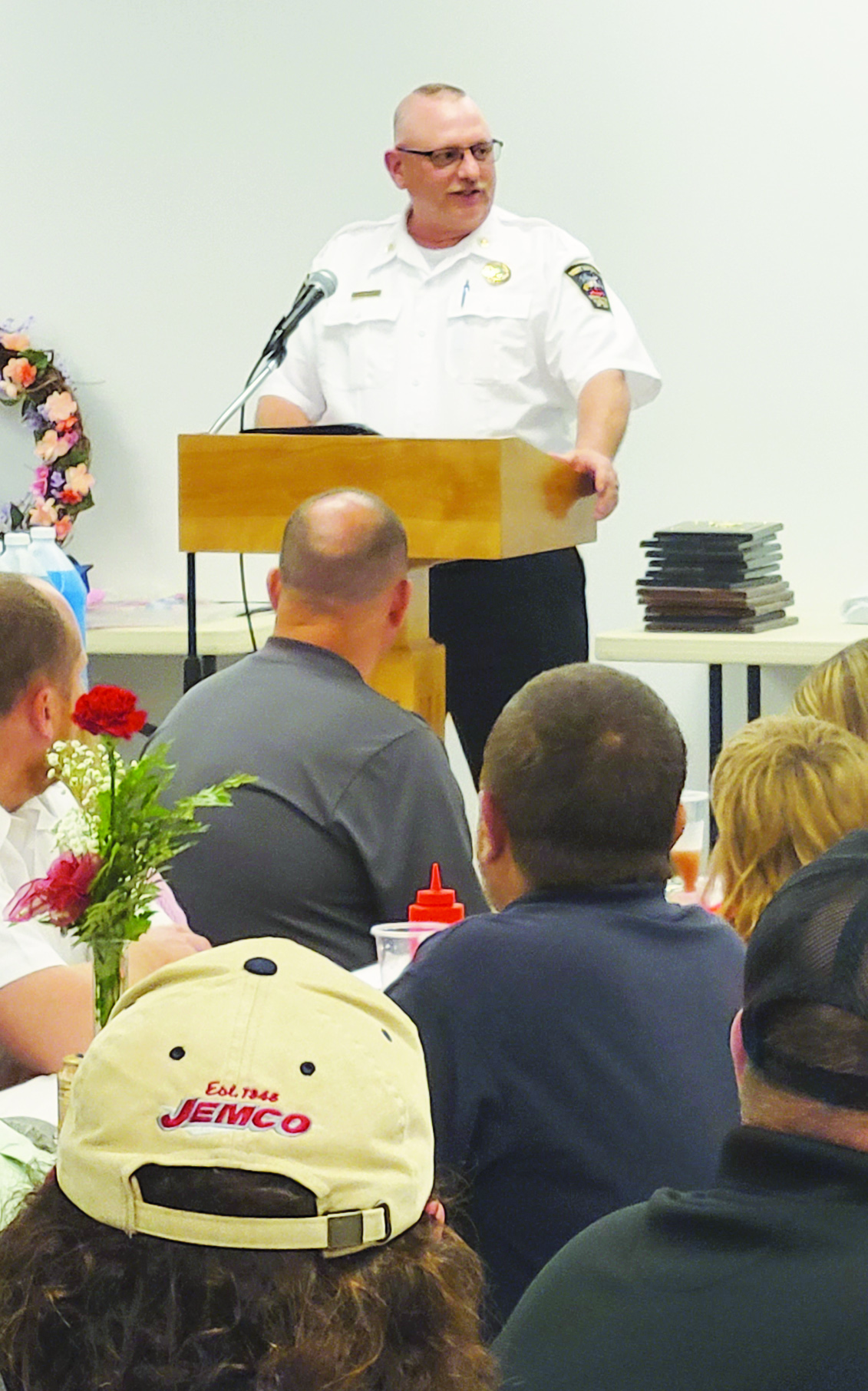 By Stephen Smoot
"When I am called to duty, God/ Wherever flames may rage/ Give me strength to save some life/ Whatever be its age."
These words form the opening lines of the "Fireman's Prayer" of the South Fork Volunteer Fire Department and Auxiliary.  They reflect the devotion and virtue shown by the men and women who serve, especially those who volunteer, in Pendleton County emergency services.
Mark Stewart, a field deputy with the West Virginia Fire Marshal's office, provided the keynote address. He has given 42 years of service in firefighting and related roles. For the last 12 years, he has worked as an inspector. 
"Being with the inspection division, we do annual inspections of every school, hospital, detention center, nursing home, and any new construction," he said.  Working as an inspector, he added, "it's the most enjoyable 12 years of my life."
"Our group makes it safer for the citizens of West Virginia," Stewart also remarked.
Stewart described new programs that start to provide some recognition for firefighters. The state will award years of service coins starting at five years of service and extending to 25 and 50 years. Also, certificates and other paperwork can now be uploaded to a central online repository.
His most important message lay in advising fire houses how to attract and keep firefighters. Stewart explained, "I think the fire department is the best place to bring up a family. The only thing keeping fire houses alive is families." When the spouses and children of firefighters come to the station, it creates the kind of family atmosphere that people want to be a part of. 
Stewart added that the aging population of state firefighters has already become an issue, but Jeffrey Bowers responded with "we're blessed. We've got a lot of young firefighters coming along here."
Next, State Senator Bill Hamilton and Delegate Bryan Ward responded to an invitation to share a few words. Hamilton related a brief story of experiencing fire danger as a child. He also remarked that serving as chair of the newly combined committee of agriculture and natural resources "puts me between the bear hunters and the farmers."
As Hamilton shared his story, attendees were reminded of the serious reasons behind the celebration that evening. Radios crackled with the sound of a dispatcher requesting units to investigate reports of heavy smoke on Reddish Knob Road. Several uniformed first responders quietly leapt to their feet. In seconds they had geared up, mounted their trucks, and sped off into the fading sunlight.
Ward followed Hamilton, leading his remarks with "there's a lot of heroes in here." He discussed his work in law enforcement in Maryland and Hardy County prior to serving in the State Legislature. Despite being a "gunslinger," and the friendly rivalry between police and fire units, Ward shared, "We are family and I'm tickled pink that you all invited me up."
Doug Mongold, chief of the Moorefield Fire Department, ascended the podium after Ward. He shared information about the State Fireman's Association banquet in August at Canaan Valley. Mongold also discussed a junior fire fighter camp at Jackson's Mill for children ages 14 to 17. "They'll get knowledge and will learn more than the average person," Mongold stated.
Three representatives from the Sugar Grove Veterans of Foreign Wars Post 9666 presented awards of recognition. Robert Davis, an EMT with the Franklin Rescue Squad, received a certificate of commendation. They also gave Mike Alt from Upper Tract Volunteer Fire Department "special recognition and highest praise."
Roy Bowers reflected on operations in 2022, saying "the calls last year were way up." In 2021, the department responded to 85 calls. Last year, that number rose to 100. "That's the most I remember running," Bowers noted.
Nila Bland shared some remarks about the auxiliary's work, leading with "it's good to see everyone tonight."
"You might see our new floor this year," Bland said, adding that "We've been here 20 years and we decided that we need a new floor." Also, Bland stated, "I'd like to thank Donna (Evick) for making our pies and the jellies on the table."
Bland told attendees that the station had responded to 50 calls in only four months with 29 coming in April alone. And concluded with "I hope you enjoyed the evening and hope you come back next year."
Curtis Crigler announced the new slate of officers for 2023, including Nila Bland as administrator, Roy Bowers as chief, Seth Bowers as assistant chief, Nathan Parker as captain and safety officer, and Greg Dyer as lieutenant and safety officer.
Roy Bowers then recognized those in the South Fork VFD who earned special recognition for outstanding service in 2022. These included Jeffrey Bowers for leadership, Bland for most dedicated, South Fork VFD for outstanding service, Cayden Boone for outstanding service as a junior member, Kim Hulmes for outstanding service to the community and William Copley for fireman of the year. Timothy Hook earned the Making a Difference award for response to the most calls (86 out of 100 total), Rick Gillespie for dedication to service for Pendleton County, Robert Grimm for community service to the county, and Grimm, Charles Hoover, and Steven Cook for spending 68 hours a piece protecting lives and property at the Hidden Valley fire. 
The banquet started with a table of hors d'oerves, including a variety of cheeses, fruits, and lunch meats. Catering for the dinner was done by Sweet Treats of Moorefield. The main dinner included smoked brisket, Chesapeake Bay shrimp, pineapple glazed ham, a large variety of desserts, and more. Attendees received small jars of homemade jelly and a bag of healthcare items and other materials.