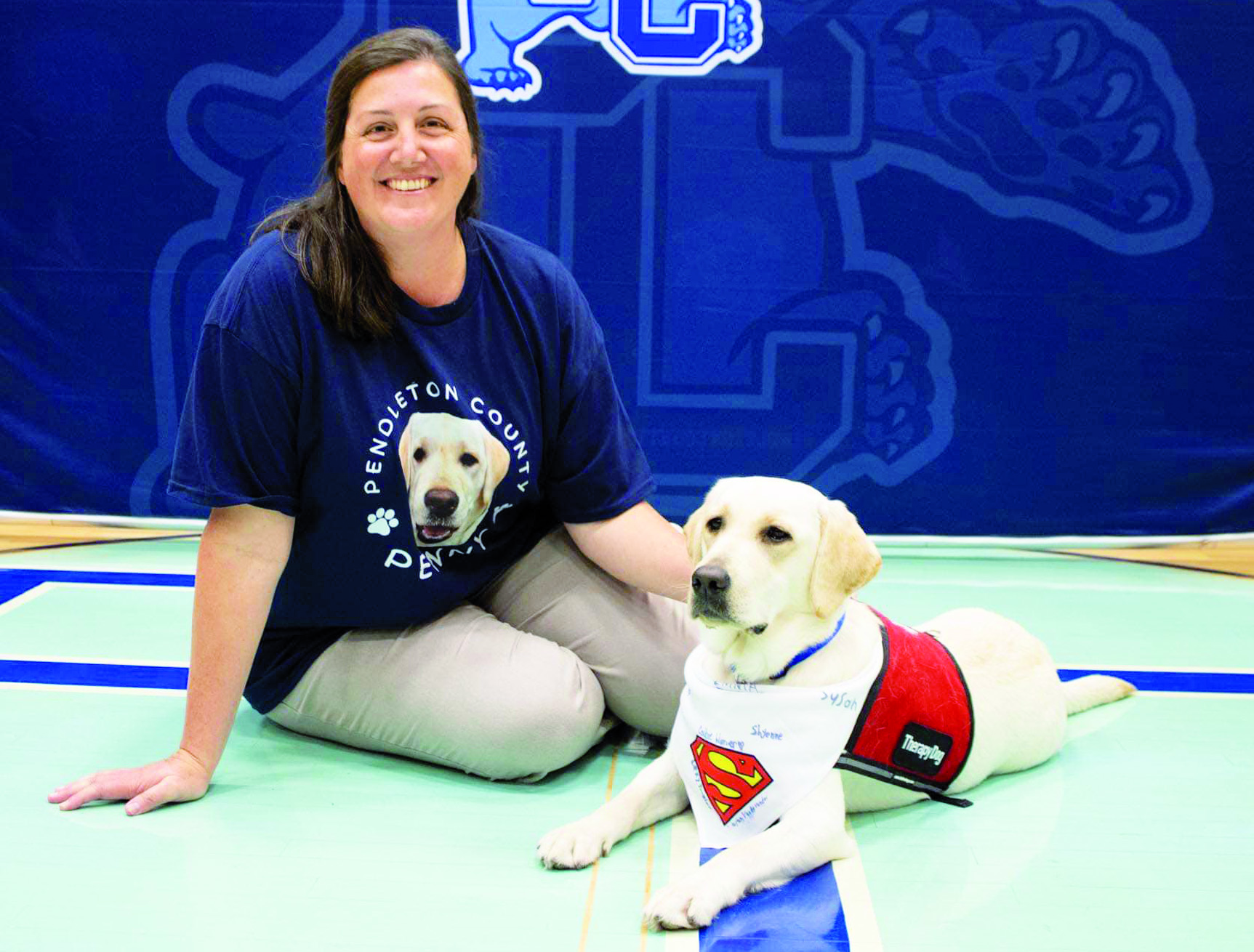 By Stephen Smoot
Pendleton County Middle/High School did all it could to give its new VIP – very important pup – a warm Wildcat welcome. If they had a red carpet, they would have rolled it right out. Dignitaries, staff, faculty, and all the students crowded the home side of the gym. Cheerleaders lined the entrance. 
The therapy puppy named Penny even had her own theme music, the Beatles "Penny Lane," of course.
Timothy Johnson, principal of PCMHS, told the assembled crowd, "I am excited to be here to tell you we're having our first ever 'pup rally' here in Pendleton County."
The lovable little gal bounded into the gym through a door lined with pom pom waving cheerleaders as excited students gave her a raucous hello.
Penny did not just come to live in Franklin for treats and cuddles, though her handler assured everyone those were her favorite things.
The 11-month-old Labrador Retriever, a breed noted for its intelligence and friendliness toward children, comes from the Friends With Paws initiative. Friends With Paws is a collaboration between the Communities In Schools program and the Office of the West Virginia First Lady, Cathy Justice. According to its website, "it is West Virginia's statewide therapy dog program, built around in-depth research and professional training methods."
She is the 16th dog placed in a county school with the goal lying in having at least one in all 55 counties. Johnson said, "They can sense" when a student needs help and added "they're just stress busters."
One role that Penny will play will be to stand by the door as students walk in. As Penny gets to know the students, she can sense when someone feels particularly troubled and let staff know. 
Therapy dogs, such as Penny are "highly trained to work in stressful environments, ignore distractions, manage crowds, and provide therapy to people with diverse backgrounds and circumstances." They "respond to trauma while providing comfort, support, and love" as well as serving as "avid 'listeners,' providing an audience" for children with reading challenges.
First Lady Cathy Justice could not attend the event, but shared in a release "Penny is going to be an amazing addition to Pendleton County Middle/High School. This is a great community here in Franklin and Penny will be ready to greet each student every morning. Penny from Pendleton will be beloved."
Randall Reid-Smith, the cabinet secretary for the West Virginia Department of Arts, Culture, and History, represented the State of West Virginia, said, "You are very fortunate here. You have a county school superintendent who supports all the programs here," then praised the band director.
He then shared "I have a good friend named Zac Smith" and asked the football team to stand up. Reid-Smith then described when Smith took a history bowl team to the state finals. Reid-Smith gave information on a number of possible scholarship opportunities, including those linked to quiz bowl competitions. 
Toward the end of the pup rally, the Penny Club gave their canine colleague a Superman bandanna signed by all the club members. They had a duplicate for Babydog, the pet and mascot of Governor Jim and First Lady Cathy Justice.