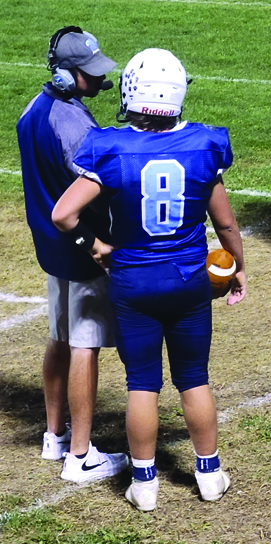 By Stephen Smoot
Coming off a playoff appearance and a 41-6 week one pounding of Sherman, the James Monroe Mavericks (ranked 5th in the West Virginia Metro News Power Rankings) likely did not expect an old-fashioned defensive slugfest. Pendleton County High School gave the visitors four quarters of solid effort before falling 6-0.
Before Pendleton County opened the season, players, coaches, and fans took time to celebrate the life and impact of Coach Andy Eye, who passed away from cancer in February of this year. Football statistician Hunter Turner shared a few words about the legendary coach. 
Eye's "unorthodox . . . tough" coaching style inspired offensive and defensive linemen at Franklin, then Pendleton County High School for a quarter of a century. "Throughout the years" Turner said, "he shared a special bond with his linemen and always made them feel like they were part of a special group."
Even while enduring chemotherapy, Coach Eye stuck close "to the game he loved, attending practices and continuing to support the team." Coach Eye was then remembered by a moment of silence before play commenced.
The Wildcats faced a powerful disadvantage even before the opening kickoff, having sat out week one with an open date while James Monroe and most other West Virginia high school football teams got a game under their belt.
As it turned out, the seasoning of an extra week of play may have served as much of the difference in this game.
The Mavericks relied heavily on standout Cooper Ridgeway, who rushed 180 times for 1,007 yards in 2021, in their opening win. Pendleton County's defense, however, stepped up to prevent big plays from a back oft mentioned among the school's best ever.
Coach Zack Smith stated that although the team has "plenty to work on," that he is "really proud of my defense. They played their butts off. Early on, they were physical at the line of scrimmage."
The game started well for the Wildcats. Pendleton County stopped the opening drive of the Mavericks, snuffing out a fake punt and getting the ball on the James Monroe 41. 
Over and over again, Maverick tests of the middle found nothing but a stone wall. The defensive line gangtackled James Monroe's backs repeatedly. Senior DL Terry Harvey racked up six tackles and eight assists.  Dillon Smith poured in six tackles, three for loss, and three assists from his linebacking position.
James Monroe scored the game's lone touchdown on a 38-yard Layton Dowdy pass to Nick Pitzer with 3:19 left in the first half. This came after an impressive open field tackle by William Owens and a James Monroe illegal shift penalty.
Coach Smith took a gamble to open the second half, calling for a halfback pass from Dillon Smith to Clayton Kisamore on the Wildcats' first play. This put the ball on the James Monroe 27, but a short run, a false start penalty, and an incomplete pass prevented Pendleton County from taking advantage.
Penalties hamstrung the Wildcats offense for much of the night. Throughout the game, the Wildcats struggled to establish momentum on offense. Coach Smith said that "Offensively, I'd like to see us execute a little better and put together 8, 9, 10 plays."
Coach Smith also praised the Mavericks' squad, saying "Give James Monroe credit. They are defensively disciplined and made nice adjustments at halftime."
The Wildcats at times moved the ball well in both halves, but found yards difficult to manufacture inside the Mavericks' 30. Pendleton County's run blocking performed well, with the unit opening holes and preventing many tackles for loss.
Pendleton County continued to fight through the remainder of the game. With about five minutes left, a James Vincell tackle and well-timed sack helped to force a punt that gave the Wildcats the ball inside the 25. A second down completion of eight yards helped to set up a fourth and one at the Wildcat 32, which Vincell converted with a hard fought run to the right. Vincell's swing pass to Dillon Smith helped to advance Pendleton County close to its own 40 with around three minutes to play. The Wildcats' quarterback completed 17 of 32 for 101 yards on the night.
A delay of game penalty, however, sapped drive momentum and the Wildcats would turn the ball over on downs with 2:53 left in the contest. James Monroe's efforts to slam the door on the Wildcats hit powerful resistance from the defense. As they had all night, they fought hardest when backed up in their own territory, denying a second half score and keeping the door open for a win until the very last minute of the game.
Despite the loss, Coach Smith said he was "really pleased" with the team's effort and that they have "a lot of positives to build on."
Saturday, the Wildcats travel to 2-0 Petersburg, ranked #10 in single A by MaxPreps. Last Friday, Buffalo traveled almost four hours from Putnam County to receive a 52-19 trip to the woodshed from the home standing Vikings. The Vikings enjoyed good offensive balance in the game, with 201 yards on the ground and 175 in the air, but allowed 340 yards on defense. Pendleton County's secondary will see a strong test from quarterback William Van Meter who hit wide receiver Ethan Taylor for two long scores.
Due to an ongoing shortage of referees, the game at Petersburg will now start at 6 p.m. on Saturday, instead of Friday as originally scheduled.
Offense Statistics:
Passing: James Vincell 17-32 101 yards 3 INT, Dillon Smith 1-1 36 yards
Rushing: Dillon Smith 4-16, Justus Kuykendall 3-15, William Owens, 2-6, James Vincell, 9- (-8)
Receiving: Clayton Kisamore 3-54, Josiah Kimble 1-40, Dusty Smith 3-14, Dillon Smith 3-12, Connor Armentrout 1-9, William Owens 2-5, Justus Kuykendall 1-3
Defense Statistics
Solo Tackles: Terry Harvey 6, Dillon Smith 6, Dusty Smith 6, Connor Armentrout 4, Clayton Kisamore 2, James Vincell 2, William Owens 2, Bradey Bowers 1, Isaiah Lockard 1, Blake Harris 1, Alexander Reyes 1, Josiah Kimble 1
Assists: Terry Harvey 8, Connor Armentrout 4, William Owens 4, Lukas Redman 3, Blake Harris 2, Justus Kuykendall 2, Ryland Copley 2, Dusty Smith 1, James Vincell 1
Tackles For Loss: Dillon Smith 3, James Vincell 1  
Sacks: Justus Kuykendall 1, Dillon Smith .5, Ryland Copley .5