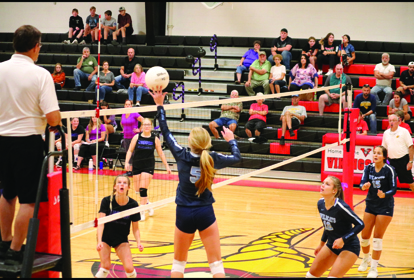 By Stephen Smoot
On an emotional night at the George Halterman Gymnasium dedicated to drug overdose awareness, Pendleton County's determination failed to thwart the Petersburg Vikings, losing three games to one.
Despite the simultaneous WVU-Pitt matchup, a raucous crowd of students greeted the visiting Wildcats as they fought to sink the Vikings.
Petersburg's Makenah Shriver spoke to the crowd prior to the varsity contest about the toll taken on her family and others by deaths due to drug overdose. She described "the devastation and fallout for family." Families of addicts, she quoted, could say "we didn't abuse drugs, but drugs abused us." The Vikings sported black shirts with purple lettering while both sides wore purple ribbons for awareness.
In the first game, Pendleton County took an early 3-1 lead before Petersburg went on an 11-3 run broken up by junior Allie Cooper after a set up by sophomore Elizabeth Alt. Petersburg, however, dominated the rest of the first game, winning it 25-13.
From that point forward, Pendleton County gave Petersburg all it wanted.
In the second game, Petersburg opened with a 5-2 lead. The Wildcats kept clawing back with strong team play. Cooper's powerful serving and Petersburg's miscues tied the game at 7-7 with a subsequent Alt spike putting Pendleton County up by one. Pendleton County kept the game close for a while, but a 7-1 run by Petersburg closed out the second game.
The Wildcats flipped the script in the third game, taking an early 4-1 lead punctuated by strong Pendleton County team play and Petersburg's miscues. Petersburg pushed back, pulling to within a point before junior Gabrielle DePue's set up of senior Arianna Young's successful return helped the Wildcats for a 6-3 run and a 10-6 lead.
Although Petersburg stormed back to tie, Pendleton County kept them on their heels. Sophomore Baylee Beachler took control of the net in the second half of the third game, using her height and athleticism to baffle the Vikings. Her spike leading to a 13-11 lead set the tone for much of the rest of the game. Junior Katelyn Hedrick also spiked on the Vikings to help extend the lead to 18-12. Petersburg tried to make a game of it, sailing back to a 23-23 tie, but a Beachler block of a Petersburg shot at the net helped the Wildcats to claim that contest.
The fourth and final game saw Petersburg come back on the court winded and Pendleton County demonstrating surging confidence. 
The Wildcats drove their way to an early 4-2 lead punctuated by a Hedrick spike off an Alt set and an ace from Beachler. A 7-4 run by Petersburg momentarily put the Vikings back in control before the Wildcats went on a 4-0 run of their own to pull within two, spurred in part by a spike from Young.
Though showing great teamwork in sets, especially from Cooper and Alt, inconsistent serving plagued Pendleton County attempts to establish momentum. Petersburg's own inability to take full advantage, however, allowed the Wildcats' heart and talent to keep them within striking distance of the win. 
Petersburg pulled out to a 15-13 lead, which was the largest margin they would enjoy for the rest of the game. Key serves by sophomore Avery Townsend and strong teamwork helped bring the Wildcats back with a spike by Young helping them to take the lead at 18-17. Alt helped her squad take a 20-17 lead by outdueling a Viking at the net.  After the Vikings closed to 21-20, another Alt spike seemed to keep Petersburg at bay.
Key errors at the end gave the Vikings a brief 23-22 lead broken by a beautiful lofting return by Townsend, but Petersburg closed the final game on a shot hit out of bounds.
On the result, Coach Rod Cooper said, "We played tremendously tonight. We didn't give up. It will take a little while to put the pieces of the puzzle together, but if we do, success will follow."
The result dropped the Wildcats to 3-4, with wins over AA Keyser, Union, and Page County (VA).  
As Cooper explained, Pendleton County has "definitely a stronger schedule than we've had in a while," including AA squads from Bridgeport and Frankfort. He also expects that the solid competition will season his young team more quickly. "Our sophomores have got to become juniors and our juniors quick and our juniors have to become seniors," he added.
Of Young, the lone senior on the squad, Cooper described her as "our hammer, we need her to become that. It's her first year as spiker. If she can put it together, she's a huge part of the puzzle."
The Wildcats were scheduled to host East Hardy Tuesday and will travel to Moorefield today for a 6 p.m. contest.