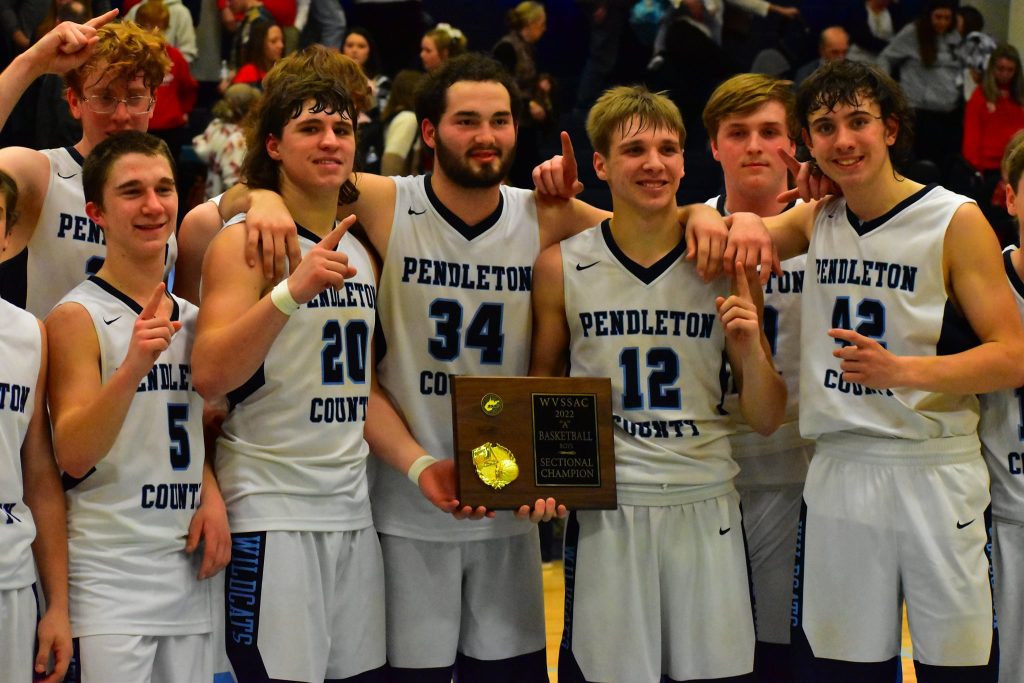 FRANKLIN – The Pendleton County boys basketball team took another step to returning to Charleston by claiming a Class A Region II, Section 2 championship. 
Pendleton knocked off Tygarts Valley, 72-53, on March 4 in Franklin. The victory allowed Pendleton to advance to its fourth straight regional co-championship contest. Pendleton was scheduled to play host to East Hardy on March 9 in Franklin. 
The Wildcats swept the season series with the Cougars. Pendleton posted a 68-51 victory on Jan. 4 in Franklin. The Wildcats knocked off the Cougars, 75-55, on Feb. 3 in Baker.  
"East Hardy gave Tucker a game at Tucker," Pendleton coach Jeremy Bodkin said. "Obviously, they have gotten better and they're doing some things differently. They have a matchup problem with us. We just have to do what we do. We can worry about what they do, but we have to do what Pendleton County does and that is we make people turn the ball over; we hit layups; we hit some shots; we play very good defense; and we when we have to we will run our offense. 
"We have to concentrate on this one to get where we want to be which is the state tournament." 
Clayton Kisamore averaged 23.5 points per game against East Hardy. Tanner Townsend averaged 17 points a game against the Cougars. Jacob Beachler and Cole Day both averaged nine points a contest against East Hardy. 
Dawson Price led the attack for East Hardy against Pendleton, averaging 18 points a game. Noah Lang and J.W. Teets scored 16.5 and 10 points a game, respectively, against the Wildcats.  
Pendleton has posted an 8-1 record at home this season. The team's lone home loss came against Tucker County. 
"That's a big key, playing at home is always fun," Bodkin said. "We have had a really good student section all season." 
Kisamore netted a team-high 17 points for Pendleton in the win against Tygarts Valley. Day added 13 points and Beachler knocked down 11. Braden McClanahan scored 12 points for the Wildcats. Beachler grabbed 16 rebounds in the win to finish with a double-double. Day just missed reaching a double-double, grabbing nine rebounds. 
Kaden Moore had a game-high 20 points for Tygarts Valley in the loss. Garrett Gibson added 14 points for the Bulldogs. 
Pendleton held a 17-14 lead at the end of the first quarter. The Wildcats blitzed the Bulldogs in the second quarter to seize a 40-26 halftime advantage. Pendleton extended its margin to 56-35 heading into the final period. 
"I told them at halftime, I think we were up 14 at half," Bodkin said. "I said let's keep this going, keep doing what we're doing. Act like it's 0-0 and let's go out and play like it and they did." 
Day scored a game-high 20 points to lead Pendleton to a 65-23 victory against Pocahontas County in a Class A Region II, Section 2 semifinal contest on March 1 in Franklin. Day grabbed 10 rebounds to complete his double-double. 
Kisamore added 15 points. Beachler netted 10 points for the Wildcats. McClanahan nearly recorded a double-double with nine points and 10 rebounds. 
Pendleton limited Pocahontas to single-digit scoring in all four quarters. The Warriors scored six points in the first quarter, eight in the second, four in the third and five in the fourth. 
The Wildcats raced out to a 14-6 lead at the conclusion of the first quarter. They extended their advantage to 31-14 at halftime. Pendleton stretched the margin to 43-18 heading into the final period. 
Clayton Kisamore drives to the basket to score two of his team-high 17 points in the win against Tygarts Valley.