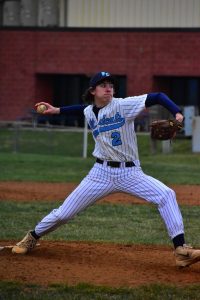 By Shawn Stinson
 FRANKLIN – The Pendleton County baseball team has only been able to hit the diamond twice this season. 
Each time has resulted in easy victories for the Wildcats. 
Pendleton knocked off Pocahontas County in its season opener 16-4 in five innings on March 21 in Franklin. Pendleton was unable to return to the diamond until four days later when it posted a 16-0 victory in five innings against Bath County in Franklin. 
Four pitchers combined on a no-hitter in the game. Clayton Kisamore secured the victory for the Wildcats. Brayden Beachler, Evan Teter and James Vincell also toed the rubber for Pendleton in the win. 
Alden Rexrode went 3 for 3 with four runs batted in to lead the offense for the Wildcats. Beachler recorded three hits in four at-bats with two RBIs. Kisamore was 2 for 2 with a double and two RBIs and Vincell notched a two-run single. 
"It's hard to evaluate because of the level of competition we have played," Pendleton coach Sam Yokum said. "I like the way that our kids in those two have put the ball in play. We hit the ball hard and we made the plays we had to make. Until we have an upscale on the opponent's ability … the jury's out." 
Pendleton had its contest with Tucker County set for March 28 postponed due to poor field conditions. Pendleton was scheduled to return to action on March 30 with a road contest at Moorefield. 
Yokum said the matchup with the Yellow Jackets will test his team. 
"We're young," he said. "We can lay an egg down in Moorefield Wednesday night and boot the ball around and not be able to get an out. We are probably going to face as good as pitching as we will see all year. That is why tonight's game with Tucker, I wish the weather was better, because they have Mason Kisamore." 
Yokum added Mason Kisamore is one of the top pitchers in the area and would have been a good test before facing Moorefield. 
Pendleton will square off with Pocahontas Friday in Dunmore. It will play host to South Harrison at noon Saturday in Franklin. 
"At this point in the season, we have built just a little bit of confidence with those two wins, certainly better than two losses," Yokum said. "Hopefully we can play with a little confidence. The kids are working hard, they want to be here which is huge. They are having a good time."