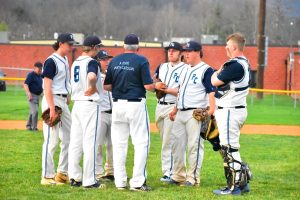 By Shawn Stinson 
When a baseball team surrenders an average of 14 runs and scores an average of three runs a contest, it is not a recipe for success. 
The Pendleton County baseball team was on the short end on the scoreboard to go winless in its last three contests. 
Point Pleasant took advantage of 10 walks and a hit batter to post an 18-2 victory in five innings against Pendleton on April 13 in Franklin. Pendleton coach Sam Yokum used four pitchers – Clayton Kisamore, Landon Colaw, Allden Rexrode and Cameron Beachler – in the loss. 
"We didn't play very well," Yokum said. 
The Wildcats were limited to three hits in the contest. Kisamore had a triple and scored on a throwing error. Beachler and Colaw recorded singles. Jayden Roberson had a sacrifice fly to plate Pendleton's initial run of the game. 
Pendleton participated in the initial Tournament of Legends on April 15 in Keyser. Keyser opened the tournament by downing Pendleton 12-5. Petersburg edged Hampshire 4-3 in the other semifinal matchup. 
Pendleton recorded nine hits in the loss, paced by James Vincell, who slugged a three-run home run. Rexrode recorded two hits and two runs batted in.  
"We played better, we hit the ball better," Yokum said. "We didn't make the routine play [on defense]." 
Hampshire knocked off Pendleton 12-5 in the consolation matchup later in the day. Petersburg slipped past Keyser 5-4 to capture the tournament title. 
Kisamore had two singles and an RBI. Evan Teter notched two hits, a double and a single. Rexrode added a run-scoring single for the Wildcats in the loss.  
Tournament officials recognized four former coaches at the tournament – Orville Harper of Circleville, Tack Clark of Keyser, Bill Kline of Petersburg and Donnie Davis of Hampshire.  
Pendleton was set to square off with Petersburg on April 18 in Petersburg. Officials postponed the contest due to inclement weather in the area. Pendleton was scheduled to play host to Musselman on April 20 in Franklin. Pendleton will play East Hardy 6 p.m. Friday in Franklin. Pendleton will hit the road Saturday for a doubleheader at Highland County. Pendleton will take on Tucker County at 5 p.m. Monday in Hambleton before facing Moorefield at 6 p.m. Tuesday in Franklin.