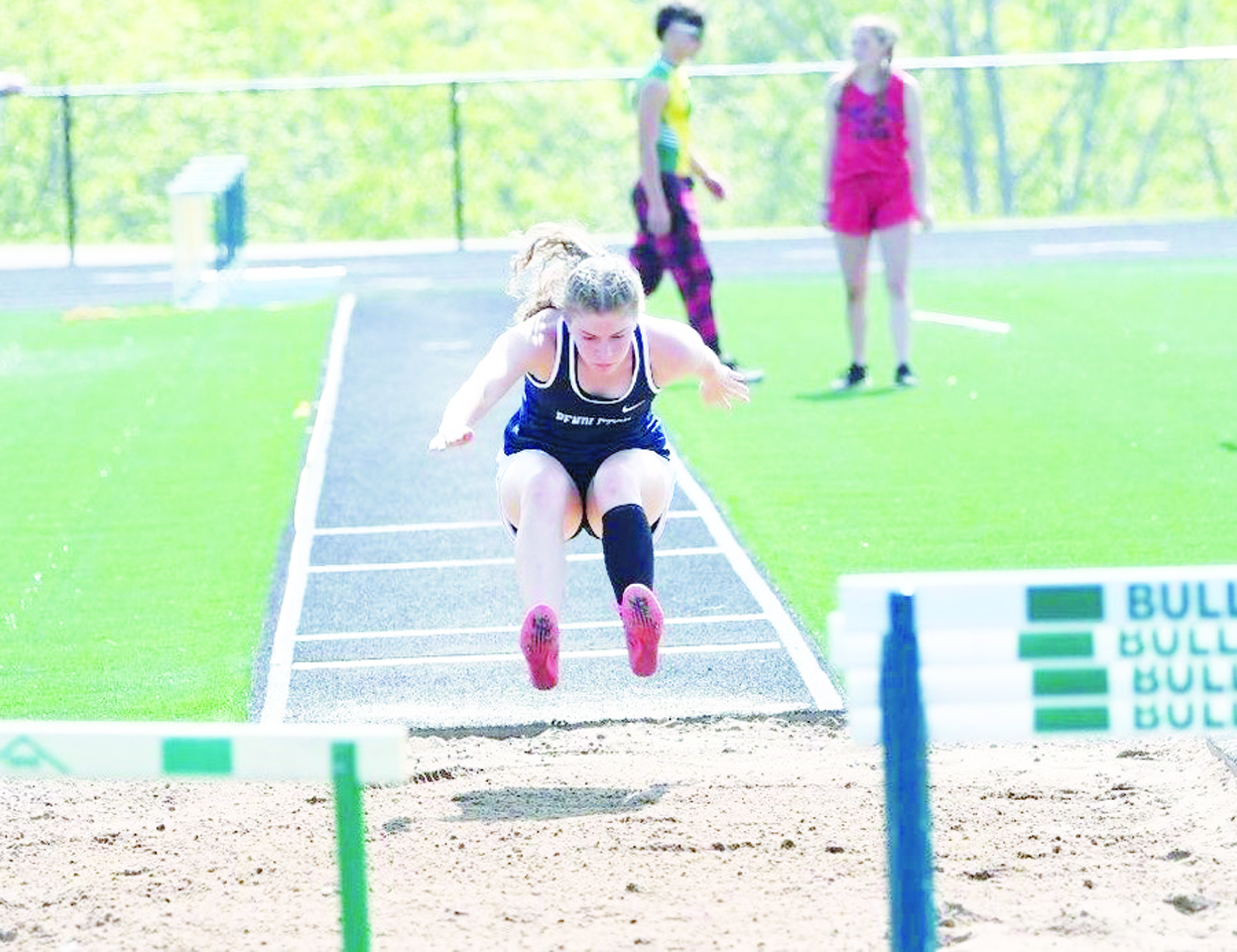 By Stephen Smoot
Pendleton County track has come a long way since just last year. More girls came out to compete and many continued to compete at higher levels as the year went on. In May, their journey took them from Keyser to Doddridge County to the state championships in Charleston.
On May 6, the girls went to Keyser High School's Alumni Stadium for the Jim Turbin Invitational. 
There, Laney Sites-Woods took fourth place in the 100-meter dash with a time of 14.5. Riley Apple placed fifth in the 200 meters, marking a time of 30.29. Sites-Woods followed right behind in sixth place at 30.71. 
In the 400-meter race, Emma Hartman scored a personal record with a 1:13.82 time and a fourth-place finish. Aubree Keiter followed in sixth with 1:16.35. Sites-Woods took eighth with 1:17.91 and Brynlynn Waggy placed ninth with a personal best of 1:18.01.
Apple took second place in the 100-meter hurdles, running for a personal best of 18.03. She performed even better in the 300 meters, seizing first place at 52.36. In the 4×400, the squad of Hartman, Keiter, Sites-Woods, and Waggy took second place with a time of 5:10.82. 
BreAnna Wolfe threw the shot put for 22-11.00 and a 14th place finish. She then placed 10th in discuss with a distance of 64. Hartman leapt for a 4-02 in the high jump, and Apple set a season record in the long jump at 14-02.00.
At the regionals in Doddridge County, Apple earned a berth in the state track championships with a second-place finish in the 300-meter hurdles. Apple took fourth in the long jump, and the 4×400 relay team of Keiter, Hartman, Waggy, and Sites-Woods placed fifth.
Christopher Wilburn, head coach, noted proudly that the 4×400 team "ran a second best time, cutting off 17 seconds at Doddridge." They shaved time off their performance in every week after the Jim Turbin Invitational. 
While some earned spots at the state meet outright, others had to find out the next morning if they were selected as at-large competitors. Wilburn compared their excitement to Christmas morning.
At the state track and field championships, the girls did not compete on Friday, but ran and threw under graying skies on day two. Apple, who missed graduation at Franklin to compete, took sixth in the 300-meter hurdles, earning a time of 51.15. In the long jump, she scored 11th with a distance of 14-00.25.
The 4×400 team of Keiter, Waggy, Sites-Woods, and Hartman placed 13th with a time of 4:56.29.
Wilburn explained that late in the season, the team "really started to believe in themselves." He explained that though still young, the experience gained this season had helped the squad progress.
"I'm very hopeful," he said.