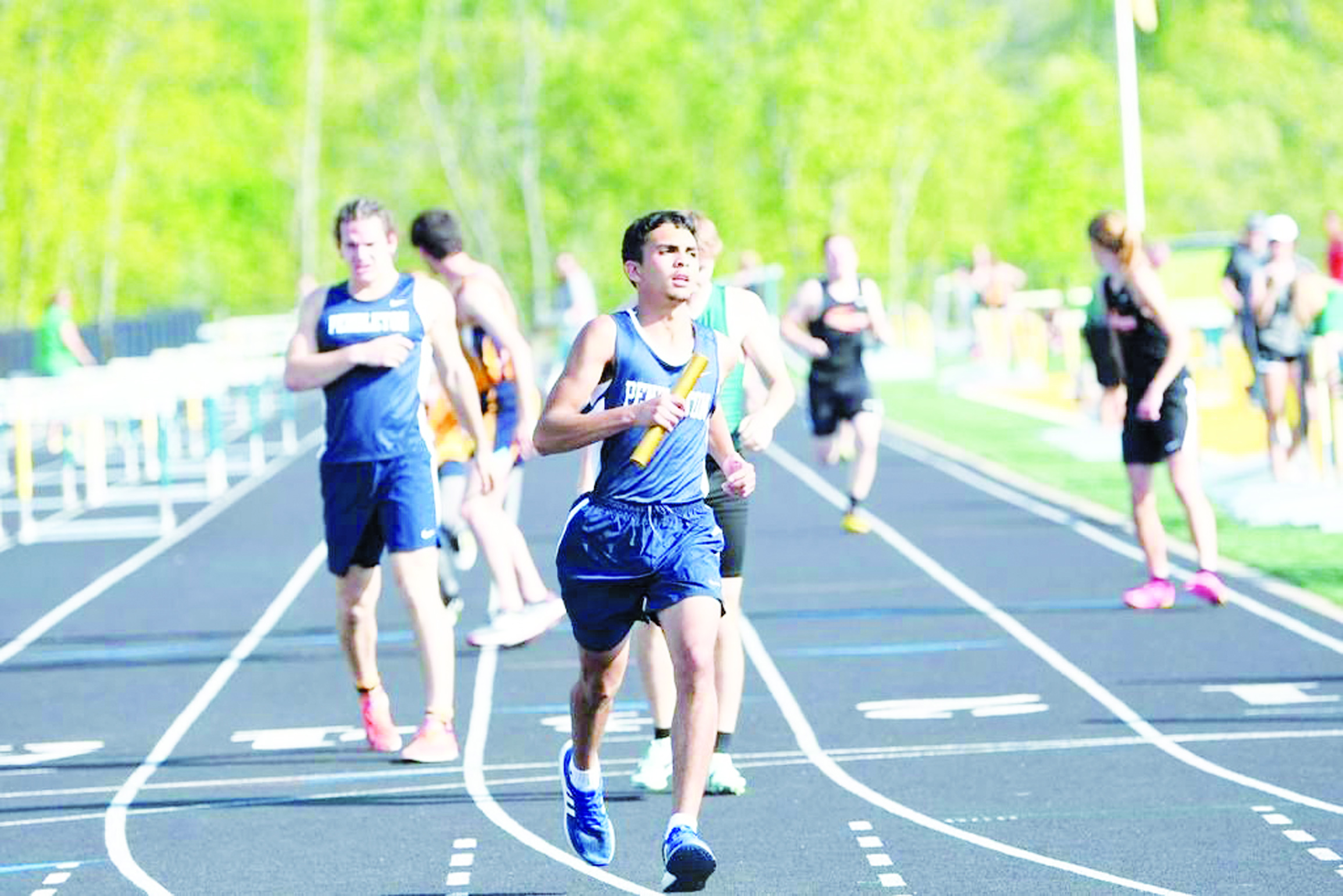 By Stephen Smoot
As Pendleton County moves into late spring, temperatures have heated up and so has the boys' track team. Throughout the season, the team has showed continued improvement.
On May 6, they competed in the venue that hosted their first meet of the season, Alumni Stadium in Keyser. At the Jim Turbin Invitational, they ran and threw well, several setting personal records. 
In the 400-meter race, Isaiah Lockard finished eighth with a time of 59.28. In the 800, Gage Sites-Woods earned the second slot with a personal record of 2:11.38. Gabe Harvey placed eighth with a personal best of 2:21.45, and Marcus Smith also set a personal record with 2:28.51 and a 12th place finish.
Thunder Gill took first place in the 3200-meter race with a personal best of 10:51.64.
In the 110-meter hurdles, Sawyer Apple placed fourth with a personal best time of 18:18. He also took fifth in the 300-meter hurdles with a time of 48.09. Harvey took sixth with a personal record set at 48.25.
Sites-Woods earned a seventh-place finish in the shot put with a toss of 37-4.00. Evan Teter claimed 16th with a throw of 30-6. Victor Rhodes set a personal record with a throw of 18. In the discus, Teter earned a personal record with a throw of 96-11 and 10th place. Rhodes also threw for 41.
Apple claimed second place in the high jump with a mark of 5-0.600 and third in the long jump with a distance of 18. Harvey placed third in the high jump with a mark of 5-0.400.
On May 11, the team traveled to Doddridge County for the regionals. Sites-Woods placed second in the 800 meters. Apple earned a fifth-place finish in the 110-meter hurdles. The 4×800 relay team placed fourth and claimed a trip to Charleston as well.
Some members earned their spots in Charleston outright at regionals. Others had to wait until the day after to learn of their selection as at-large competitors. All 11 from both teams were "like kids at Christmas," head coach Christopher Wilburn said.
On May 19 and 20, 11 Wildcats from both teams traveled to Laidley Field in the shadow of the golden dome of the State Capitol. On the first day, the 4×800 team of Sites-Woods, Smith, Harvey, and Gill ran for a 9:21.36 and a 12th place finish. Apple ran a 19.36 in the preliminaries of the 110-meter hurdles.
Saturday brought more dreary conditions, but that did not slow down Wildcat aspirations. In the 800 meters, Sites-Woods, who also received his high school diploma on the field, placed 15th with a time of 2:11.44. 
Wilburn added that the success enjoyed this season was "a good step in the right direction." He added, "We're still really young, but we started to progress from last year."