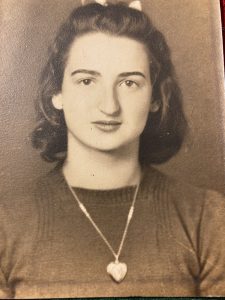 Sugar Grove
by Paula Mitchell
Ever heard of the Widow's Peak?  Perhaps a person has one.
A V-shaped hairline, as opposed to a straight hairline, seems to run in families.  It appears to be in the genes.  Widow's peaks are quite common even though they cannot compete with Eddie Munster's widow's peak.  In fact, some are so subtle they may not be noticed as a widow's peak.  
One belief was that the V-shaped hairline foretells an early widow situation.  In other words, the wife will outlive her husband.  Of course, men are known to also have widow's peaks. 
Another belief is that it points out the rogues and villians.  A much less common belief is that a woman with a widow's peak is more intelligent and competent than her husband.  
Neither of these beliefs come any closer to reality.
Anyway, the expression of the peak probably originated in the 1700s and likely came from a widow's hood or cap, usually black and worn by widows. The head covering came to a peak in the middle of the forehead.  These hoods or caps dating from the Middle Ages were described as "biquoquets" (bee-co-kehs).  
This hairline phenomenon comes to mind with the show "The Munsters" from the 1960s television show.  Eddie, the son of Herman and Lily Munster, who were members of a family of monsters and vampires, played for laughs.  Eddie's forehead feature has been linked to vampirism as with the dreaded Count Dracula.  A more modern example of the evil character with the widow's peak is the Joker in Batman.  
 Life's little instructions to bring about kindness in one's life include the following:
Holding doors for strangers.

Say, "Good morning."

Keeping babies entertained in grocery lines.

Stopping to talk to a lonely person.

Being patient with the sales clerk.

Showing kindness, understanding and judging less.
Windy conditions have caused man and beast to "hunker down."  Coats are zipped up around the neck with scarves and head gear hanging on tight. It has been quite brutal, with temperatures down to around 11°, making it much colder with the wind blowing.  
This week's quotes are as follows:
"I have decided to stick with love.  Hate is too great a burden to bear." — Martin Luther King, Jr.
"Our prime purpose in this life is to help others.  And if you can't help them, at least don't hurt them." — Dalai Lama
"It's easy to have principles when you're rich.  The important thing is to have principles when you're poor." — Ray A. Kroc
Life is better by the fireplace to hear the "Talk of the Grove."
Ava and Laura Bowers spent a day skiing in Canaan. They had a great time, despite the cold and wind.
Paying a visit to Rosalee Grogg were Marleta Wimer and Leana Leap.
Clickety-clacks for the chin wagers are as follows:
Eating berries, pears and apples creates a virtuous cycle inside one's body that lowers blood pressure.

Rabbits literally jump for joy.

Earth's core is as hot as the sun's surface.

Centenarians in New Mexico are exempt from state taxes.

About 1 in 10,000 clovers has four leaves.
"Pidge" and Charles Anderson had a nice visit from their niece on Wednesday. Lester and Marsy Alice Hyre from Old Fields enjoyed the time with them.
Upcoming March birthdays are as follows: Tim Hoover, Ben Puffenbarger, Bradley Wilfong, and Leslie Bowers, second; Chris Lambert, third; Judy Grimm, fourth; Ruth Warner and Myrtle Mauzy, fifth; Teresa Hott, sixth; Linda (Richard) Rexrode, seventh; Hendrix Bogan, eighth; Marsha Nelson, ninth; Roger Shrewsberry, Willy Rader, Emilie Kobetic, Ann Wimer, and Pam Waggy, 10th;   Robert Lambert, Ryan Sponaugle, Jason Rexrode, Eugene Varner, Cheyanne Varner and Diane Pennybacker, 11th; Jeff Bowers and Carolyn Thompson, 12th; Linda Mallow, Anthony Bowers and Letha Caplinger, 14th; and April Simmons, Cloe Simmons, Elsie Eye, Wanda Pitsenbarger and Krista Owens, 15th.
 Concerns for this week are as follows: the Larry Blankenship family, Larry Byers, Scherry Chambers,  Charlotte Copley, Jeff Craig, Joy Darnell, Jeff Evick, Lee Roy and Ina Evick, the Andy Eye family, Mary Eye, Ron Gilkeson, Lola Graham, Marlene Harman,  Steve and Armanda Heavner, Starr Hedrick, Winona Judy Hewitt, Lorena Hoover, Myrtle Hoover, Alice Johnson, Richard Judy, Margaret Kiser, Rex Landis, Angela Lung, Linda Malcolm, Morris and Sue Mallow, Yvonne Marsh, Naomi Michael,  Joe Moats, Ernie Morgan, Aaron Nelson,  Kathy Nelson, Ken Nelson,  Cheryl Paine, Sutton Parrack, Betty Lou Propst, Garry Propst, Nathan Propst, Sheldon Propst, Eldon Puffenbarger,  Willard Rader, Don Rexrode, Donna Ruddle, Barbara Simmons, Eva Simmons, Ona Smith, Steve and Greg Smith, Stanna Smith, Patricia Swecker, Harry Lee Temple, Charlotte Thompson, Rosa Tichenor,  Sandra Vandevander, Jack Vogel, Ruthene Warble, Amby Waybright Jr., Ron White and Judy Williams.