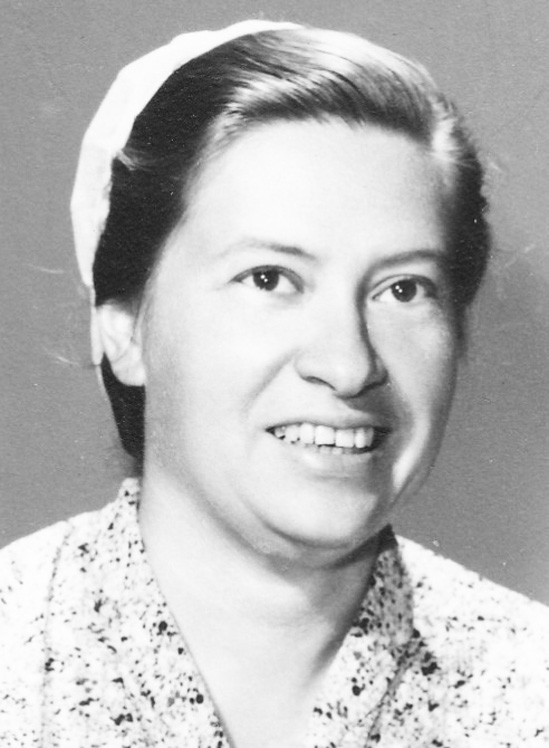 Virginia Elizabeth Grove Weaver, 99, of Dale Enterprise, Virginia, passed away on Sept. 20, 2022.
 She was born Oct. 1, 1922, in her Uncle Charlie Grove's house by the railroad tracks in Lyndhurst, Virginia, the only child of the late Earl L. and Elizabeth Maude Heatwole Grove.  
Mrs. Weaver loved Jesus Christ and all people unconditionally and lived a life of service.  She graduated from Eastern Mennonite High School in 1939 and the Rockingham Memorial Hospital School of Nursing in 1946, where she met lifelong "sisters" Laura Mae Mathias, Ola Zimmerman, and Martha Showalter.  She received a bachelor of science in biology from EMC in 1952.  
On March 14, 1946, she married Richard S. Weaver (W3HXH) who passed away July 27, 2014.  After a honeymoon at Sparkling Springs, Virginia, and her husband returned to Kalispell, Montana, where he was camp director and pilot trainer for the CPS Smokejumpers unit and she was camp nurse.  
In 1948, her husband was ordained to the Mennonite ministry and their first assignment was in Job from 1948-52.  She ministered alongside her husband at Mennonite churches in Job, Lambert, and Whitmer.  She taught Sunday School and for many years returned to West Virginia to teach summer Bible School in the area of Job and the Osceola schoolhouse.   All her life she had great love for "those West Virginia hills" and the people she met there.
From 1958 to 1972, she and her husband ministered, alongside African-American leaders, at Broad Street Mennonite Church in Harrisonburg, Virginia.  This was an intentionally racially integrated church during the days of legal Jim Crow segregation in order to show that the love of Jesus Christ is for all equally.  The couple also participated in the Rockingham Council on Human Relations, an interracial group of community leaders that helped to plan peaceful racial integration of Harrisonburg and Rockingham schools in Virginia in 1968.       
Mrs. Weaver's long career as a registered nurse included caring in the RMH emergency room for victims of the gas explosion at Pauline's Beauty Shop in 1947, teaching young women prenatal and child care for the Public Health Service and caring for the elderly at Virginia Mennonite Home and Camelot Hall Nursing Home.  She also became volunteer caregiver and advocate for many ill or elderly relatives and friends.  In 1958, she was caring for her aunt, Annie L. Heatwole, who had breast cancer.  Mrs. Heatwole survived and later wrote in her diary that, "During my sickness I realized that I had many generous friends.  Virginia Weaver, my niece, was so very wonderful to me."  
She and her husband loved to travel the country with their Airstream trailer, visiting 49 states, Mexico, and most Provinces of Canada, often visiting friends and relatives.  She was also an avid local historian, friend of John W. Wayland, helped to preserve much valley, church, and family history, and was an early board member of the Brethren and Mennonite Heritage Center.  She was a fifth generation member of Weavers Mennonite Church.  
Throughout her life, she actively helped her family to maintain the Dale Enterprise Weather station, started by her grandfather, L. J. Heatwole, with continuous daily records from 1868 to the present.  
Surviving are a son, Robert E. Weaver of Dale Enterprise, Virginia; a daughter in-law, Anne Weaver of Rockingham, Virginia; a granddaughter, Kimberly Weaver Rocco (Joe) of San Rafael, California; a grandson, Richard Scott Weaver of Harrisonburg, Virginia; six great-grandchildren, Zoe, Zack, Zane, Zeno and Zeta-Rose Rocco, all of San Rafael, California, and Juniper Noelle Weaver, Harrisonburg, Virginia; and also many beloved nieces, nephews, cousins, and friends.  
She was also preceded in death by a son, Ralph Conrad Weaver, on April 15, 1999.  
Her family is deeply appreciative of the kind and loving care by the Sunnyside nursing staff.
Memorial contributions may be made to Brethren and Mennonite Heritage Center, P.O. Box 1563, Harrisonburg, VA 22803.
The family received friends from 4 to 6 p.m. Wednesday at Weavers Mennonite Church in Harrisonburg Virginia.  Services will be held at 11 a.m. today at the church with Pastor Curt Stutzman officiating.  Burial will follow at Weavers Mennonite church cemetery, followed by a fellowship meal at Shady Oak for family and friends.   
Online condolences may be left to the family by visiting www.mcmullenfh.com.
McMullen Funeral Home in Harrisonburg, Virginia, is in charge of arrangements.