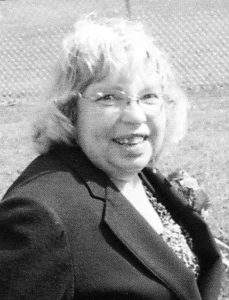 Violet Lucille Thompson, 65, of Brandywine passed away July 24, 2022, at Stonerise Nursing Home in Keyser.
She was born on Sept. 4, 1956, in Ruddle, the daughter of the late Alvin M. and Ethel Marie (Hartman) Ruddle. 
Mrs. Thompson was a 1976 graduate of Franklin High School and was a member of the First Baptist Church in Brandywine. She had worked as a homemaker for Pendleton Senior and Family Services. 
Her husband, Ralph J. Thompson, preceded her in death on May 5, 2013.
She leaves behind to cherish her memory a son, Tex J. Thompson (Carol A.) of Brandywine; a sister, Josephine Hedrick (Dorman) of Petersburg; two brothers, James Ruddle (Sue) and Sheldon Ruddle (Ann), all of Franklin; three grandchildren, Kimberly Shiplett, Terry Schell (Sherry) and Walter L. Shiplett, Jr.; and nine great-grandchildren, Trevor J. Shiplett, Marley Ann Shiplett, Bentley Ray Schell, Raylee Lynn Schell, Blaze Remmy Cole, Lakelynn Schell, Deacon Shiplett, Ava Shiplett and Kendall Shiplett.
She was also preceded in death by two infant daughters; and a brother, Gerald. 
Mrs. Thompson's family received friends from 6 – 8 p.m. Wednesday at the Basagic Funeral Home in Franklin. Funeral services will be at 1 p.m. today at the First Baptist Church in Brandywine with Pastor Tim Weaver officiating. Interment will be in Cherry Hill Cemetery in Upper Tract.
Memorials may be made to the family, c/o of Basagic Funeral Home, PO Box 215, Franklin, WV 26807.
Memories and words of comfort may be left at www.basagic.com or on Facebook at Basagic Funeral Home.