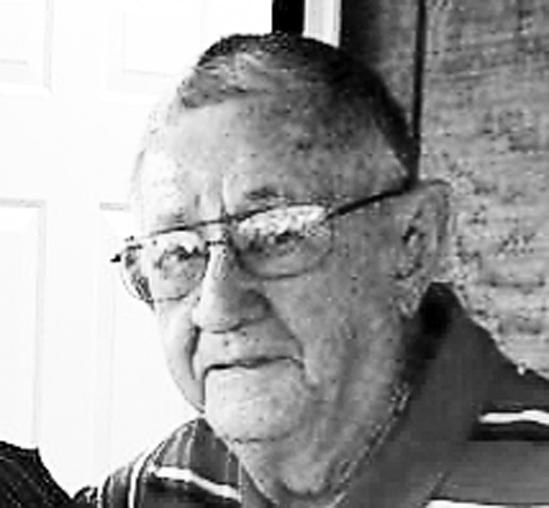 Vernon Roy Simmons, 97, husband of Cleo Linwood (Smith) Simmons, of Staunton, Virginia, passed away Oct. 13, 2022, at his residence, surrounded by his family.
 Mr. Simmons was born Aug. 18, 1925, in Sugar Grove, a son of the late Roy Solomon and Cora Mae (Bodkin) Simmons. He was one of six sons.
He served in the United States Navy during World War II. He worked on farms and kept books for Reid's Stores until the store founder passed away. He joined Earl Douglas and Charles Knight in forming KDS, Inc. KDS purchased two of the former Reid Stores, where he served as co-owner until his retirement.
A man of great faith, he served and worked for his Lord at the Staunton Church of the Brethren. He was a past president of United Way, an active member of the Lions Club, Isaac Walton League, and Staunton Rescue Squad. He also served the Food Bank, Valley Mission, and SACRA. He was always willing to help anyone who might need assistance.
He met the love of his life, Cleo Smith, and they were married on June 8, 1946, and shared both good and bad times for 76 years.
Surviving, in addition to his wife, are two sons, Larry M. Simmons (Deborah) and Barry W. Simmons (Phyllis); a daughter, Jenna A. Williams; a brother, Hobert Simmons (Maxine); four grandchildren, Janelle Harris (David), Whitney Sager (Mark), Chadwick Simmons and Benjamin Williams (Jodi); five great-grandchildren, Austin Kiser, Dean Chandler, Baylee Harris and Brennan Sager; a great-great granddaughter, Hudson Harris; and numerous nieces and nephews.
He was also preceded in death by four brothers, Oather, Gilbert, William and Alvin Simmons.
A memorial service was held Monday at the Staunton Church of the Brethren with Pastor Beth Jarrett officiating. Burial was private in Augusta Memorial Park.
Memorial contributions may be made to the Staunton Church of the Brethren Capital Fund, 1615 North Coalter Street, Staunton, VA 24401.
Condolences may be expressed to the family online at www.coffmanfuneralhome.net.
Coffman Funeral Home and Crematory in Staunton, Virginia, was in charge of his arrangements.