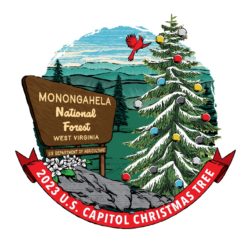 By Stephen Smoot
In January, the U.S. Forest Service announced that the 2023 U.S. Capitol Christmas Tree would come from the Monongahela National Forest. Last week, the Pendleton County Convention and Visitors Bureau shared that Pendleton County is one of the finalists to provide the tree that will adorn the West Lawn of the United States Capitol. 
Even if the red spruce used to celebrate the Christmas season does not come from Pendleton County, however, it will come to the area.
"It's going to bring the community together," said Amber Nesselrodt, executive director of the Pendleton County Convention and Visitors Bureau. She added that "it's been narrowed down to three. Pendleton is one." She also explained that, due to security concerns, the location of the three finalists remains a closely guarded secret.
The forest service selected "Endlessly Wild and Wonderful" as the theme of the year. Governor Jim Justice said in the USFS release on the tree, "it's an honor to have a tree from our backyard selected as the official 2023 U. S. Capitol Christmas Tree." He also said, "This shines a positive light on West Virginia and I am thrilled in every way."
"The official tree has only come from the Monongahela National Forest twice prior to this," Nesselrodt stated. 
She shared that the CVB will help to plan a big event for the tree. "We are working hard with local people and organizations to create a special day. Pendleton County will be the first stop no matter where the tree comes from." The tree will tour different sites in the area on an extra-long tractor trailer.
The forest service offers another way in which the entire community can get involved. As it says in a release, "we need your help to create over 10,000 ornaments for the 2023 U. S. Capitol Christmas Tree and smaller trees that will be displayed this holiday season in Washington, DC"
The release adds that those making the ornaments "use natural, recyclable, and repurposed materials when able."  Also, ornaments cannot contain commercial logos, divisive or offensive content, or use sharp materials that could harm people or wiring.
Ornaments must also conform to the "Endlessly Wild and Wonderful West Virginia" theme. The forest service provided a list of possible topics with endless possibilities. The topics include "Appalachian Culture – West Virginia Style," famous West Virginians, iconic spots in West Virginia or in the Monongahela National Forest, multiple uses of national forests, and West Virginia flora, fauna, history, outdoors scenes, or state symbols.
The forest service needs 3,000 "large ornaments that are brightly colored and weatherproof to withstand wind, rain, and snow."  It also requested "nearly 9,000 smaller ornaments that are lightweight and colorful." These will go on trees placed indoors.
"The deadline to get these in is Sept. 1," adds Nesselrodt.  She said that completed ornaments could be dropped off at the Pendleton County Convention and Visitors Bureau office in Franklin. The forest service will also accept them at the National Forest offices in Bartow, Elkins, Marlinton, Parsons, Petersburg, Richwood, and White Sulphur Springs.
The forest service has also issued a call for donations of materials. They request beads, buttons, card stock, CDs/DVDs, pipe cleaners, Christmas cards, Christmas themed fabric, construction paper, craft feathers, egg cartons, embroidery thread, clean jar lids and Mason jar rings, clean plastic soda or water bottle caps, empty toilet paper or paper towel rolls, felt, little bells, magazines with colorful pictures, out of date brochures, puzzle pieces, stickers, twine, unused cotton balls, wallpaper scraps, West Virginia maps, West Virginia postcards, and yarn.
For more information, please contact the Pendleton County CVB.