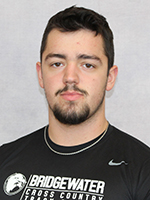 By Shawn Stinson 
One member of the Pendleton County boys and one runner from the girls track team qualified to compete in the Class A state track meet May 20 to 21 at the University of Charleston Stadium in Charleston. 
Junior Gage Sites-Woods captured 14th in the 1,600-meter run with a time of 5:00.55. Aidan Scott from Wheeling Central won the state title in a time of 4:34.42. 
Doddridge County edged Ritchie County to win the Class A boys title with 86 points. Ritchie County totaled 80 points. Saint Marys was third with 58 points. 
Junior Riley Apple was 14th in the 300-meter hurdles with a time of 54.96. Olivia Cress of Ritchie County captured the state title with a time of 45.17.  
Williamstown captured the Class A girls title with 148 points. Doddridge County was second with 88 points followed by Ritchie County with 67 points. 
Nesselrodt earns all-conference honors 
Tony Nesselrodt finished third in the hammer throw during the Old Dominion Athletic Conference outdoor track meet on April 30 in Lynchburg, Virginia. 
Nesselrodt, a sophomore at Bridgewater College in Bridgewater, Virginia, recorded a throw of 47.04 meters. He was named to the all-ODAC third team for his finish in the competition. 
The Bridgewater men's team finished third in the conference meet with 122 points. Lynchburg claimed the ODAC men's championship with 202 points followed by Washington and Lee with 123 points.