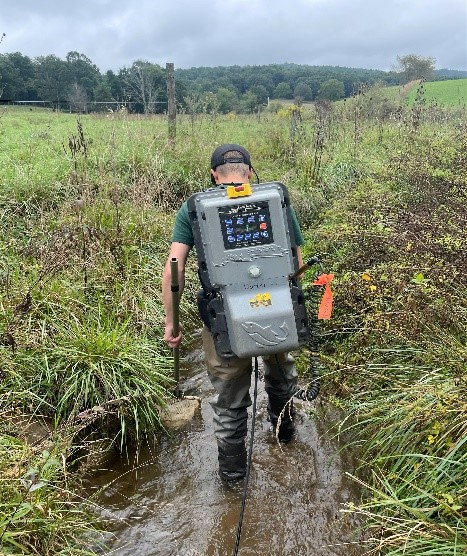 Trout Unlimited survey crews are currently conducting stream surveys on private lands within the Potomac Headwaters in Pendleton County. They have noted potential brook trout streams within the county and are actively seeking permission to sample these locations. Streams will be sampled by conducting a backpack electrofishing survey. Electrofishing does not harm the fish and the fish are returned to the stream immediately after the survey is complete.  The goal of these surveys is to document the location of native brook trout within the watershed so more knowledge can be gained about the distribution of this species and their habitat needs for future restoration efforts. Even if a person believes there are no brook trout present in a stream, Trout Unlimited would still like to confirm they are absent. This information is vital to the work being completing on other streams near a person. 
Trout Unlimited is also conducting surveys of road stream crossings in the watershed that may be barriers to fish movement. There is one fish survey team and one road stream crossing team working in Pendleton County and another team working in Highland County, Virginia. The teams are driving white Ford and Chevy trucks that have been rented to conduct these surveys. Because these trucks are rentals, they have out-of-state Utah plates, but attempts have been made to make them identifiable as Trout Unlimited vehicles. 
Trout Unlimited has been working within the Upper Potomac for nearly 20 years to improve native brook trout habitat and water quality for Pendleton County and the greater Chesapeake Bay watershed. They would greatly appreciate a person's permission to access one's property and stream so they can improve their understanding of this great watershed.
For further information about this effort, please contact Ryan Cooper at 301-616-2136 or ryan.cooper@tu.org.