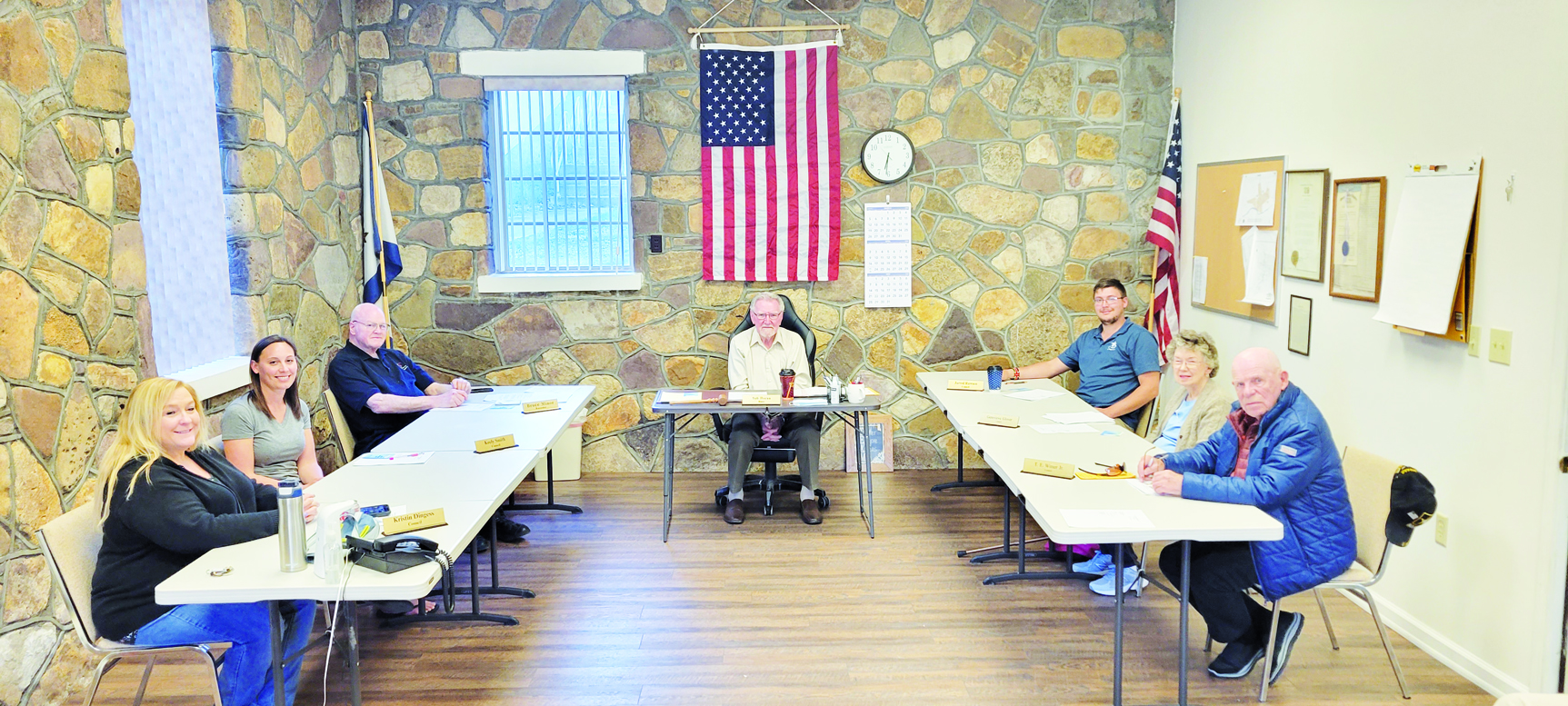 By Stephen Smoot
The Town of Franklin last week announced a development that will benefit residents and tourists alike who need information or some services. According to Elizabeth Scott, "we do have a live website. Tomorrow, people can pay their bills online."
Franklin's new website, www.townfranklinwv.com, which is controlled by the town government, replaces a generic site provided by the state to towns with no online presence. It contains information about the town and its government, provides important forms and documents, and allows the town to control its own branding more. It also carries information about the town park and pool while allowing anyone to write a message to the mayor.
Mayor Bob Horan opened the meeting by expressing appreciation to the office of Pendleton County's new congressional representative. He said, "I want you to note this flag here. It hung over the U.S. Capitol on Dec. 13, 2021, and was presented by the field representative of Carol Miller.
In other business, the council was informed about the latest invoice related to the water project upgrades. Frank Wehrle, town administrator, said, "The big ones will start coming once construction starts." The town then followed the county commission's lead in adopting the required fair housing ordinance and placement of a sign announcing it.
Discussion once again centered on the West Virginia Public Service Commission's rule change regarding water bills. In a recent move, the PSC stopped allowing utilities such as the Town of Franklin from providing relief to customers with hidden ground leaks. The town has no ability to relieve customers until their leak gets to 200 percent of regular usage. Then they can only credit amounts above that percentage.
Wehrle said, "We're not wanting to do this. We're trying to get ahead of it a little bit" by letting people know.  Horan added that "the other side of this is that homeowners may never reach 200 percent, so they can't get a refund at all." Bruce Minor, Town of Franklin recorder, stated that "we have to have a unified message. You need to call the PSC to make a complaint."
Scott said that the town can offer deferred payment arrangements, but state law requires that they be paid within 12 months and that the current bills must remain up to date during that period.
Customers with questions or concerns are urged to contact the Public Service Commission.
When asked during a telephone briefing on the next day about the change, Governor Jim Justice said, "It makes no sense at all that nothing can be done until we get a 200 percent leakage." He promised to look into it
The town also discussed moves to make sure that the pool was ready for business when summer comes. Scott informed the mayor and council about new hires and the process used to bring them on board. Horan praised the effort, saying that "there was a lot of thought in who you hired. They are sorting out candidates and that's the way it should be."
Council members also asked about signs recently placed on the street near Redeeming Grace. Minor asked about them first. He was told that the church needed four signs and the town provided two and would be reimbursed. Keely Smith, council member, asked if the signs had worked. Wehrle answered "I haven't heard."