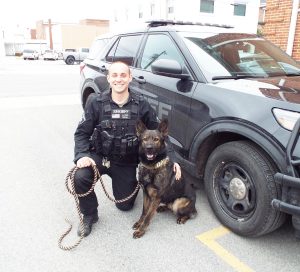 Dargo came to the department by way of Battle Ridge K9s in Madison, where he spent more than a year in training for his new position. Once his solo training was completed, Kontyko joined him in Madison to spend two weeks of intensive training together, which he said went very well. 
"He's got a good nose," Kontyko said, praising his new partner and explaining that the new sleuth was off to a strong start, having already sniffed out some controlled substances on his very first duty shift. He'll be riding along with the deputy each time he's on routine patrols, as well as taking a more leading role in finding illegal drugs and lost or missing persons. 
In line to be assigned to one of the new patrol cars which arrived just before Christmas, Kontyko had to forego it and keep using an older unit which was already outfitted with the kennel. But there were no regrets on his part. "It was totally worth it," he said firmly, as he grinned at his new patrol buddy.
Kontyko said Dargo seems to be getting on well with all of the other members of the department, and added with a grin, as Dargo hastened to enthusiastically greet Sheriff Chad Bowers as he approached, "He really likes the sheriff."