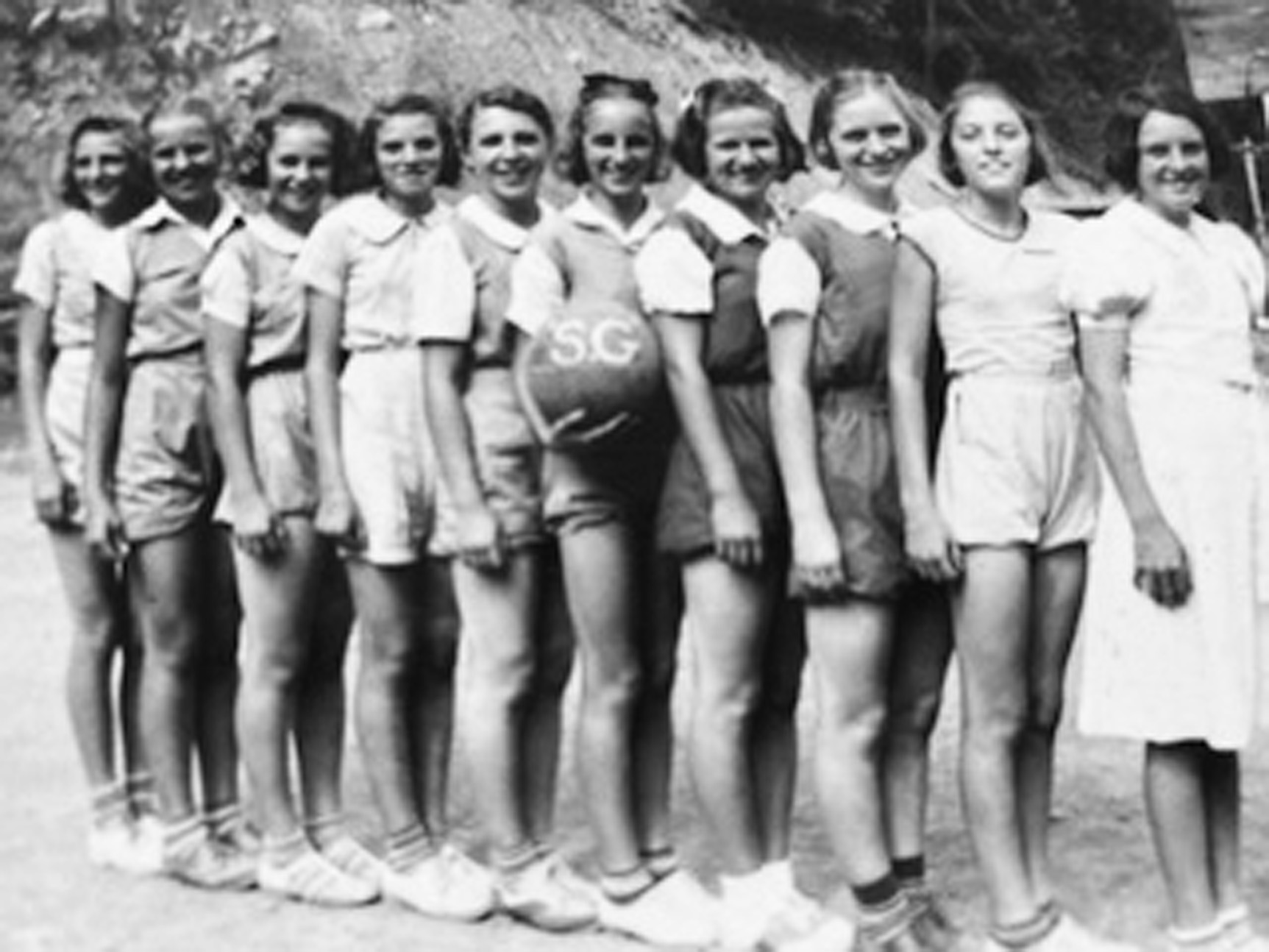 Sugar Grove
By Paula Mitchell
The writer received a photograph book of pictures and other information regarding the Sugar Grove School from Elsie Bowers whose father-in-law, H. Pink Bowers, was a teacher.  The following is the writing of "What Would Happen at Sugar Grove if…":
"Frances Simmons couldn't blush?
Junior Homan couldn't write notes?
Jackie Mitchell and Mary Fae Smith didn't make A's?
Shirley Waggy couldn't play basketball?
Rudolph Waggy didn't like the girls?
Jimmie Mitchell caught a ball while back-stopping?
Everette Rexrode didn't like Neva?
Stellman Simmons had a mustache?
Earl Hoover couldn't flirt with the girls?
Alma Eckard couldn't whisper?
Johnny Hoover couldn't aggravate the girls?
Edna Belle Simmons couldn't tell a joke?
Thelma Eckard couldn't play volleyball?
Billy Mitchell couldn't play softball?
Mary Belle Simmons was the world's 'Fat Lady'?
Norene Mitchell wasn't friendly?
Phyllis Mitchell had curly hair?
Mary Waggy couldn't study?
Junior Rader would sit still in class?
Norma Lee Rexrode couldn't tease?
Madaline Smith played 'hookey' from school?
Harold Mitchell would be tardy or made an F?
Junior Bowers wasn't liked by the girls?
Fay Snyder had black hair?
Dwight Shrader didn't have freckles?
Paul Puffenbarger would win the day with Jackie?
Arlen Propst studied?
Norman Simmons couldn't high jump?
We could tell Nola Jean and Norma June apart?
Herman Simmons couldn't play 'Horse'?
Walter Byrd Homan wasn't cute?
Peggy Mitchell couldn't smile?
Willard Rader wasn't always in mischief?
Jean Kite didn't like Harold?
Nola Propst wasn't tiny?
Doris Simmons wasn't bashful?
Teddy and Anna Lee Simmons couldn't sing?
Nellie Propst lost weight?
Betty Lou Mitchell didn't know her lessons?
Marvin Waggy wasn't a good sport?
Ruth Rader wasn't friendly?
Jimmie Bowers didn't have brown eyes?
Deyerle Rexrode couldn't write love letters?"
Having known these youngsters allows this account to be even more reminiscent and humorously interesting. 
Life's little instructions include the following:
One can still be a kind person and still:
Say no.

Make mistakes.

Be honest.

Prioritize one's needs.

Walk away from toxic environments.
Last Wednesday was a cold windy day, a forebearer of Thursday's 15 degree freezing temperatures.  The alarm has sounded…it's definitely fall!  A full moon and the changing back of clocks were noted.  November's full moon is noted as the Beaver Moon, a name that originated with the Native Americans who then passed it on to the early European fur trappers.  
This week's Clickety-clacks for the chin waggers are as follows:
Iceland is the only country in the world without any mosquitoes, snakes, or other reptiles.

Blue Lake in New Zealand is the clearest lake it the world, which has underwater visibility up to 260 feet in depth.

Chickens can see more colors than humans.

Bananas are native to Papua New Guinea.

Lake Superior is actually not a lake at all, but an inland sea.
Quotes for the week are as follows:
"When we give cheerfully and accept gratefully, everyone is blessed." — Maya Angelou
"Autumn carries more gold in its pocket than all other seasons." — Jim Bishop
"Living in a state of gratitude is the gateway to grace." — Arianna Huffington
"Gratitude and attitude are not challenges; they are choices." — Robert Braathe
"If you cannot find gratitude, you'll never find peace." — Leticia Rae
More November birthdays include Paula Mitchell, 16th; Woodrow Hartman (107), 17th; Chip Harper, Sandy O'Gorek, Kasara Kiser and "Pidge" Anderson, 18th; Deloris Adkins, K.D. Puffenbarger and Gary Simmons, 19th; Bradley May, Roger Hoover, Gerald Rexrode and Enos Horst, 21st; Christina Simmons, 22nd; Rick Adkins and Harry Lee Scott, Jr. 23rd; Carl Williams, 24th; Brandon Reel, Joni Nelson and Mary Catherine Cassell, 25th; Lee Roberson, 26th; Trisha Knicely, 27th; Gracie Mitchell and Austin Simmons, 28th; 29…George Hamel and Greg Smith, 29th; and Steve O'Toole and Danny Crider, 30th. 
Concerns for this week are many. They are as follows: Bob Adamson, Charles Anderson,  Mercedes Aumann, Lynn Beatty, the Nila Bland family, "Bo" Boggs, Boyd Kimble, Kim Kline, Marie Cole, Jeff Craig, Norma Propst Cunningham, Christian Dasher, the Ina Jean Evick family, Isaac Eye, Marie Eye, Neal Eye, Donna Fleisher, Lola Graham, Jordan Greathouse, Marlene Harman, Marvin Hartman, Steve and Armanda Heavner, Grace Hedrick, Jackie Hill, Edsel and May Ann Hogan, Virgil Homan, Jr., Adelbert Hoover, Myrtle Hoover, Debbie and Enos Horst, Alice Johnson, Richard Judy, Ruthlene Judy, Marsha Keller, Danny Kimble, Dennis Kincaid, Kim Kline, Tracie Knight, Melissa Lambert, Robert Lambert, Rex Landis, Angela Lung, Linda Malcolm, Betty Mallow, Roger and Skip Mallow, Willard May, Neil McLaughlin, Rose Miller, Bruce Minor, Barbara Moats, Melvin Moats, Aaron Nelson, Ruth Nelson, Don Nilsen, Cheryl Paine, Barbara Parker, Sutton Parrack, John O. Propst, Kathy Propst, Linda Propst, Harley Propst, Sheldon Propst, Mary Puffenbarger, Charles Rexrode, Jason Rexrode, Pam Rexrode, Donna Ruddle, Annie Simmons, Phyllis Simmons, Eva Simmons, Robbie Sites, Connie Sulser, Rosa Tichenor, Sandra Vandevander, Amy Vaus, Sheldon Waggy, Judy Williams, Ann Wimer, Junior Wimer, Margaret Wimer, Dana Yokum, and the Israeli nation.