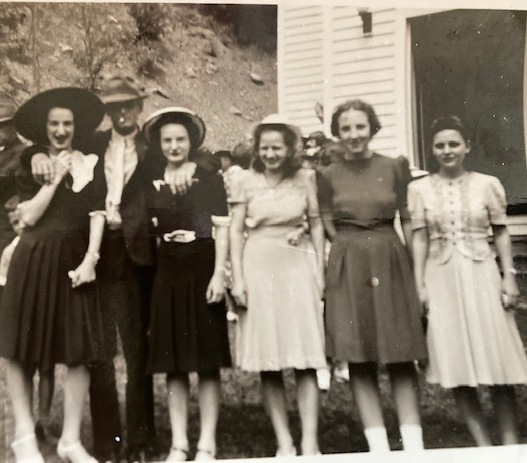 Life's Lessons Paved Way for Witty Expressions
Sugar Grove
By Paula Mitchell
Thanks to a reader, this was sent to the writer to prove that history is definitely not boring!
In the pioneer days, a big kettle was hung over a fire for cooking in the kitchen. Not much meat was cooked; vegetables were the daily diet. The fires would be lit every day, and things added to the kettle. The stew was eaten for dinner with leftovers being left in the kettle to get cold overnight, and then started again the next day.  
Sometimes the stew had foods that had been there for quite a while. That is how "peas porridge hot, peas porridge cold, peas porridge in the pot, nine days old" came to be. Whenever pork was obtained, everyone felt very special.
Whenever visitors arrived, bacon would be hung up to show off. It was a sign of wealth that the man of the house could, "bring home the bacon." They would cut off a piece to share with the guests and all of the persons would sit around and "chew the fat."
Wealthy souls had plates made of pewter. Lead poisoning eventually happened due to the food with high acid content causing lead to leach onto the food. Tomatoes were a high culprit of this poisoning so for the next 400 years, tomatoes were considered poisonous.
Something interesting took place with bread. It was divided according to status. Workers got the burned bottom of the loaf, the family always got the middle, and guests got the top, or "the upper crust."
To drink whisky or ale, lead cups were used. The combination would sometimes throw a person for a loop for a couple of days. Someone walking along the road would take them for dead and prepare them for dead. They would be laid out on the kitchen table for a couple of days and the family would gather around and eat and drink and wait to see if the person would wake up. Hence the custom came to be of "holding a wake."
Cemeteries in England were running out of places to bury people. So, coffins would be dug up and bones would be taken to a bone house, and then the grave would be reused. When opening the coffins, one out of 25 coffins were found to have scratch marks on the inside, and it wasn't long before they realized that the persons had been buried alive. So, string would be tied on the wrist of the corpse, which was lead through the coffin and up through the ground and tied to a bell. Someone would be delegated to sit out in the graveyard, "graveyard shift," all night to listen to the bell; and perhaps someone would be "saved by the bell" or considered "a dead ringer."
Life's little lessons include the following:
Never stop learning.

Remember that all news is biased.

Take lots of photos.

Don't mess with drugs and don't associate with those who do.

Be thankful, always. 
Winds have not been gentle. As a matter of fact, they have been ferocious. Still, the weeping willow and daffodils have been pushing out into spring. Will they regret coming out so early? Frogs are jumping and hollering, whilst the birds are busy chirping. Sunday morning's heavy frost makes one realize that this weather is quite crazy.
Quotes for the week are as follows:
"Gentleness clears the soul, love cleans the mind and makes it free." — David Bowie
"March is the month God created to show people who don't drink what a hangover is like." — Garrison Keillor
"Springtime is the land awakening. The March winds are the morning yawn." — Lewis Grizzard
"March is an example of how beautiful new beginnings can be." — Amamika Mishra
"Try to be a rainbow in someone's cloud." — Maya Angelou
By the fireplace it is to hear the "Talk of the Grove."
Benny and Linda Custer were Saturday visitors in the home of Willard and Judy Rader. Willard and Judy and Ed and Barbara Parker enjoyed celebrating Benny and Linda's birthdays at the Gateway Restaurant.
A nice crowd of churchgoers gathered Sunday morning at Calvary Lutheran Church.  All five churches of the Mountain Lutheran Parish were in attendance for the baptism of Noah James Felici, son of Pastors Jess and Jason Felici. There was also a fellowship dinner to honor Pastors Jess and Jason on their 10-year ministry to the charge and to wish them well as they begin a new ministry in Latrobe, Pennsylvania. Their ministry touched many lives, and they will be sorely missed.
Wesley, Becky, Ben, Emma and Nathan Puffenbarger spent the weekend in Northern Virginia, celebrating Ben's birthday.
Marleta Wimer and Steven Grogg paid a visit this past week to Rosalee Grogg.
Great news!  Penelope, Tiffany Arrington's dog, has been found after being missing for three weeks, a great way to celebrate Tiffany's birthday.
Phil Downs motored to Northern Virginia to spend two days recently.  While there, he attended an 80th birthday for a past co-worker at Fairfax, Virginia.  Friday, his daughter, Tara Kelley of Springfield, Virginia, came to spend several days with him. She also attended the funeral for Verla Puffenbarger.
This week's clickety-clacks for the chin waggers are as follows:
Cats cannot see in absolute darkness, as many people believe.

In Christopher Columbus's four voyages to America, he never once set foot on what is now the Continental United States.

In an average lifetime, the heart beats 2.5 billion times.

The sea otter eats while floating on its back, using its chest as a lunch counter.

The Pony Express was a financial failure and lasted only 18 months.
Concerns for this week are many. They are as follows: Roger and Joan Ashley, Mercedes Aumann, Vernon "Fuzzy" Baldwin, Nathan Beachler, Lynn Beatty, Debbie Beeal, Jed Conrad, Jeff Craig, the Anna Cupp family, Mary Eye, Mia Felici, Donna Fleisher, Ron Gilkerson, Lola Graham, Jordan Greathouse, Marvin Hartman, Steve and Armanda Heavner, Gary and Jackie Hills, Virgil Homan, Jr., Myrtle Hoover, Debbie Horst, Anna Gae Hughes,  Alice Johnson, Richard Judy, Dennis Kincaid, Kim Kline, Melissa Lambert, Robert Lambert, Rex Landis, Angela Lung, Linda Malcolm, Betty Mallow, Roger and Skip Mallow, Neil McLaughlin, Gary Mitchell,  Jamie Mitchell, Melvin Moats, Aaron Nelson, Ruth Nelson, Don Nilsen, Cheryl Paine, Sutton Parrack, Shirley Pratt, Alda Propst, Kara Propst, Kathy Propst, Linda Propst, Mike Propst, Stanley Propst, Sheldon Propst, K.D. Puffenbarger, the Verla Puffenbarger family, Dick Rexrode, Gary Rexrode, Jason Rexrode, Jimmy Rexrode, Robbie Sites, Ona Smith, Sandra Vandevander, Pam Rexrode, Max Rodriguez, Donna Ruddle, Annie Simmons,  Barry and Phyllis Simmons, Davey Simmons, Amy Vaus, Judy Williams, Margaret Wimer, people in Ukraine and Yemen, earthquake victims in Turkey and victims of East Palestine, Ohio.