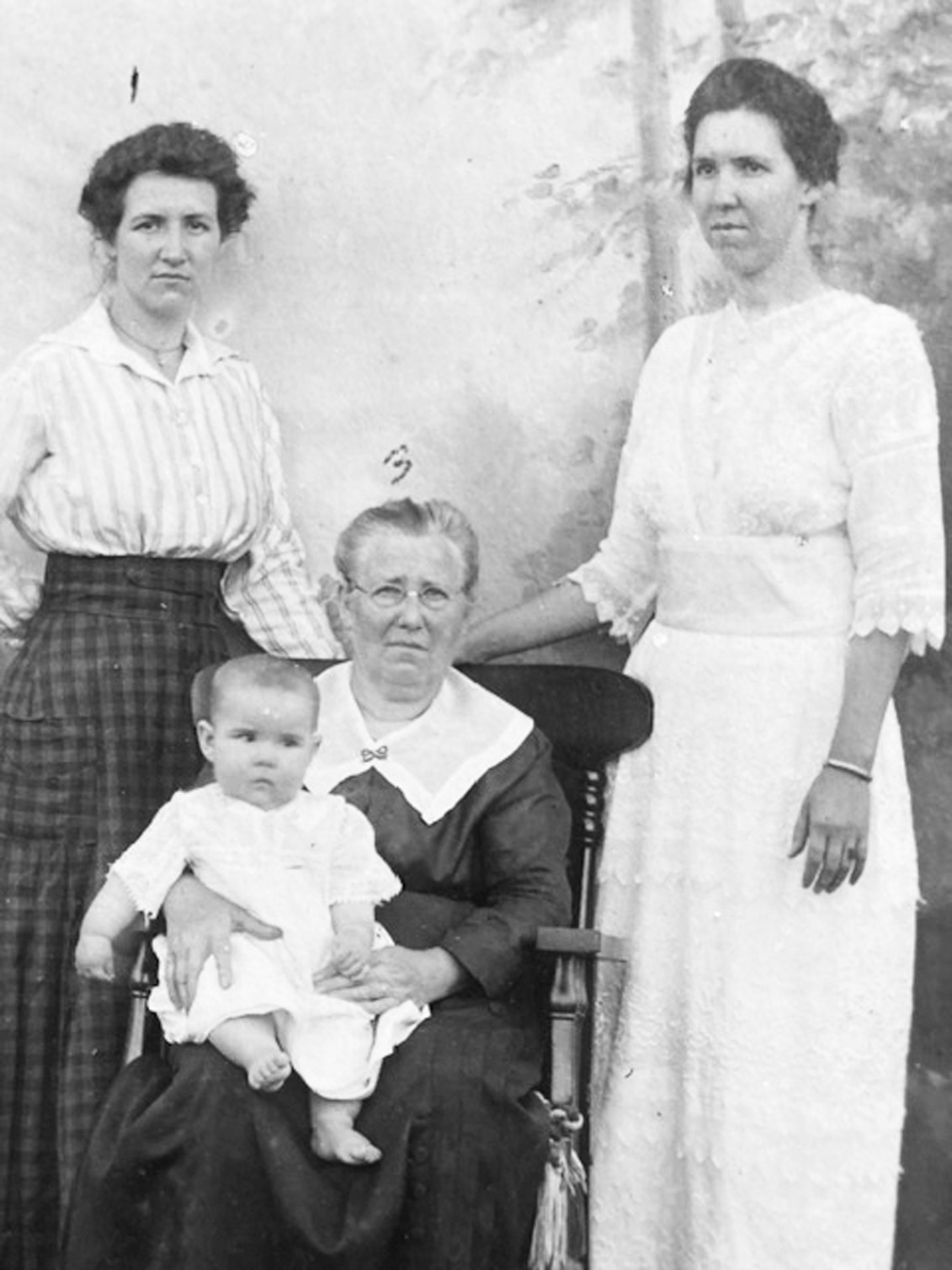 By Paula Mitchell
If one expected to have pork all year long, one needed a smokehouse. From earliest times, a smokehouse was a small enclosed shelter, often vented with a single entrance, no windows, and having a frequently gabled or pyramid-style roof. A solid wooden floor usually surrounds a brick pit in the center of the floor. Water inside the meat is a problem. It spoils everything. Dried meat lasts longer. So, the heat and smoke are meant to drive off the water.  
Traditional smokehouses served both as meat smokers and to store the meats for groups of people. These houses were secured to prevent animals and thieves from getting access to the foods. The meats were hung to prevent vermin from reaching them.  
Prior to electricity and freezers, meat was preserved by heavy salting. Hogs were slaughtered after the onset of cold weather, with the hams and other pork products being salted and hung to last into the following summer.  
Originally, the smokehouse was a building where meat and fish were cured with smoke. Even when smoke was not used, it was still referred to as the smokehouse. Another term was meat house which is quite commonly used today. 
Another way of removing water is with salt. The job starts by working a mixture of 25 pounds of salt and two pounds of brown sugar deeply into every inch of the fresh meat. Two ounces of saltpeter are added so the meat will retain its pinkish color. It's a tough job that can only be done by hand.
In essence, one cures meat in two steps. The fresh cuts are packed in tubs of coarse salt for about six weeks while the salt draws most of the water from the flesh. Then the salted meats are hung in a tightly constructed wooden shed, usually without windows or a flue, in which a fire smolders for one to two weeks. The result is dried, long-lasting, smoke-flavored meat that will age in the same smokehouse for two years before it's eaten. In this case, a fire is made on the floor in the middle of the building in the morning, which is not necessary to renew during the day. This is done for four or five days successfully. The vent for the smoke is through the crevasses of the boards.  
There are still smokehouses remaining in this community.
Life's little instructions include the following:
Support local organizations.

Don't ride in a car if the driver has been drinking.

Never pass up a chance to jump on a trampoline.

Spoil one's wife, not one's children.

Watch one's finances like a hawk.
There are two Supermoons in August. On Aug. 30, there will be the elusive super blue moon. (A blue moon is a 16th century expression, in which a blue moon referred to something that never or rarely happened.) This big bright lunar display is when the moon nears its closest point to earth. Weather permitting, this should be a beautiful display.
The sunflowers and Queen Anne's Lace are nodding their heads along the roadways and gardens which is truly a beautiful display during the hot sultry days.
This week's quotes are as follows:
"The Nazis came for the Communists, and I didn't speak up because I wasn't a Communist. Then they came for the Jews, and I didn't speak up because I wasn't a Jew. Then they came for the trade unionists, and I didn't speak up because I wasn't a trade unionist. Then they came for the Catholics, and I didn't speak up because I was a Protestant. Then they came for me, and by that time there was no one left to speak for me." — Martin Niemoller, a German Protestant pastor.
"The world is too dangerous to live in — not because of the people who do evil, but because of the people who sit and let it happen." — Albert Einstein
Being on the porch and using a fan to fuel cool air is where one can hear the "Talk of the Grove."
Saturday was the Mountain Mama bike ride. There were lots of bikers, and it was a beautiful day to ride.
The Clinton Bowers' and Maria Miller's families have returned following a Myrtle Beach, South Carolina, vacation.
Returning from a bus tour out west which encompassed South Dakota, Utah, Idaho and Wyoming were Sam and Brenna Mitchell Cockran. While in Wyoming, the couple chanced upon the jail where Barto Rymel spent some time.  Barto was featured in Pendleton County Historical Society's spring newsletter.  
Tom and Paula Mitchell and their family have returned from an Outer Banks, North Carolina, vacation.  
Helen and Rhonda Nash had another brief visit with "grands and greats." Granddaughter/niece, Holly Lowery, and children, Kinsley and Levi of Mineral Virginia, accompanied by Hannah and Madelyn Fox of Bumpass, Virginia, enjoyed a couple of days at Nashland before the start of the new school year. Plans for lunch in town and an afternoon at the pool were thwarted by rain; but just "hanging out" with Mamaw Helen and Peachy still made for a fun, enjoyable time.
Donna and Bill Arrington got to spend a week in Florida with their son, Evan, and his beautiful family. They call it their second home because of their miracle baby, Zeke, who has to go every year for the first five years to see how he is progressing, health wise.  Even though it was very hot, they went to Bush Gardens, the zoo and the aquariums. They had a great time.
The Harry Grogg family gathered Sunday at the Dayton Park in Virginia to hold their annual reunion.
Wednesday evening found Janet Judy, Judy Costello, and Evelyn Varner motoring to McGaheysville, Virginia, to celebrate Richard Marshall's college going away party.
Becky, Ben, Emma and Nathan Puffenbarger spent Thursday and Friday in Fredericksburg, Virginia, while Wes was in training. Robert and Nancy Hodges spent the weekend with Wes and Becky Puffenbarger.
Clickety-clacks for the chin waggers are as follows:
Termites live in social communities, much the same as ants.

An ear of corn always has an even number of rows.

A baby has in excess of 60 more bones than an adult.

Originally, no one ran for vice president. The man receiving the second largest number of electoral votes for president became vice president.

All circus seals are California sea lions.
August birthdays include the following: Lynn Nelson and Wanda Rexrode, 16th; Jeff Simmons, Josh Owens and Tanner Rogers, 17th; Sheldon Waggy and Rhonda Nash, 18th; Helen Troutman and Trace Lambert, 19th; Jerry Malcolm and Donna Brady, 20th; Logan McMillen, Jonathan Eye and C.C. Hoten, 22nd; Mike Jamison and Bobby Puffenbarger, 23rd; Bret Reel and Kenny Simmons, 24th; Debbie Thompson, Greg Simmons, Pat Simmons, Jerry Snyder and Lois Jean Riggleman, 25th;  Jeremy May, 28th; Brenda Fisher and Isiah Kobetic, 29th; Lucy Shoemacker, 30th; and Kinsley Armstrong, Kathy Bowers, Brad Kile and Diane McConnell, 31st.
Concerns for this week are many. They are as follows: the Teresa Adamson family, Charles Anderson, Roger and Joan Ashley, Mercedes Aumann, Vernon "Fuzzy" Baldwin,  Lynn Beatty, "Bo" Boggs, Marie Cole, Jed Conrad, Jeff Craig, Maurice Davenport, Mary Eye, the Bob Fisher family, Donna Fleisher, Lola Graham, Jordan Greathouse, Marvin Hartman, Steve and Armanda Heavner,  Jackie Hill, Virgil Homan, Jr., the Mary Hedrick Howdyshell family, Myrtle Hoover, Debbie Horst, Mike Jamison, Alice Johnson, Richard Judy, Marsha Keller, Danny Kimble, Dennis Kincaid, Kim Kline, Melissa Lambert, Robert Lambert, Rex Landis, Angela Lung, Linda Malcolm, Betty Mallow, Roger and Skip Mallow, Neil McLaughlin, the Sheldon Miller family, Barbara Moats,  Melvin Moats, Aaron Nelson, Ruth Nelson, Don Nilsen, Cheryl Paine, Barbara Parker, Sutton Parrack, Shirley Pratt, Alda Propst, Kathy Propst, Linda Propst,  Harley Propst, Mary Puffenbarger, Jason Rexrode, Jimmy Rexrode, Pam Rexrode, Donna Ruddle, John Ruddle, Annie Simmons,  Barry and Phyllis Simmons, Davey Simmons, Erin Simmons, Robbie Sites, Rosa Tichenor, Sandra Vandevander, Amy Vaus, Judy Williams and Margaret Wimer.