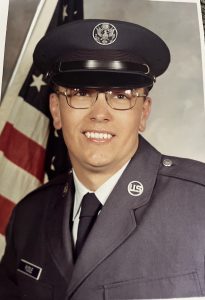 Steven F. Ruddle, 71, of Franklin died June 22, 2023, at Winchester Medical Center in Winchester, Virginia.
He was born May 21, 1952, at Petersburg and was the son of the late William Hinkle Ruddle and Mary Frances (Shobe) Ruddle.
Mr. Ruddle was a 1972 graduate of Franklin High School, a veteran, having served in the U.S. Air Force for 18 years, and later worked as a security officer.
He was a member of the Franklin United Methodist Church, American Legion Post 30 and Potomac Highlands VFW Post 6454.
He is survived by a sister, Donna Sponaugle of Alexandria, Virginia; two brothers, Dale Ruddle of Norcross, Georgia, and Randy T. Ruddle (Frances) of Franklin; three nieces; and three nephews.
A funeral service was held Tuesday in the chapel of the Kimble Funeral Home in Franklin with Pastor Rob Borror officiating. Interment was at Cedar Hill Cemetery in Franklin with military honors accorded by the Andrews Air Force Base Honor Guard.
Memorials may be made toward funeral expenses, c/o Kimble Funeral Home, PO Box 159, Franklin, WV  26807.
Online condolences and memories may be shared at www.kimblefuneralhome.com.