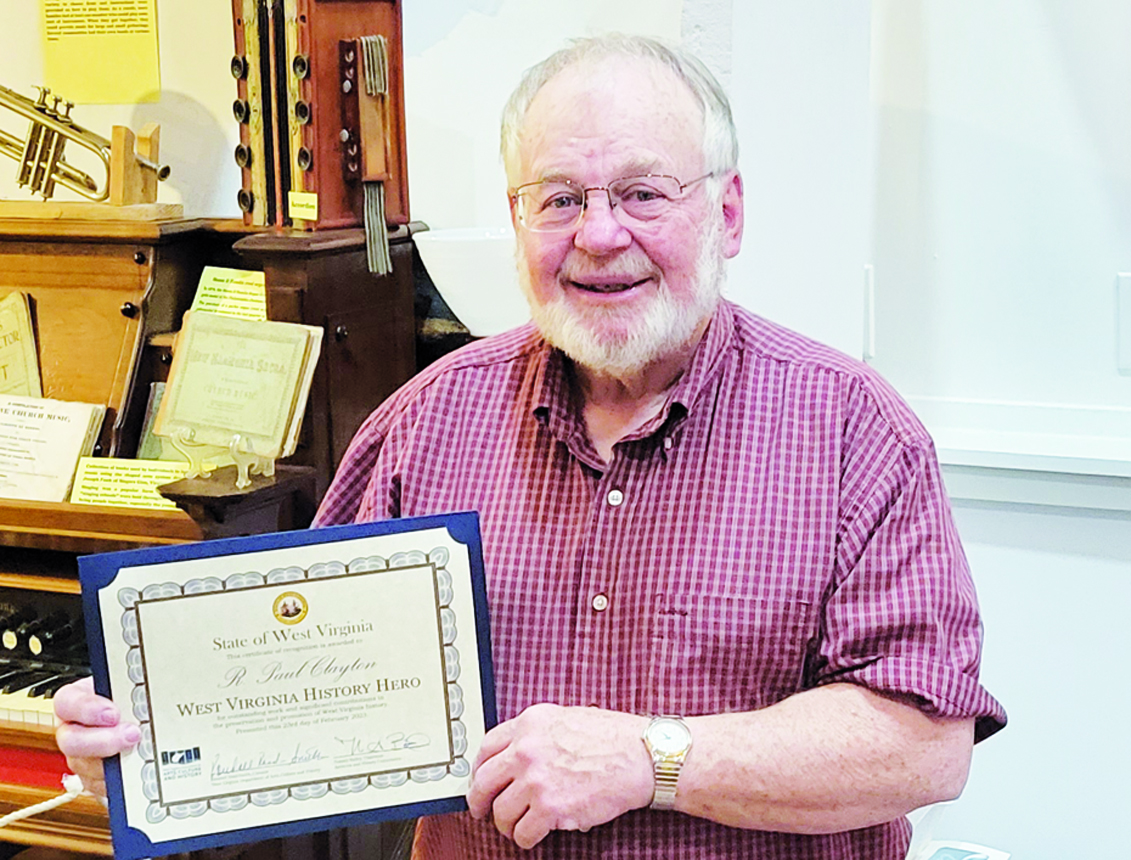 By Stephen Smoot
For more than a quarter of a century, the State of West Virginia's Archives and History Commission and its successor offices have honored "history heroes." The ceremony takes place on a day set aside to honor and celebrate both the history of the Mountain State and those who best bring it to life.
This year, the state honored R. Paul Clayton, president of the Pendleton County Historical Society.
It all started when "my parents got me started on a book of the month club," said Clayton. He explained that "they were all biographies of people like Sam Houston, John Paul Jones, and others. That got me into it."
The History Heroes Award can only be given to one person in the course of their lifetime. According to a release, "the purpose of this annual award is to give state-level recognition to individuals chosen for dedicated service on behalf of an organization's programs or for a recent significant contribution to state and local history through research, interpretation, publication or preservation." 
Clayton's love of state history started in young adulthood. As he stated, "I developed an interest in West Virginia history in college, primarily." Clayton recounted that his state history professor at West Virginia University "had so many inaccuracies in his knowledge of the state. I knew I could do better."
He went and proved it by earning a teaching degree and returning to Pendleton County. "I taught West Virginia History to the eighth grade for years at Brandywine," Clayton remembers, adding that "I had a number of Golden Horseshoe winners. I also took a number of kids to Youth in Government." Working with history standouts "was the highlight of my history work outside of the museum."
History is best learned outside of the classroom and Clayton tried to take his students to places where it happened and was remembered. Students often went on two-day outings to Washington, DC. Once, however, he led a three-day tour across the state. Students raised funds to pay for a trip that included General Robert E. Lee's favorite resort, The Greenbrier, the Beckley Exhibition Coal Mine, sites in and around the state capital, Marshall University, Point Pleasant, Moundsville, then a return home through Morgantown and Fairmont. 
He recalled that "I found that children that age get bored easily." They did not spend much time at each stop, but were encouraged to come back to areas of interest.
As a teacher, Clayton taught West Virginia History, world history, mathematics, and science, but his favorite topics centered on the frontier era and those from the state who became successful. "We get stepped on a lot," he said, "by people from the outside, but we should be proud."
Clayton also was part of history, serving as superintendent of Pendleton County Schools for six years during a controversial period of school consolidation. 
According to the History Heroes program, Clayton earned the award when he "oversaw expansion of the museum through construction of an addition." He explained that his background in construction helped considerably with the project. Clayton "also has overseen getting archival supplies and new computers, as well as development of a collection catalog." Furthermore, he is one of the most vital volunteers who help to keep the museum open to visitors during the Treasure Mountain Festival.
Clayton is proud that "the historical society is putting out information that's real," telling the stories of the region's past. Recent research turned up the fact that his great-grandfather's brother was indentured. Outside of the historical society, he is working on providing opportunities "for people to stay several days in a rural atmosphere." The property has a sugar camp and also raises cattle and hay. Clayton has restored and displayed a large number of old farm and household tools as well.
"I wanted people to be able to see this," he explained.
Randall Reid-Smith, Governor's Curator for the West Virginia Department of Arts, Culture and History, presented the awards. Clayton recalled that Reid-Smith "said the drive in is a successful activity, and he is glad of that." He also related that the curator was recently stopped in Franklin for speeding.
When asked why, Reid-Smith stated that he was on his way to the county commission with a check. This explanation helped to get him out of the ticket, but he couldn't escape some good-natured ribbing from Clayton, who informed him "the West Virginia State Police in Franklin say hi!"
For Clayton, it always comes back to the living history. "I love reading, learning, and talking about language and vocabulary, words that we still use from Elizabethan times, religion, when and why people settled where they did." He remembered that his favorite class was a graduate course taught in Franklin that covered "music, religion, black history, dance, and language."
One of the most vital lessons, however, was that he learned to be "very proud of this state and our country. We're pretty resilient."