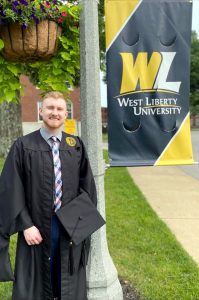 Zachary Sheldon Sites, formerly of Sugar Grove, was awarded a master of science in physician assistant studies June 10 from West Liberty University. He is a graduate of Pendleton County High School, class of 2015, and West Virginia University in Morgantown, class of 2018,
Following his graduation from WLU, he successfully passed the Physician Assistant National Certifying Exam (PANCE) on June 22 in Washington, Pennsylvania. He has accepted a position as a physician associate at Winchester Cardiology and Vascular Medicine PC, and will be practicing at Winchester Medical Center in Winchester, Virginia, where he worked as a scribe prior to attending school at WLU. He will be specializing in interventional cardiology and begin seeing patients this fall.
He is the son of Michele Layman Sites of Sugar Grove and Robbie Sites of Franklin, and the grandson of Sheldon and Marilee Layman of Dayton, Virginia, Sue Carole Sidley of Orlando, Florida, and the late Bobby Jack Sites of Franklin.