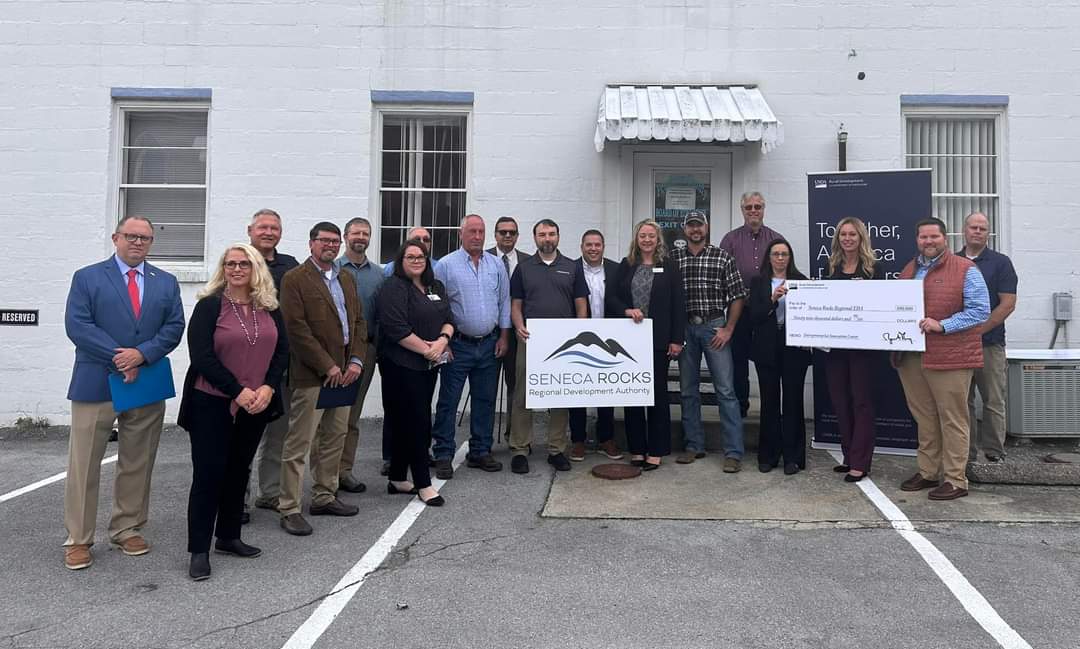 By Stephen Smoot
Dignitaries from the worlds of politics and economic development gathered in Franklin last Friday to mark the creation of an innovation hub for Pendleton County.
The assembled group announced grants from the United States Department of Agriculture Rural Development office. The grant supporting the purchase of the innovation hub totaled $99,000. Experience Learning received $50,750 to assist in its expansion of trail amenities in its Pendleton County facility.
Dayne Davis, vice chairman of the SRRDA board, said, "I welcome everyone to our slice of paradise here" and added that the grants "ensure local businesses, restaurants, lodging, and others continue to reap the economic benefits."
Attendees included Ryan Thorn from USDA Rural Development, State Senator Robert Karnes, Keith McIntosh, state projects director for Senator Joe Manchin, and Bill Bissett, state director for Senator Shelley Moore Capito, and Laura Brown, executive director of the SRRDA.
Thorn noted that the 60 programs administered by his office had the capability of building an entire town on their own. He also shared that "when I visited Pendleton County last year, I knew something was in the air."
Carl Hevener, Pendleton County Commission president, shared, "I'm glad to see this come around." He explained that the idea for the hub came from a friend of his who came from Maryland to visit Pendleton County. 
As Hevener explained, his friend "came for the weekend" but "said he'd bring his family and stay for a week" if he could have access to high-speed internet to make it a working trip. Much like similar centers and Martinsburg and elsewhere, the hub will provide low-cost temporary office access to those working remotely.
It will also mimic some of the features of a similar establishment run by Eastern West Virginia Community and Technical College in Wardensville under its former president Charles Terrell. That innovation hub offered opportunities for newly established businesses or entrepreneurs to receive training and mentorship.
In a recent meeting, the SRRDA established the innovation hub as one of its top Pendleton County priorities, in addition to expansion of tourism and residential opportunities at Fisher Mountain and broadband. The regional development authority will also focus in Grant County on a water study, readying the Mount Storm industrial park, and developing an innovation center and other amenities for a plot of land on Virginia Avenue in Petersburg.
Broadband expansion remains a featured priority SRRDA work in both counties.