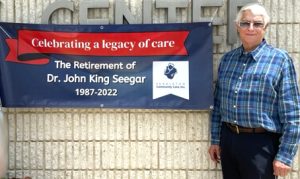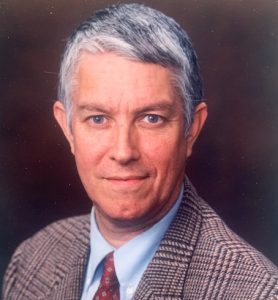 By Ammie Ruddle
 Longtime Pendleton Community Care physician Dr. King Seegar has retired after 35 years dedicated to making healthcare more accessible to children as well as people who live in isolated areas. 
"Dr. Seegar has been a pioneer and advocate for healthcare in Pendleton County and especially in our schools," said Jamie Hudson, the CEO of Pendleton Community Care. "He identified a need for healthcare to be available in a school setting so that families have multiple places to access care for their children."
Hudson went on to say, "Services will continue to be available at all of Pendleton County schools."  She remembers Dr. Seegar as a "forerunner in the state to initiate that type of access. With his support, PCC has continued to grow and provide medical services to a rural area with the advantage of offering discounted services to those that would qualify."
A retirement celebration was held May 14 at the Pendleton Community Building in Franklin for the longtime Pendleton Community Care physician Dr. Seegar, as he embarks on the new journey that is retirement. What lays in store for him in the future is unknown, but what he has accomplished to this day is common knowledge among the residents of Pendleton County. 
Dr. Seegar's wife, Jane McCauley Seegar, wrote a small biography for those who don't know his story. According to the biography, Dr. Seegar's first encounter with Pendleton County came in the 1960s, when he was a teenager visiting from Boston, Massachusetts, to explore the caves and rock formations with friend Dan Taylor. "He was always looking for exciting places to explore," his wife stated. 
It would be10 years, which included a stint in the Army as an intelligence officer in Korea, and a 20,000-foot hike up Mt. Logan in Yukon, before Dr. Seegar returned to Pendleton County. 
In the 1970's Dr. Seegar and Taylor returned and founded Woodlands, now Experience Learning, located on the top of Spruce Knob. According to Jennifer Taylor-Ide, long time friend and co-worker "Before PCC, folks would travel, sometimes as far as an hour, to see the doctor and wait in a line hoping to be seen (by a doctor) before the day was done. PCC introduced a more structured way of seeing a physician."
Also in the biography, Seegar's wife wrote that Dr. Seegar split his time between the Woodlands and travel, adding Japan, Nepal, Central Africa, and India to his passport. He then attended West Virginia University School of Medicine in 1980 and the University of Arizona College of Medicine in 1984 for his residency in pediatric medicine before finally settling down in Pendleton County in 1987. 
It was then that Dr. Seegar began his practice at PCC. He also continued to study and teach. "He always considered himself a teacher," his wife stated. 
Dr. Seegar began offering books to children when they came in for clinic visits, then pursued and initiated a new program for the state of West Virginia that included adding health care centers in public schools to "meet children where they are every day," Jane Seegar said. 
So in 1991, Pendleton County became the first county in West Virginia to put a school-based health program in the state.  There are now school-based health care centers in almost all counties. More information on school-based health centers can be found on www.prezi.com. 
He not only addressed physical health needs but worked to address mental health needs for children and adolescents in the county, using strategies such as the Adolescent Risk Assessment surveys, to address the concerns. 
In 2006 Dr. Seegar was honored as the American Academy of Pediatrics' WV Pediatrician of the Year. He also took home the Chamber of Commerce Lifetime Achievement Award in 2016, and the Leadership Award in 2018. 
Rebecca Eason, CFO of PCC, noted that he had provided medical care to generations of residents. "Dr. Seegar was an integral part of PCC from the beginning, in the 80s, she said. "He put his blood, sweat, and tears into this place and will definitely be missed.