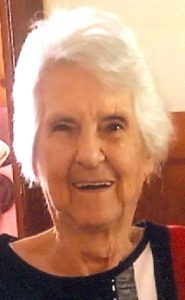 Ressie M. Kimble, 93, of Upper Tract passed away March 4, 2022, at Grant Memorial Hospital in Petersburg.
She was born Sept. 29, 1928, at Smoke Hole and was the daughter of the late Osa Preston Alt and Ethel Hannah Shreve Alt.
Mrs. Kimble was a 1944 graduate of Franklin High School. She and her husband were in the restaurant business for more than 40 years, including Valley View Grill, Do Drop Inn, Midway Service Station, Dick's Restaurant and Trailer Court and the Upper Tract Restaurant.  They also owned poultry houses. She was always willing to babysit.  She was a member of the Wilson Chapel United Methodist Church.
On Nov. 23, 1949, she married Harlan W. Kimble who preceded her in death on May 17, 2016.  
Surviving are five daughters, Brenda Judy and husband, Bill, Pam Kimble, Terri Kimble and Jill Liggett and husband, R.T., all of Upper Tract and Paula Kimble and fiancé, Quintin Gill of Buchanan, Virginia; two sons, Greg Kimble and wife, Debbie of Petersburg and Kent Kimble and wife, Donita of Upper Tract; a sister, Audrey Mowery of Upper Tract; 16 grandchildren, Kevin, Andrea, Scott, Jamie, Tonya, Jared, Preston, Carson, Paden, Matthew, William, Lance, Alexis, Ridge, Ross and Cheznie; 18 great-grandchildren, Carter, Ashlyn, Tyler, Cole, Peyton, Addie, Justin, Kaitlyn, Madison, Jada, Hailey, Cade, Kacie, Jaxon, Titus, Kadin, Kierstyn and Kinley; and a great-great-grandson, Trace.
She was also preceded in death by a brother, Clinton Alt; and a sister, Velma Kimble.
A funeral service was held Monday in the chapel of the Kimble Funeral Home in Franklin with Pastor Brad Mitchell officiating. Interment was at Cherry Hill Cemetery in Upper Tract.  Her grandsons served as pallbearers.
Memorials may be made to Upper Tract Vol. Fire Dept., PO Box 42, Upper Tract, WV  26866 or Upper Tract Rescue Squad, PO Box 1290, Upper Tract, WV  26866.
Online condolences and memories may be shared at www.kimblefuneralhome.com.