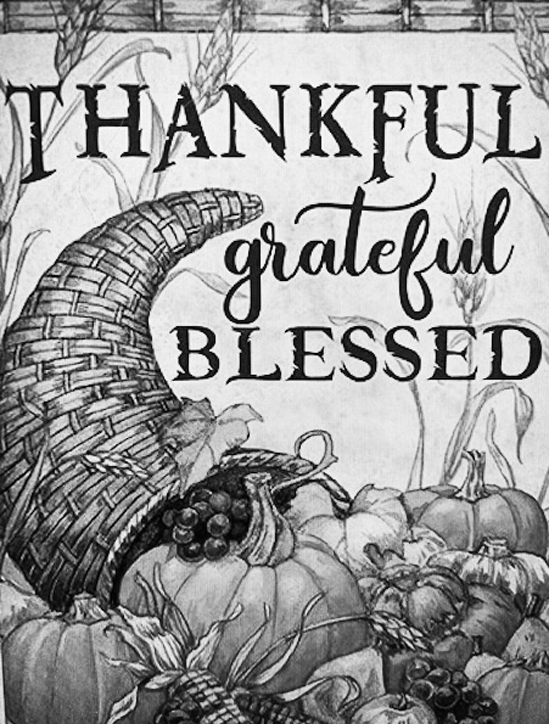 There is no evidence that turkey was on the Thanksgiving menu while the Pilgrims shared a meal with the Wampanoag people in late 1621.  By the time Thanksgiving was declared a national holiday in 1863, it had become a popular dish to serve for large gatherings.  This is because turkeys were plentiful, and a single bird was usually big enough to feed an entire family.  So, the modern myth of the Thanksgiving Day turkey was born.  
As one is seated at the Thanksgiving table with family, a prayer of thanks might be rendered, just as the Pilgrims prayed before their feast.
"Be present at our table, Lord.  Be here and everywhere adored.  Thy creatures bless and grant that we may feast in paradise with thee." — John Cennick
"Thank you for the food we are about to eat, for those who are here to share these blessings, for the generosity of our hosts that make this possible.  Bless those who are here and those who are in our hearts, and those who are not as fortunate on this day."  — Patricia Gore.
"For each new morning with its light, for rest and shelter of the night, for health and food, for love and friends, for everything Thy goodness sends." — Ralph Waldo Emerson
"For health and strength and daily food we praise Thy name, O Lord." — Anonymous
"God is great and God is good, Let us thank Him for our food; By His hands, we all are fed, Give us Lord, our daily bread." — Author Unknown
"Bless us, O Lord, and these thy gifts, which we are about to receive from thy bounty, through Christ, Our Lord." — Author Unknown
Lord, for what we are about to receive make us truly thankful, and for the struggles of this life make us strong and worthy, and for the beauties of the world make us humble and grateful.
The writer wishes each of her readers "A Happy Thanksgiving."
Life's daily instructions to abide by include the following:
Say "thank you" a lot.

Say a blessing before eating meals.

When given a gift, write a thank you note.

Always respond to R.S.V.P.s.

Bring a gift when invited to dinner.
Winds brought chilly temperatures this week, however, Saturday morning was met with 14 degrees.  Nothing to sneeze at.  Snow dusted the area last Tuesday, with no school delighting the students.  Things could be worse. At least one isn't living in Buffalo, New York.
Thanksgiving quotes are as follows:
"What if today, we were just grateful for everything?" — Charlie Brown
"Give thanks for a little, and you will find a lot." — Hausa Proverb
"Wear gratitude like a cloak, and it will feed every corner of your life." — Rumi
"There is calmness to a life lived in gratitude, a quiet joy." — Ralph H. Blum
"We often take for granted the very things that most deserve our gratitude." — Cynthia Ozick
 Life is so much better sitting by the fire to hear the "Talk of The Grove."
Chris and Crystal Huffer visited Wesley and Becky Puffenbarger. Together they helped Butch, Mary and David Puffenbarger butcher a hog. Also assisting was Eric Ralston.
The South Fork Rescue Squad dinner was a huge success.  The delicious food was enjoyed by a hungry crowd.
Worship services at St. Paul Independent Lutheran Church welcomed the Crestmen as they sang on Sunday morning.  Soup and sandwiches followed.
Last Sunday's overnight guest at the home of Phil Downs was Gaye Stafford and her dog, Flynn.  Phil was busy with volunteer services at the South Fork Rescue Squad's Saturday night dinner, and the South Fork Fire Department's dinner on Sunday.  On Sunday afternoon, he did find time to visit with his cousins, K.D. and Verla Puffenbarger.
Marleta Wimer and Leana Leap visited with Rosalee Grogg this past week.
This week's clickety-clacks for the chin waggers are as follows:
Philadelphia is home to the oldest Thanksgiving parade.

Colchester, Connecticut, canceled Thanksgiving because they couldn't make pumpkin pies.

Norfolk Island, Australia, is the only area of Australia to celebrate Thanksgiving.

Balloons weren't part of the first Macy's Thanksgiving Day parade.

Each Thanksgiving, 46 million turkeys are prepared by Americans.
December birthdays include Naomi Mitchell, Emma Puffenbarger and Kippon Owen, first; Josh Hedrick, second; Leana Leap, fourth; Adam Keller, Charlotte Thompson and Kathy Smith, fifth; Willard May and Rose Miller, sixth; Liz Bodkin, eighth; Daniel Propst, Gary Harrison and Gary Sheffer, ninth; Bonnie Shanholtz and Dennis Knicely, 10th; Kelsey Jamison, 11th; Kathy Nelson, 13th; Seth Bowers, 14th; and Pastor Jason Felici, 15th.    
Concerns for this week are many, and they are as follows: Mercedes Aumann, Vernon "Fuzzy" Baldwin, Lynn Beatty, Jack Bennett,  Jimmy Bennett, Bill Brackman, Jeff Evick, Ina Evick, Dan and Margaret Ferrell, Ron Gilkeson, Lola Graham, Steve and Armanda Heavner, Gary and Jackie Hills, Virgil Homan, Jr., Charlee Marie Hoover, Keith Hoover, Myrtle Hoover, Enos Horst, Doris Hull, Bob and Cynthia Hurry, Lisa Dawn Jamison, Alice Johnson, Kim Kline, Richard Judy, Melissa Lambert, Tammy Lambert, Robert Lambert, Rex Landis, Angela Lung, Linda Malcolm, Betty Mallow, Roger and Skip Mallow, Naomi Michael, Gary Mitchell,  Gloria Moats, Joe Moats, Melvin Moats, Aaron Nelson, Ken and Ruth Nelson, Bennie Nesselrodt, Cheryl Paine, Sutton Parrack, Shirley Pratt, Betty Lou Propst, Kathy Propst, Sheldon Propst, Mary Puffenbarger, Verla Puffenbarger, Jason Rexrode, Pam Rexrode, Donna Ruddle, Annie Simmons, Barbara Simmons, Barry and Phyllis Simmons, Davey Simmons, Erin Simmons, Eva Simmons,  Robbie Sites, Ona Smith, Stanna Smith,  Patricia Swecker, Rosa Tichenor,  Sandra Vandevander, Ron White, Judy Williams and Larry Wimer.