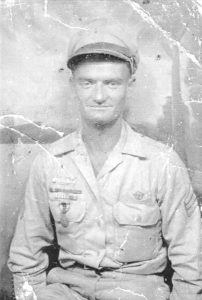 By Charles Teter
Adding to the list of "Unsung Heroes," who left for war as boys and came back as men, is a bit of information on Mason Harper from the North Fork area.
Before the U.S. entered World War II, it had just come out of an economic depression. People had no jobs, no money and the young men, who were 18 years of age, enlisted so their families would have money.
I also found out in my research that a lot joined the Paratroopers or the Air Force. They received a $25 per month stipend.
At this period of time, patriotism and religion were very important to family lives. There are stories where men walked 60 miles to enlist into the service.
Mason served in the South Pacific, earning two Bronze Stars, Combat Infantry Badge and no wounds. He was a front man for his squad. Someone asked why he wasn't wounded, and he stated they always let the first man go through and then ambushed the middle.
He told a story once that it was raining, and he was in a fox hole. All of a sudden, a Japanese soldier jumped in with him. No one got shot, because Mason said, "I could look in his eye and tell he wasn't going to shoot me, and the Japanese soldier could tell I wasn't going to shoot him."
After Mason finished his tour in the South Pacific, he was brought back to Oakland, California. He told the company commander he would like to see a professional baseball game. The company commander took the whole company of men to see a professional baseball game. Mason was right; that was the only professional game he ever saw.
Mason returned home, married and had a family. He worked hard until he passed away at a ripe old age.