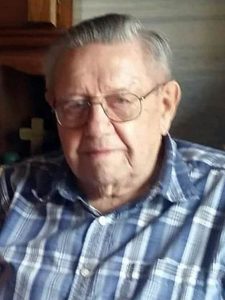 Ralph Emerson Arbogast, 91, of Circleville passed away June 24, 2022, at Stonerise Nursing Home in Keyser.
He was born on May 30, 1931, in Thornwood, the son of the late Truman and Eva (Simmons) Arbogast.
Mr. Arbogast attended Circleville High School and was a member of the North Fork Baptist Church.
He drove truck for many years and farmed for a living. He loved hunting, fishing, playing cards, watching westerns, making hay with his brother, Dave, riding his three-wheeler and cycle, and playing practical jokes on his family. The real highlight of his life was living in the Sinks country. 
On February 1, 1951, he married Bettie Ruth (Vance) Arbogast, who preceded in death on Feb. 22, 2015.
Mr. Arbogast leaves behind to cherish his memories three daughters, Cathy Zirkle Moyer (David) of Broadway Virginia, Caron Warner (Carl) of Circleville and Joyce Helman (Larry) of Moorefield; seven grandchildren, Jeffrey Zirkle (Kelly), Rebecca Zirkle Reid (Aaron), Dawn Warner Halterman (Mark), Wendy Warner Colaw (Jeremy), Jodie Warner Wimer (Matt), Tara Barkley Cook (Robert) and Elisha Barkley Shreve (Jesse); 14 great-grandchildren; six step-great-grandchildren; and three great-great-grandchildren.
He was also preceded in death by three brothers, David Arbogast, Price Arbogast and Paul Arbogast; three sisters, Nila Good, Irma Propst- Day and Mary Judy Harper; and a son-in-law, Robert Zirkle.
Mr. Arbogast's family will receive friends from 6 – 8 p.m. at the North Fork Baptist Church in Riverton.  Funeral services will be held at 2 p.m. Friday at the church with Pastor Debra Lucas officiating.  Interment will be in North Fork Memorial Cemetery in Riverton.
Memorials may be made to the donor's choice.
Memories and words of comfort may be left at www.basagic.com or on Facebook at Basagic Funeral Home.