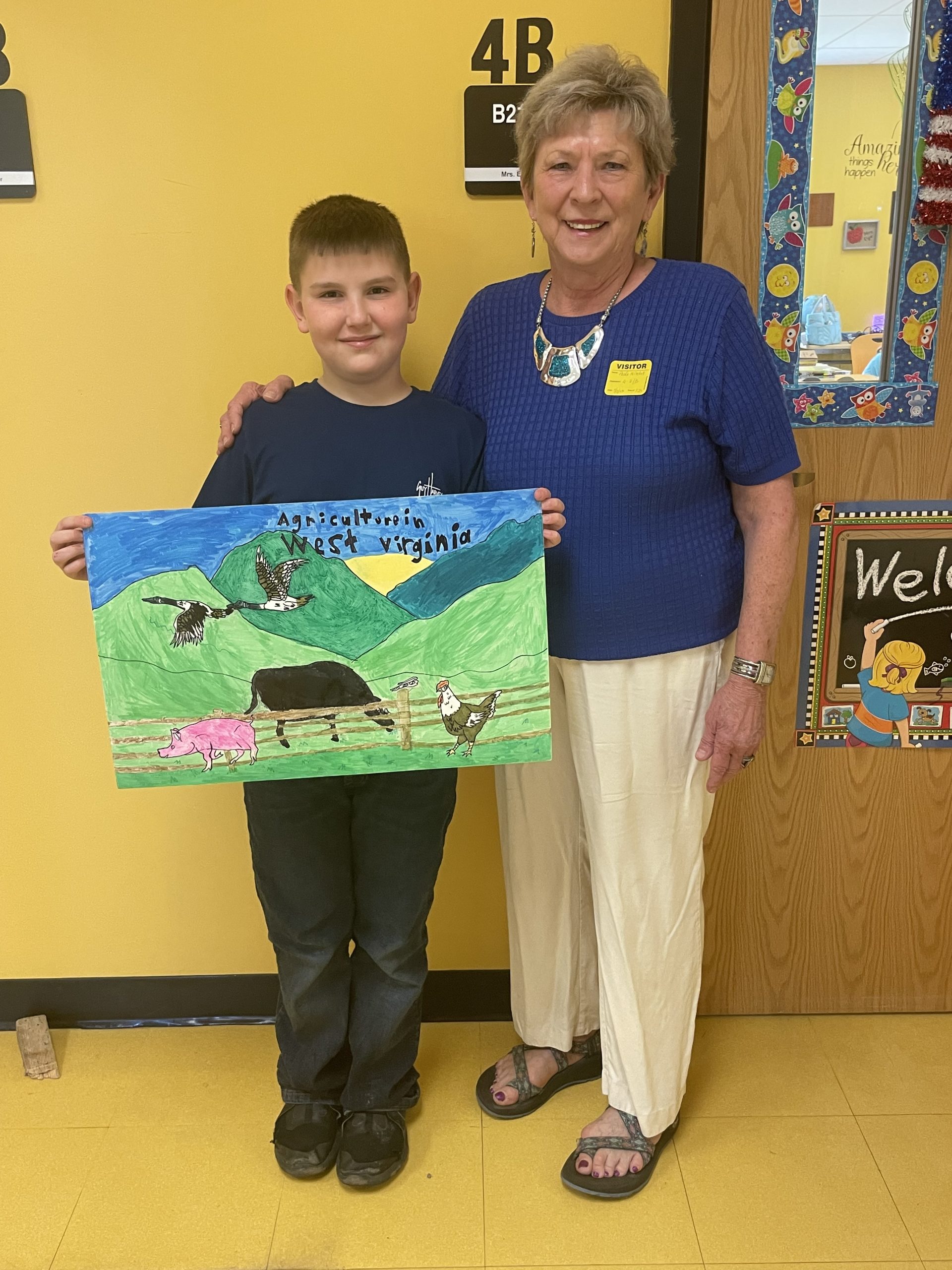 Ross Pownell, a fourth-grade student at Franklin Elementary School, won the Pendleton County Farm Bureau's "Picture Agriculture in West Virginia" poster contest. Second place in the county contest went to Marion Williams with Skye Dahmer earning third place. Honorable mention was awarded to Nolin Nededog and Doyle Plaugher.
The contest for fourth-grade students is sponsored statewide by the West Virginia Farm Bureau's Women's Committee for the purpose of promoting the importance of agriculture in the Mountain State. The winning poster for each participating county farm bureau will be entered in state competition with the first-place entry receiving $100. Pendleton County has participated in the contest for 32 years.
For his winning poster on the county level, Pownell received $15. Williams earned $10, and Dahmer received $5. Nededog and Plaugher each received $2, a Sacagawea dollar and a presidential dollar.
Pownell, Williams and Plaugher are students in Shanna Eye's class at FES. Dahmer and Nededog attend North Fork Elementary School and are students in Rebecca Heavner's class. 
The other students participating in the contest were awarded a presidential dollar. All participants received a certificate, signed by Steve Conrad, president of PCFB, and Paula Mitchell, the PCFB women's committee chairperson.
Fifty-six posters were drawn by the county's fourth-grade. 
The following students also participated in the contest:
BES (Christine Lambert) – Landon Bowers, Owen Champ, Emma Graham, Troy Hopkins, Kinsley Johnston and Paige Warner;
FES (Jennifer Cook) – Carlee Alt, Sadie Armentrout, Braxton Beachler, Eli Boyer, Addy Davis, Hayden Hartman, Kamden Hawk, Wyatt Haynes, Alexis Hedrick, Remington Hedrick, Breymann Keesecker, Maddie Kirk, Leigha Maxson, Cooper Roberson, Acie Tilley, Cambria VanMeter, Cayli VanMeter and Bentley Wimer;
FES (Eye) – Cambree Alt, Blayke Bennett, Kenden Champ, Gwenith Collins, Brianna Conner, Ava Davis, Jacob Harman, Alaina Hedrick, Cambri Hiett, Garrett Lambert, Tucker Minor, Jackson Moyers, Emma Nesselrodt, Chevelle Noble, Loralei Price and Addison Shreve; and
NFES (Heavner) – Chloe Barkley, William J. Dove, Nick Harper, Tori Heavner, Addy Huffman, Ally Jameson, Avery Kile, Colle Kisamore, Elaina Raines, Elizabeth Riffle and Caroline Vandevander.