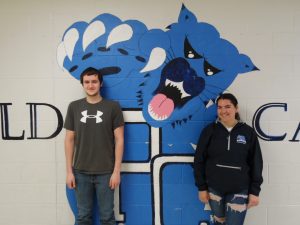 Trent Poling and Jenna Wagoner have been named outstanding students of the month for March at Pendleton County High School.
Poling, a senior, is the James Huffman Responsible Student of the Month. The son of Randy Poling of Brandywine, he is a four-year football player, earning second Potomac Valley Conference team for offensive and defensive lineman. He is currently employed at T&K Markets. He plans to attend Potomac State and West Virginia University to earn a degree in civil engineering with a minor in mechanical engineering.
A senior, Wagoner is the Academic Student of the Month. She is a multi-sport athlete. She has played volleyball and basketball for four years, softball for two years and kept stats for baseball for two years. Her senior year, she was also the captain of the volleyball team. She was named to the A/B Honor Roll, is a member of Fellowship of Christian Athletes and Pep Club and is a teacher's aide. She is also a member of Christ Central Community Church and God's Mountaineer Youth Group and participates in the Adopt-A-Highway trash pick-up program. She plans to attend WVU and pursue a career in medicine. She is the daughter of Michael and Josephine Wagoner of Upper Tract.