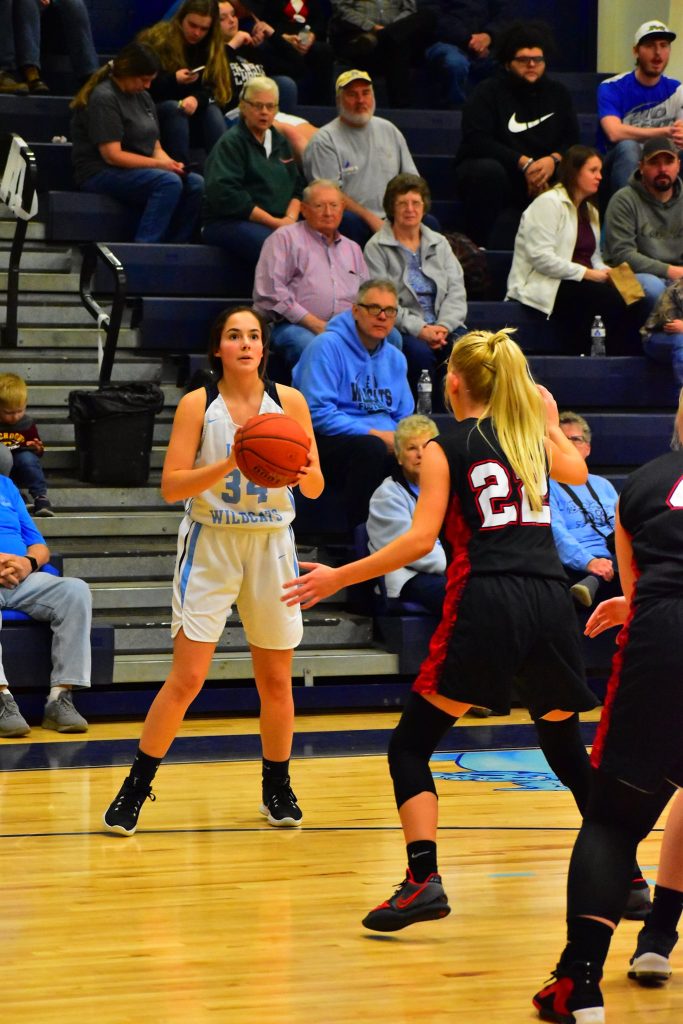 By Shawn Stinson
FRANKLIN – Two games is all that separates the Pendleton County girls basketball team with another trip to Charleston. 
Pendleton coach Micah Bailey would like for his team to claim two victories in its march to Charleston. He knows there is another, but more difficult path to get the Lady Wildcats back to the Charleston Coliseum. Pendleton can return to the state tournament with a loss in the sectional title contest, but it would need to claim victory in the regional co-championship contest. 
Pendleton (7-11) will begin postseason action when it plays host to the winner of the Pocahontas County – Tygarts Valley contest on Feb. 25 in Franklin. Pocahontas, the No. 3 seed in Region II, Section 2, and Tygarts Valley, the No. 2 seed, were scheduled to square off on Feb. 22 in Mill Creek. The winner will take on Pendleton for the sectional title. 
The other side of the Region II bracket featured No. 3 seed East Hardy heading to No. 2 Union for a matchup on Feb. 22 in Union. The winner travels to face top-seeded Tucker County tonight in Hambleton.  
The winner of the Section 2 championship clash will play host to the loser of the Section 1 title tilt for a spot in Charleston. The loser of the Section 2 battle will be forced to hit the road to battle the Section 1 champion for a berth in the state tournament. 
Bailey hopes the Lady Wildcats will be able to reverse a late-season slide. Pendleton has dropped three of its last four contests, including its last two contests. Webster County claimed a season sweep of Pendleton with a 63-26 victory on Feb. 15 in Upper Glade. Petersburg also swept the season series with Pendleton by holding on for a 65-58 victory on Feb. 17 in Franklin. 
"We definitely had some stumbles here and there," Bailey said. "As long as we play up to our potential, we have a good possibility of being successful in the postseason." 
Bailey added it is important for Pendleton to secure home-court advantage during the postseason.
Brandy Bowers and Lizzie Alt both netted a team-leading six points in Pendleton's loss to Webster. Sydney Baird was the only player to reach double digits in scoring, scorching the nets for a game-high 36 points. Baird connected on three 3-point field goals in the win. 
The Lady Highlanders raced out to a 17-9 advantage at the end of the first quarter. Webster stretched its margin to 34-14 at halftime and increased its lead to 48-24 heading into the final quarter. 
Ana Young netted a team-high 24 points in the loss to the Lady Vikings. Avery Townsend contributed 12 points. Kennedy Kaposy netted a team-leading 22 points in the victory. Kaposy was one of three Lady Vikings to reach double figures in scoring. Mickala Taylor chipped in with 17 points and Braylee Corbin added 11 points. 
Petersburg jumped out to a 21-10 lead at the end of the first quarter. The Lady Vikings extended their advantage to 36-22 at halftime. Pendleton started to battle back by trimming the deficit to 51-39 at the conclusion of the third quarter. 
"Record-wise doesn't matter, you can go 15-0 and then lose, you still lose. Or 20-0, it doesn't matter if you still lose," Bailey said. "So being where I'm at record-wise doesn't matter, we knew there would be some bumps this year just because we have new people coming in, accepting new roles. 
"I think now we're where we need to be."