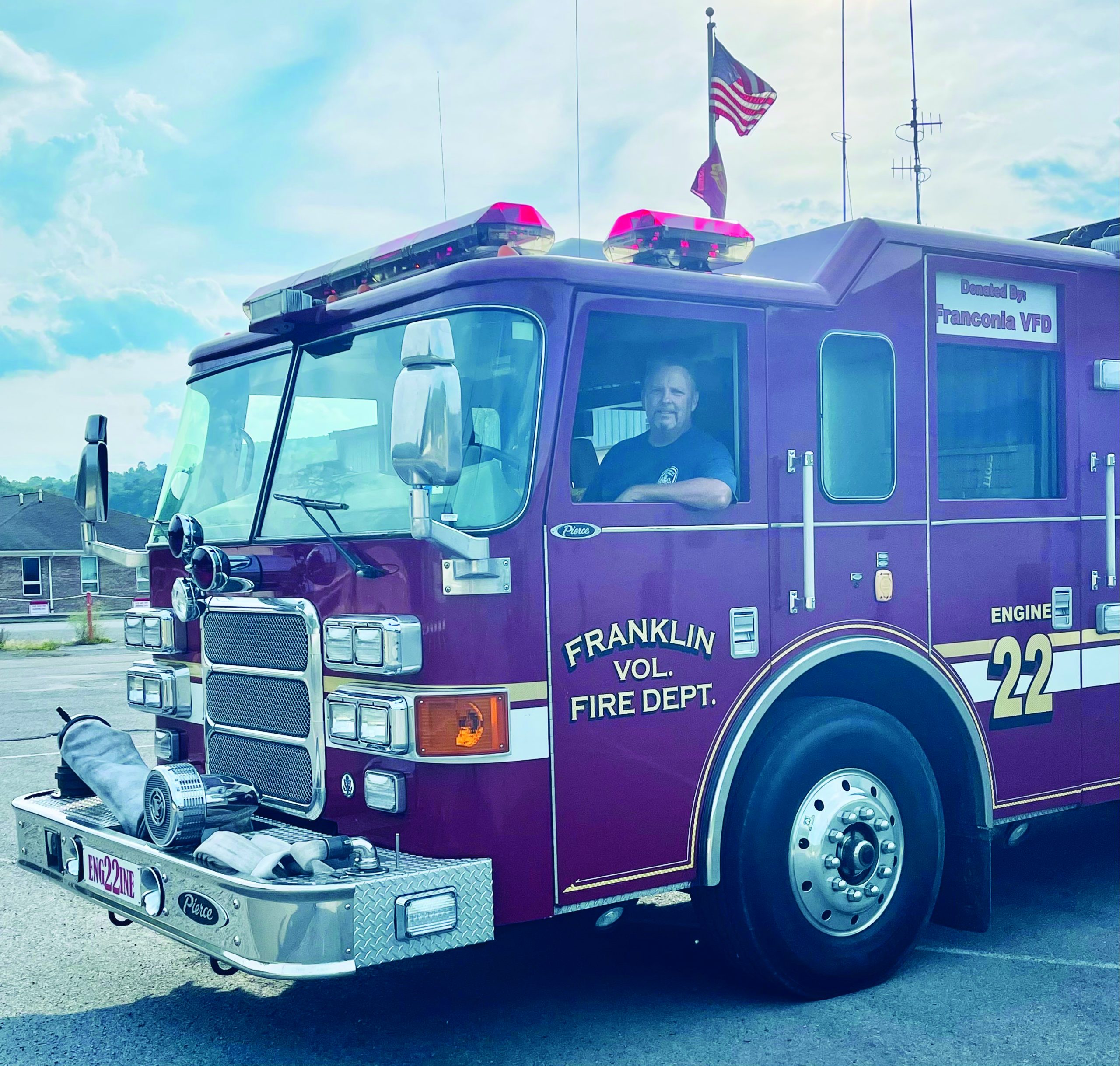 By Ammie Ruddle
Charles Harman remembered showing up at the Pentagon on 9/11 after the plane crashed into it. 
Harman was on his last day of tour for a ladder company when tragedy struck on Sept. 11, 2001, at the Pentagon.
Harman said he had not been at the Pentagon when the plane crashed but recalled seeing the "huge hole, and the smoke rolling and the fire still rolling out of it." He added, "It's something I will never forget."
Harman, a retired firefighter, accompanied his mother to Pendleton County over the weekend to make a sizeable donation to the Franklin Volunteer Fire Department.
When Harman came to Franklin, he immediately recognized the fire truck he once drove daily when he worked for the Franconia Volunteer Fire Department in Fairfax County, Virginia.  
The fire truck had been donated to the fire department in 2021, five years after Harman retired. 
As Harman looked the truck up and down, opening different compartments and laughing at how he had "bolted" this or that, he continued on with memories of being a firefighter. He also recalled riding his bicycle in front of the Franconia VFD as a child and said, "One day, I'm going to work there."
Harman didn't speak of specifics of 9/11, but did mention seeing pieces of concrete lying around him on the ground. 
He said, "That day was the last day of my tour before I had a four-day break. I came straight to West Virginia [Pendleton County]." 
"I got on my four-wheeler, and drove up the mountain and sat next to a creek." According to Harman, he stayed on the mountain for four days listening to the water. He said, "I heard nothing but that water running and what was going on in my head."
 He added, "That was how I had to heal and clear myself."
Harman said, "Looking at that place and experiencing that [9//11], if that don't get you emotional, you don't have a heart, in my book." 
Doug Hartman, chief of the Franklin VFD, also discussed 9/11. He remembered getting up that morning and turning on the television to listen to music, but "there was not music." Hartman said it took a while for him to realize what had happened. He explained that while he was working as a live haul driver, he always saw planes. However, on this night, he said, "I looked up in the sky and there were no planes."
Harman also remembered there being no planes the night of 9/11. He said that he did remember looking up, at one point, and seeing two jets next to Air Force One, as the president at the time, George W. Bush, was flown to a safe location.