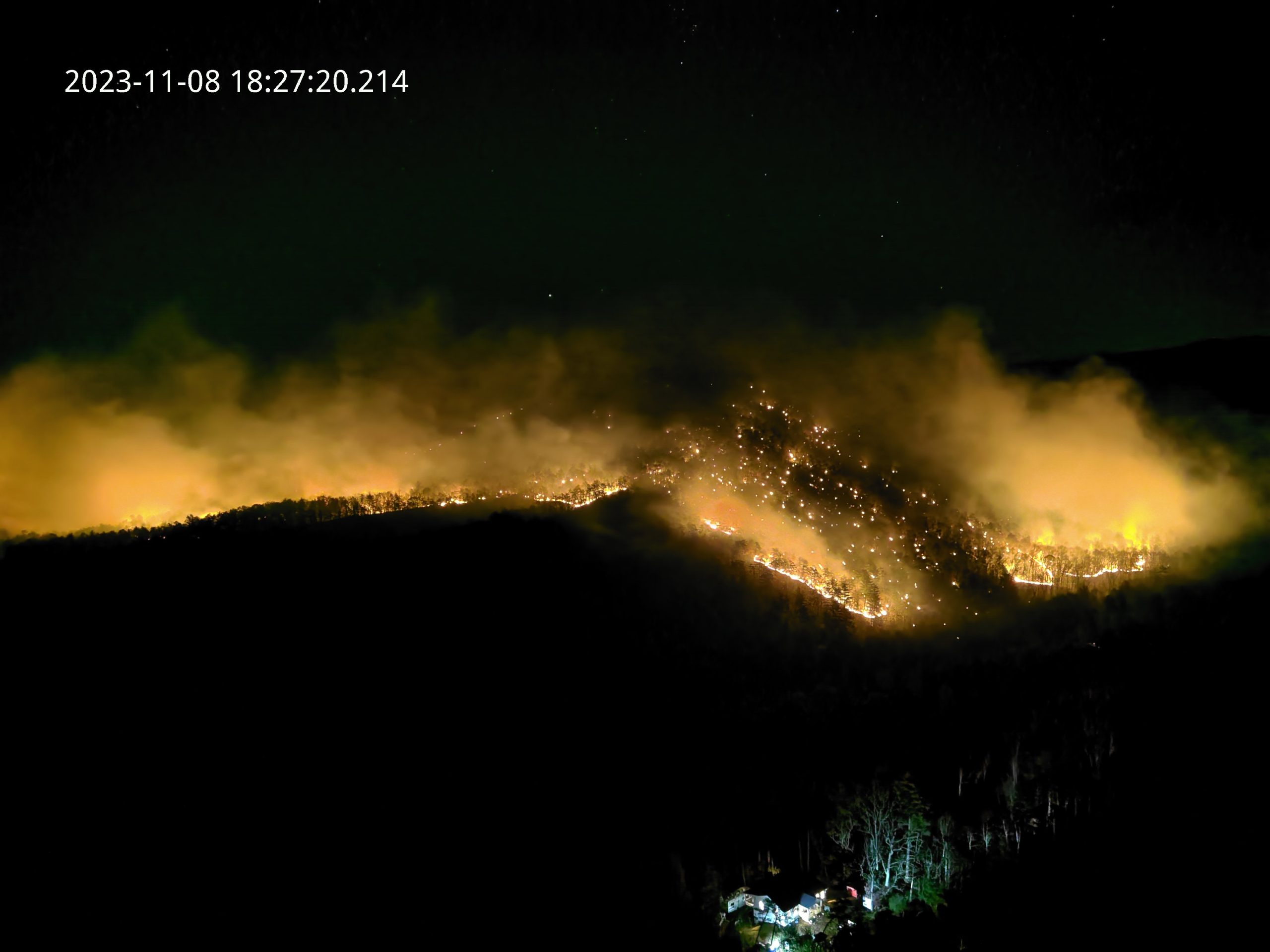 By Stephen Smoot
Seven months after one of the worst wildfires in county history, dry, warm, and windy conditions led to another conflagration, this time in the South Fork area.
Before dawn, around 5:32 last Tuesday morning, Pendleton 911 issued a call of a brush fire that plagued the area for almost a week. According to Rick Gillespie, Pendleton County Emergency Services coordinator, "South Branch Volunteer Fire Department, Franklin, Circleville, and Upper Tract VFDs and Virginia based support from McDowell and Highland VFDs, as well as Rockingham and Clover Hill, responded."
They were backed up by Pendleton County Emergency Rescue for EMS standby, Pendleton Office of Emergency Management for coordination and West Virginia Division of Forestry personnel. Officials established a county command post at Brandywine Lake.
By mid-morning, firefighters had to battle the blaze in mid-seventies temperatures, a steady warm breeze, and no rain in sight. The fire broke out near West Side Road, near Heavener Mountain, which rises more than 2,800 feet and also serves as the official namesake of the blaze.
With the fire breaking out and spreading at the edge of the George Washington National Forest, the U.S. Forest Service moved in federal units to relieve West Virginia and Virginia based units. By 3:50 p.m., the forest service relieved all non-federal personnel and their incident command officials assumed control.
By Thursday, forest service officials reported that the fire had burned 900 acres and firefighters had contained 10 percent of it. According to Stephanie Chapman from the U.S. Forest Service "approximately 70 firefighters and support staff, including two 20-person crews and two dozers," and other equipment, including "a large helicopter with bucket" worked to fight the blaze. Pendleton County Emergency Management and South Fork Volunteer Fire Company remained present in a cooperator role.
By Sunday, the forest service reported 100 percent containment with federal fire crews coming from Colorado, California, Oregon, South Carolina, and North Carolina. Crews surrounded the 1,000 plus acre fire with a 30-foot perimeter line constructed with dozers "and hand crews," according to Gillespie.
On the same day that the Heavener Mountain fire broke out, West Virginia Metro News reported that "the West Virginia Division of Forestry is battling more than 80 fires across the state." One of the more serious, the Steep Valley Fire within the New River Gorge National Park, had burned nearly 2,000 acres.
Kanawha County alone had three separate fires that each burned 2,000 or more acres. State Forester Charlie Spencer told Metro News Talkline that "a lot of these 2,000-acre fires, we've got anywhere from three to six people working on it. You go over to Virginia when they have a 1,000-acre fire, they've got 100 people working on it. It's just a difference in resources."
The cause of the fire remains under investigation.