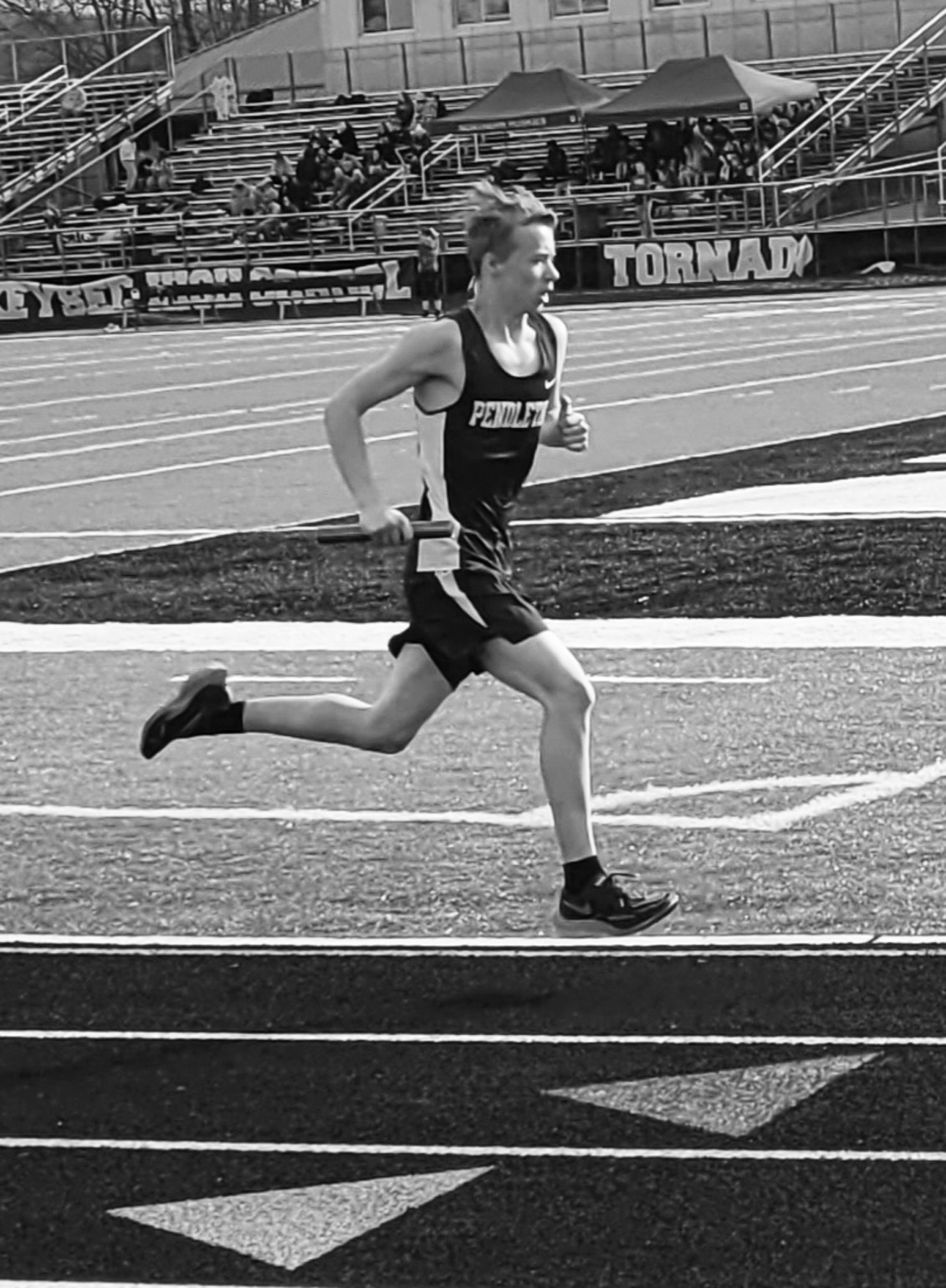 By Stephen Smoot
As the area saw the tail end of a warm winter turn cold, Pendleton County's track squad competed in its first meet of the year at Keyser's Alumni Stadium. The Golden Tornado hosted regional teams, such as East Hardy, Frankfort, Moorefield, Northern Garrett (Maryland), Paw Paw, Petersburg, and Union.
The runners and throwers competed under a partly cloudy sky with temperatures in the mid-30s and a stiff breeze keeping the athletes chilled. 
Chris Wilburn, in his first year as head coach after serving as an assistant last year, shared that the team featured a squad of good, but inexperienced athletes. "Last year, we were really young," he explained. Also, the team has grown to 19 athletes, 14 more than last year. "We're still trying to come up with an identity," Wilburn said.
Despite the freezing temperatures and stiff competition, Pendleton County fought hard for a seventh-place finish in boys competition and eighth in girls. They placed ahead of Petersburg in the former and Paw Paw in the latter.
In the Keyser meet on the men's side, Isaiah Lockard placed 18th in the 100 meter with a time of 13.10. Gabriel Harvey placed 11th with a time of 26.18 and Lockard placed 22nd with a 26.94 in the 200 meter. 
The 400 meter also saw Pendleton County runners competing well against strong competition from larger schools. Lockard earned an eighth-place finish with a time of 59.40. Gage Sites-Woods came in only slightly behind at 12th place with a time of 59.83. Marcus Smith finished 29th with a time of 2:44.82 in the 800-meter race.
In the long distance 3200-meter race, names familiar from cross-country dominated mentions. Thunder Gill placed sixth with a time of 11:20.13 with Titus Nulph coming in at 10th and 12:09.09 and Sites-Woods taking 14th with a 13:11.21 time.
In the 110 meter 39" hurdles, Sawyer Apple placed sixth with a time of 19.49. He also placed seventh in the 300 meter 36" hurdles. Additionally, the 4×800 meter relay team for Pendleton County, comprised of Gill, Nulph, Smith, and Sites-Woods, ground out a third-place finish of six teams. 
Four Wildcats competed in shot put. Sites-Woods threw the 12-pound sphere 35-02:00. Ryland Copley placed 24th with a distance of 28-11.00. Evan Teter threw for a finish at 29th with a distance of 26-10.00. Andrew Mowery placed 39th with a distance of 21-8.00. Both Copley and Mowery set personal bests.
Copley placed first among Pendleton County discus throwers with a 14th place finish and a distance of 89-03, a personal record. Teter threw for 84-01 and 19th place, while Mowery earned a 37th place finish throwing for 50-02.
Apple seized first place in the high jump, setting a personal record of 5-8.00. In the long jump, Harvey took 11th with a distance of 15-4.00. Smith placed 17th, leaping out to 14-06.25
On the girls' side, Laney Sites Woods took a seventh-place finish in the 100 meter, finishing with a 15.03 time. Riley Apple took third in the 200 meters, setting a season record at 31.21, followed by Laney Sites-Woods finishing ninth with 33.31, Emma Hartman at 21st and 35.30, Aubree Keiter at 35.45, and Brynlynn Waggy at 35.86
Three Wildcats competed in the 400-meter race. Laney Sites-Woods topped Pendleton County participants with a 12th place finish and a time of 1:17.58. Hartman finished just behind in 13th with a time of 1:18.30. Keiter placed 22nd at 1:23.85
In hurdles, Riley Apple took fifth place with a time of 19.20 in the 100 meters for a personal best. In the 300-meter hurdles, she came in second with a 53.93 time and a season record.
Wildcat results in the field events include BreAnna Wolfe placing 18th in shot put and tossing for a distance of 21-9.00. She also threw the discus for 62-00 for a 14th place finish. Addie Rexrode and Hartman tied at third in the high jump, both setting a season best height of 4-00.00. Finally, Riley Apple set a season record with a 13-00.50 distance in the long jump.
After the Keyser meet, Wilburn said, "everyone has improved in the first and second week, so I'm pleased with that."