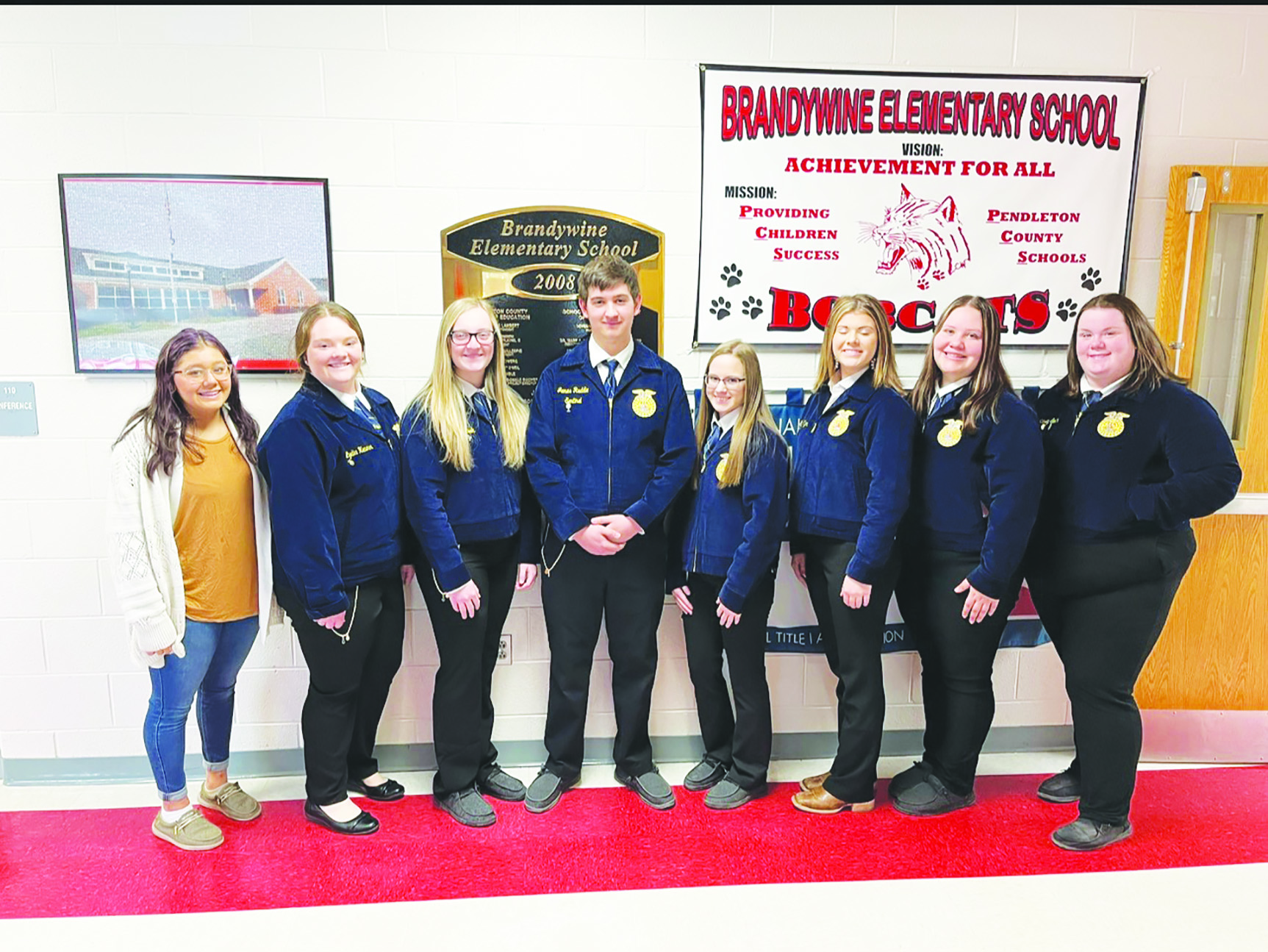 By Stephen Smoot
Almost 106 years ago, Congress passed the Smith-Hughes Act which provided federal support for vocational agriculture education, home economics, and schooling in the trades. Nine years later, part of that support was channeled into developing the Future Farmers of America. Last month the FFA chapter at Pendleton County Middle/High School celebrated FFA, along with its impact on both education and the community. 
All week long, FFA students organized and coordinated activities. Chapter officers, including Selena Hedrick, president, Lindsey Smith, vice president, Ryleigh Cook, secretary, Reagan McConnell, secretary, Lydia Heavner, recorder, and James Ruddle, sentinel, ensured that activities were successful and went as planned.
On Monday, members celebrated with a member tailgate before the boys' basketball game. Ruddle manned the grill and made hamburgers for chapter members in attendance.
Tuesday saw class officers use Food for America Day as an opportunity to educate younger kids on surprising aspects of the food they eat. "We chose corn as our topic," said Hedrick. She added that "we went to all the elementary schools, read to kids." For kindergarten and first graders, they turned "duck, duck, goose," into "kernel, kernel, pop."
Older children learned that many unlikely foods and products use corn for fuel, as a sweetener, and almost everything in between. Hedrick said, "the kids are really interactive and couldn't believe that corn was in all that stuff." Smith added that familiarity helped to breed interest, saying "there are cornfields throughout the county and the kids see it."
While FFA focuses on farming, according to the national website, members also go into fields that relate to and support agriculture. As the site says, "members are future chemists, veterinarians, government officials, entrepreneurs, bankers, international business leaders, teachers, and premiere professionals in many career fields."
According to Ronald Hudson, faculty advisor for FFA, "I've had kids become dentists, lawyers, doctors, physician assistants, engineers, nurses, and teachers." He explained that in addition to learning more about agriculture, "leadership skills kids gain help them go farther in life." He recalled that students returning from college shared that their professors were shocked at their public speaking skills and asked about where they'd learned them.
Wednesday morning found chapter members in the kitchen, arriving at 6:30 a.m. to prepare a true farmers' breakfast for teachers arriving an hour later. Ruddle said, "we made pancakes, bacon, sausage, eggs, and toast. There were a lot of teachers there."
The State of West Virginia has recently enjoyed an explosion of tourism, some of it spurred by those looking for visitor friendly food and agriculture events and sites. Value added agriculture, its relation to tourism, and also advancements in technology, such as in high tunnel greenhouses, make West Virginia agriculture more exciting and potentially profitable than ever. FFA helps members to see those opportunities and learn how to make the most of them for themselves and the community.
Growth in agriculture and tourism in Pendleton County and across the state made Thursday's activity pivotal. On this day, chapter officers went to eighth-grade classrooms to make their recruiting pitch. Officers shared their stories of trips, making new friends, and what they learned in FFA.
Fun, fellowship, skills development, and family top the lists of reasons why students join. Most FFA members look forward all year long to nationals, held last year in Indianapolis. Hedrick recalled that "sitting in the stadium you get goosebumps, especially seeing everyone in their jackets." Last year 70,000 attended and participated, approximately 20,000 more than the population of Charleston.
Heavner agreed, saying that she liked attending "the sessions and seeing everybody there. I had a great time."
Cook described how FFA helped her develop the types of leadership skills mentioned by Hudson. She said, "It taught me how to work better with a team and speak in front of people." Hudson added that as a freshman, Cook would have struggled more with speaking in public.
Students also learn the fundamentals of doing business. "We do the greenhouses," Ruddle said, adding that many have never seen a greenhouse. He explained that in FFA, one can learn to "turn a little bit of money into a lot of money." Ruddle added that "all the profits get put back into the chapter to do events."
Many members join from a sense of family legacy. Smith said, "My older two siblings were in FFA. I live on a poultry farm, so that influenced me, too." Ruddle shared that "I have six siblings and Mr. Hudson knew all my siblings. They liked it and enjoyed it."
FFA also provides a direct local economic impact. According to Hudson, last year FFA contributed approximately $50,000 to the county economy and had $85,000 in total impacts. Much of this comes from livestock and crop projects that students do outside of school hours.