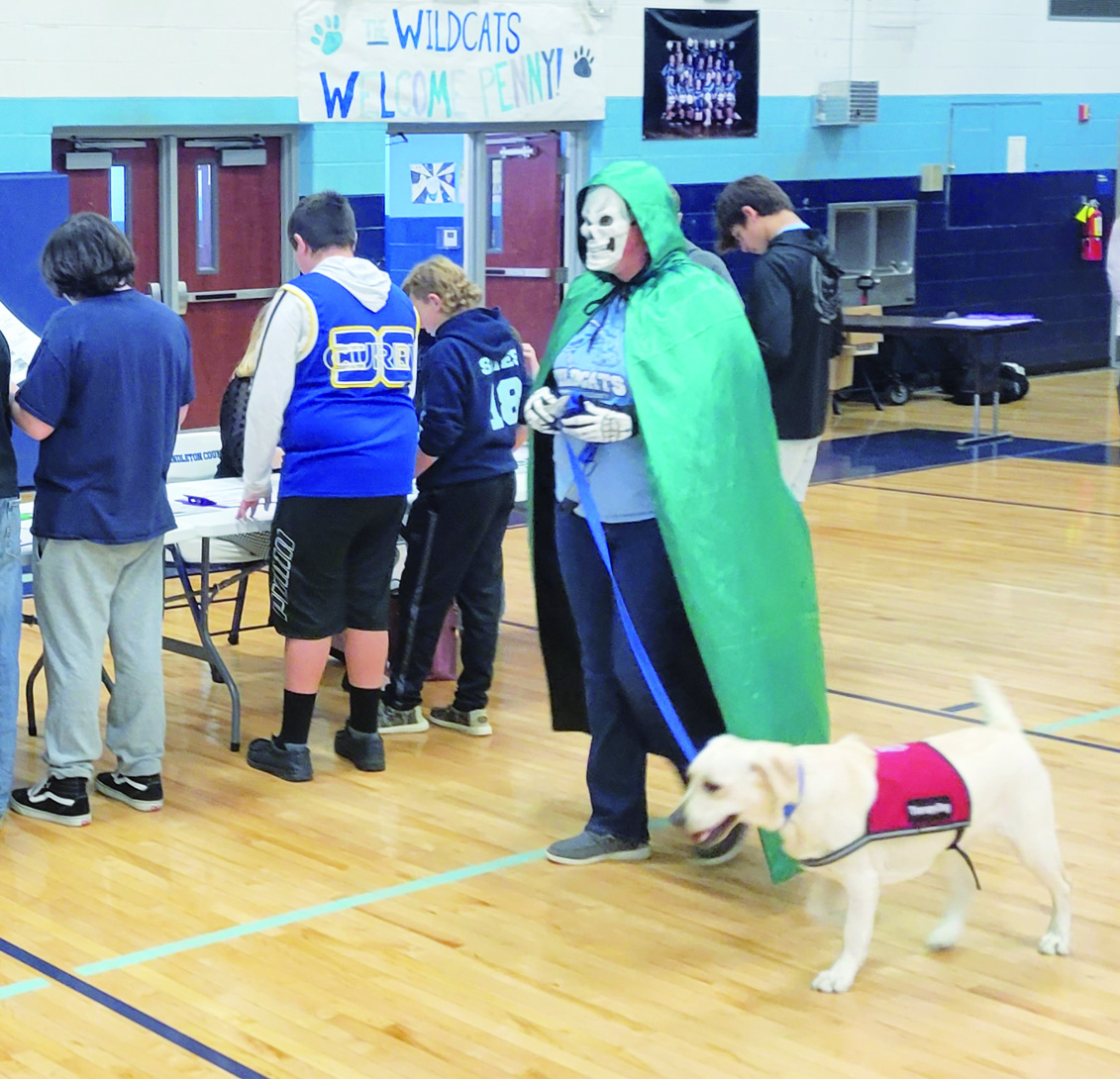 By Stephen Smoot
According to a recent study by Ramsey Education, almost nine in 10 Americans did not feel "fully prepared" to face real world financial questions and challenges. Fewer than 20 percent of students experienced financial education in school and almost three-fourths of American adults feel that a personal finance class would have helped them handle money decisions better.
The State of West Virginia is working to roll back those discouraging numbers with both programs and legislation.
Last week, Pendleton County eighth, tenth, and eleventh graders participated in the "Get a Life" program put together by the West Virginia Office of the Treasurer.
"You guys are going to experience two lives today," said Katie Holstein, a representative sent by the West Virginia Treasurer's Office.
The first "life" puts students into a realistic financial situation for most young adults start out with no skills training or other forms of higher education.  The "lives" are detailed on a sheet handed out at the start of the program.
One life situation sees the student as "sole provider for your family" with a spouse as a full-time student and related costs of that at $200. Take home pay for this "life" sits at $1,812 per month.
Another life features the student as a single parent/sole provider for a family of two children, with day care a substantial cost for the monthly take home pay of $1,643.
"Some of you might be paying child support," Holstein advised. "Some of you might be paying for child care."
Students then must go to stations to purchase housing, transportation, and other basics such as insurance, gasoline, groceries, health care, and more. "Don't buy the most expensive home," students were warned by Holstein. "It will break your budget right off the bat."
"I would encourage you to get insurance," she said. Though students had to buy home, car, and health insurance, dental and vision remained optional, though risky.
Lurking and making her way through the students was the "Green Reaper," complete with neon green cape and a skull mask. Almost every adult has tangled with the Green Reaper in their time. Sometimes she makes one's transmission go out, other times she makes the refrigerator and freezer stop running, bringing the double expense of replacing an appliance and replacing lost food.
Students soon tried to sprint away when they saw the "Green Reaper" coming, even though she had Penny the service dog happily in tow. 
Holstein explained, "It's very eye-opening for the students. They don't know how much things cost in real life. They realize that it might take two minimum wage jobs."
The 90 minute program has two parts. In the second round, students get a much higher take home pay to show the beneficial impact of learning a trade or obtaining a college degree. 
Sonny O'Neil, Pendleton County Board of Education member, ran the "gas station." He said of the program, first introduced in 2008, that "this is a really nice thing for kids. It's a little shot of reality."
"They have to choose how their lifestyle is, based on what job they want," explained Elizabeth Scott, a Town of Franklin administrator and executive director of the Pendleton County Chamber of Commerce. Other community leaders who came to help with the experience included Jennifer Taylor-Ide, Annie Humes from the Pendleton County Farmers Market, Brooke Alt from the WVU Extension Office, and Lesley Cook from Communities in Schools.
Cook said, "We love it. It's the third year I've coordinated it. The staff is very supportive."
In addition to the State Treasurer's Office program, the West Virginia State Legislature mandated that a half credit of personal finance education form a part of every high school student's experience. Many counties are working to embed the requirement into the senior level civics class. 
"My office's Get a Life program walks West Virginia students through realistic budgeting challenges to equip them with the skills and experience necessary to achieve success later in life," State Treasurer Riley Moore said, adding that "Financial literacy is an invaluable life skill, which is why it's imperative we introduce students to money management lessons as early as possible to ensure they are well-equipped to handle future financial situations."