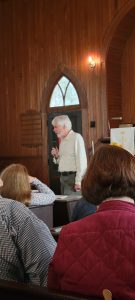 By Stephen Smoot
The Pendleton County Historical Society held its last public presentation of the year Sunday in Upper Tract. About 60 filed into the historical Upper Tract Presbyterian Church to hear Union College (Kentucky) professor John Craft Taylor share his knowledge on the Civil War.
Paul Clayton, president of the society, opened the meeting by discussing the other presentations held this year. In the spring, members heard about joining the Sons of the American Revolution and the Daughters of the American Revolution. During the summer came a talk in Circleville about the many caves in the county, as well as their history.
He then addressed the brief business meeting, saying that "the society is always looking for volunteers and that's a hard thing to find." Clayton emphasized that they needed help from anyone willing to help man the museum during the summer or assist in repairs to facilities, explicitly stating, "We need carpenters."
During the meeting, the society discussed the roles of those whose terms as officers and board members had expired. The board had the opportunity to replace or reinstall. Clayton and Rosemary Thompson agreed to stay in place as president and treasurer, respectively. Dave Sponaugle and Brenna Mitchell agreed to keep their board seats. Gayle Wright requested replacement. The board selected Robin Kile to take the spot.
"I feel like an old man," Clayton shared, "having people like Robin and Brenna on the board who were students of mine."
He then recognized visitors Bob Borror and Richard Armstrong. Borror serves as president of the Grant County Historical Society, and Armstrong the same for the organization in Bath County, Virginia. Clayton stated "we appreciate you coming up here today."
Clayton then pointed out the contributions of a private Facebook group known as "Pendleton Pals." According to their page description, "this group began as a group of amateur genealogists who research their families of Sugar Grove, Pendleton Co., WV along with their neighboring Highland Co., VA families, but the group has expanded to include people interested in families throughout Pendleton County. Individually, they have an extensive collection of old photos, memorabilia and family histories, which they are continually updating."
He presented them a small plaque, comparing them to state honored "History Heroes."
Dewayne Borror then stood to introduce the keynote speaker, John Craft Taylor. Taylor holds both a PhD in history from Penn State and a law degree from Duke and has taught history at Union for more than four decades.
Taylor opened with "I told Brenna I'd like to give a little talk to you folks on the Civil War."
His presentation covered a broad survey of topics, from Pendleton County events to the campaigns of Robert E. Lee and Thomas "Stonewall" Jackson. 
Pendleton County's geographic proximity to the Shenandoah Valley made it a natural spillover point for events occurring there. Taylor explained that "Pendleton is surrounded on all sides by very important theaters and many of her soldiers fought in them."
Additionally, the South Branch Valley as a whole contained rich sources of food and other materials needed by the Confederacy. "Robert E. Lee was always concerned about the South Branch and its supplies," he noted.
Taylor also commented on the decline of military history as an academic field of study, sharing that "if history is about change through time, never is change so dramatic and so decisive as what happens on the battlefield."
The presentation hit high points on local connections to major Civil War events as well.