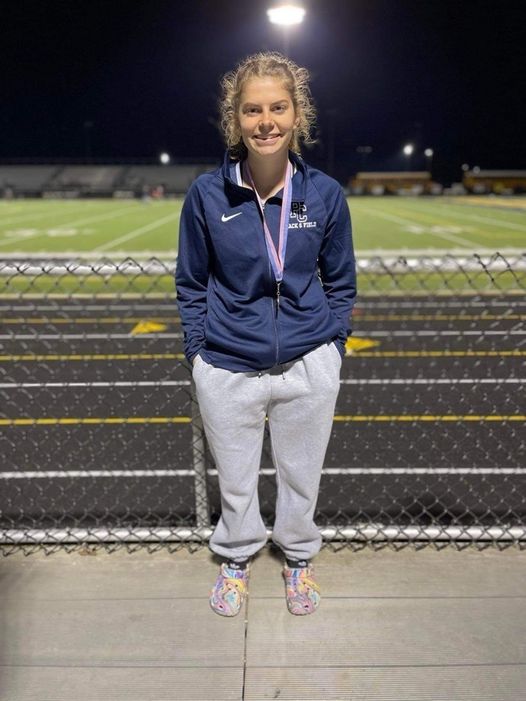 By Stephen Smoot
"I'm pleased with all my returners' continued progress from last year to this year," said Christopher Wilburn, head coach of the Wildcat track squad.
Wilburn praised "a few athletes that have surprised me with them being new to the sport." These included "my volleyball girls, Aubree Keiter, Brynlynn Waggy, and Emma Hartman, all of whome have picked up new events on the fly and have continued to improve."
"I have nothing but good things to say about the team as a whole," he added.
On April 14, the team traveled to Elkins to compete at the Irwin Invitational. Laney Sites-Woods ran for eighth place and a 14.54 time in the 100 meter, followed by Keiter who set a personal best of 15.25. Riley Apple earned sixth place in the 200 meter with a time of 30.09 with Sites-Woods following at eighth and a time of 31.26. Waggy ran for a 34.99, placing 14th.
Sites-Woods took third place in the 400 meters, setting a season record of 1:11.03. Keiter ran for 1:17.23 and 11th place, while Emma Hartman took 12th and set a time of 1:20.35. In the 1600 meters, Addie Rexrode ran for a personal record of 7:45.96 and eighth place.
In the 100-meter hurdles, Apple earned sixth place with an 18.78. She won first place in the 300-meter hurdles, finishing three seconds ahead of the next runner at 51.53.
Wildcat runners Keiter, Hartman, Waggy, and Sites-Woods placed fifth and set a 5:14.33 time in the 4×400 relay. 
In field events, BreAnna Wolfe threw for a 21 and 13th place in shot put. In discus, she placed 10th with a 60-01.50. Hartman high jumped to a fifth-place finish and a personal best height of 4-02:00. Rexrode placed eighth with a four. Apple earned second place in the long jump with a distance of 13-08.00.
Pendleton County competed in a Frankfort quad meet on the 18th against "good talent" hailing from East Hardy and Hampshire.
On the 20th, the girls traveled to Alumni Stadium to compete in the Potomac Valley Conference championships. They joined East Hardy, Paw Paw, Petersburg, Pocahontas County, Tucker County, Tygarts Valley, and Union.
In the 100-meter race, Sites-Woods placed ninth with a 14.74. Apple took third place in the 200 meters with a personal record of 29.88. Sites-Woods followed with a personal record of 31.16 and seventh place finish. She earned sixth place in the 400 meters followed by Keiter at eighth with a timing of 1:17.72. Rexrode ran for a 7:55.98 in the 1600 meters.
In the 100-meter hurdles, Apple ran for a personal record of 18.52 and sixth place. She also set a personal best in the 300-meter hurdles, earning first place with a 51.37. 
Wildcat runners Hartman, Keiter, Rexrode and Waggy earned fifth in the 4×100 relay for a 1:04.56. In the 4×200, the squad of Hartman, Keiter, Rexrode, and Waggy placed fifth with a 2:15.98. The same team also placed fourth in the 4×400 with a time of 5:07.78.
In field events, Wolfe threw the shot put 21-08.00 for 13th place and the discus 64 feet for an eighth-place mark. Rexrode took sixth place in the high jump with a mark of four feet. Apple leapt 13-01.00 for a ninth-place long jump finish.
Wilburn described how having smaller numbers has created challenges. "Though our numbers are headed in the right direction," a smaller team creates challenges of depth. Wilburn also stated that the talent competing for Pendleton County can compete well against other area teams.