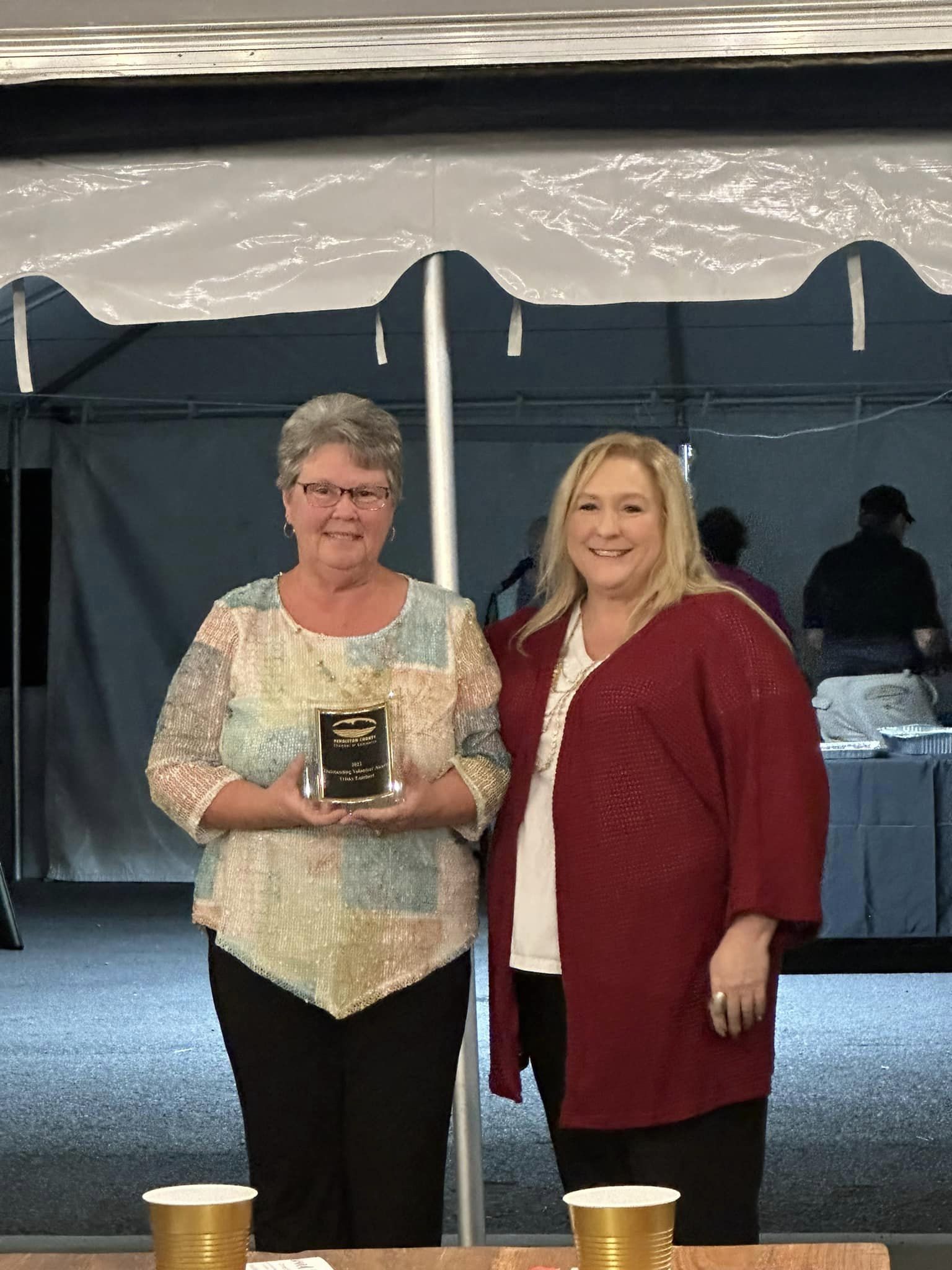 By Stephen Smoot
"I hope you all are enjoying this evening. Thank you so much for coming," said Pendleton County Chamber of Commerce chair Kristin Dingess.
She added that "we've seen great growth in the chamber membership this year."
The Pendleton County Chamber of Commerce held its 2023 dinner in the same venue as 2022, Swilled Dog Distillery in Upper Tract. Approximately 100 members, business leaders, elected officials, and others came to celebrate a year of progress and to honor awardees.
"It's not just about the chamber," said executive director Elizabeth Scott, "but everyone in the community."
Before Country Roads Catering served a dinner of roast beef, roast chicken, mashed potatoes and gravy, green beans, salad, roll, and dessert, local musician Mike Eye performed 80s and 90s classics from such bands as the Black Crowes and the Wallflowers on his acoustic guitar.
Scott introduced the keynote speaker for the evening, former House of Delegates member and Franklin attorney, Isaac Sponaugle. Sponaugle opened up with a plea to those who took advantage of the one free drink provided by the chamber, imploring "guys! You got to tip the bartenders!"
He then opened up with the theme "a rising tide lifts all boats," and explained the phrase's origin. Sponaugle shared. "It's a John F. Kennedy saying. He got it from a regional chamber of commerce" on the northeast coast. Officials there were inspired by watching the high tide move into the harbor, lifting all of the boats. 
"That's the same idea," he said. The chamber is "trying to make the tide rise."
Sponaugle said that as federal and state facility spending has receded in Pendleton County, "it's more important now than ever that we take care of ourselves in the private sector." He explained that the chamber provides networking opportunities to connect with experts and other resources to help expand and build business.
"We want a community that's good to live in, good to work in, and good to play in. We need to make the tide rise," he concluded.
Scott built on Sponaugle's talk by explaining that "we want you to tell us what you want" in terms of helping business owners build their establishments.
She then announced that the chamber, Pendleton County Historical Society, and Town of Franklin would collaborate on a remembrance event about the 1924 town fire. Scott shared that "we've already started on it," adding that she and others interviewed Woodrow Hartman, who was eight years old at the time of the blaze. Scott also asked for any before and after photos that might exist for a slideshow that will be presented on the April 24 event.
Next came the chamber awards. First, she gave the Small Business of the Year Award with Deep Clean Machines Laundromat, Aumann's Custom Auto, Korner Shop Café, and Potomac Hardware as nominees. Aumann's, who overcame an all-consuming fire in the past year, received the award.
Next came the Cornerstone Award, the highest award for a business given by the chamber. Of a group of nominees that included Pendleton County Schools, Pendleton Community Bank, and Summit Community Bank, T&K Markets earned the prize.
Pendleton Senior Center was named Non-Profit of the Year. Janice Lantz, executive director, stepped forward to accept the award, saying "we're grateful and appreciative for all the support we get from the community."
Frisky Lambert, a veteran of Town of Franklin recreational programs and other duties, won the Outstanding Volunteer award, with Brooke Alt, Donna Evick, and Scott also nominated. Lambert said, "All the little ones, and all the older ones who helped me, thank you."
Brooke Alt was also nominated, along with Cory Thomas, Chelsey Simmons, and Jared VanMeter, for Young Professional of the Year. Alt, who works with the West Virginia University Extension Office, took the award.
Finally, Scott presented the Carole Hartman Memorial Leadership Award. As she explained, it went posthumously to Hartman last year and now bears her name. She said that it goes to "an outstanding individual that people look to for guidance."
Nominees included Barb Hamilton, Frisky Lambert, Scott, and Bill Loving. The award went to Dr. Greg Bowers. Scott joked, "There's a ballgame, so we all know where Greg is." He asked Scott to deliver his speech for him, including saying "I always said if I need something done, I'd call 10 men or Carole Hartman."
Scott concluded the evening by inviting attendees to stick around and socialize, then said, "Thank you guys so much for coming out."