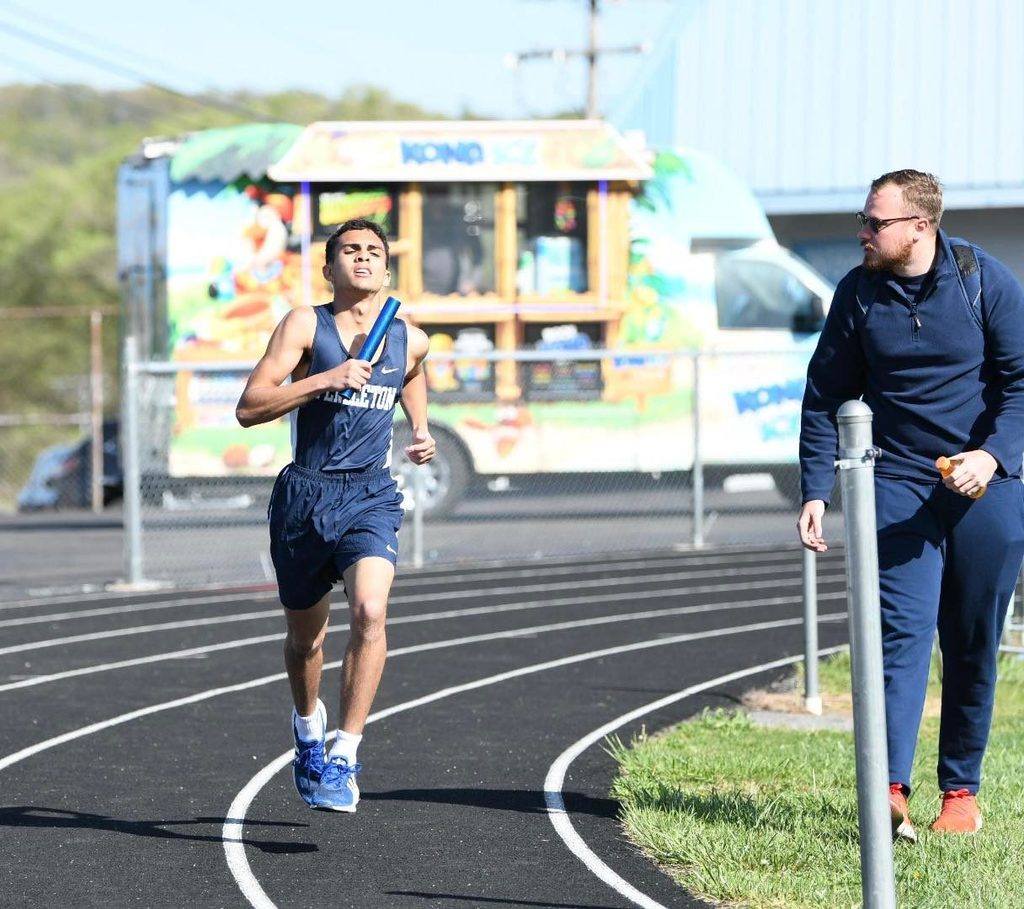 By Stephen Smoot
Over the past month, the boys' track team has continued to gain momentum as the post season looms ahead. Christopher Wilburn, head coach, stated that "all athletes have shown continued progress" by the halfway point in the season. Tough competition in the opening meets helped the team to improve as well. 
Wilburn added that he was impressed with the progress of newcomer Titus Nulph. Also, Sawyer Apple "has improved 110 percent from a year ago and Isaiah Lockard has come along in the 400."
On April 14, the boys competed in the Irwin Invitational, scoring 77.5 points and placing seventh against a strong field of double and single A talent. Elkins took first place honors, and the Wildcats placed above Petersburg and Braxton County.
"The competition at Elkins was local area talent with a few double A teams," Wilburn explained. He added that "it's a new track facility which resulted in a lot of PRs all around that day from sprints to the distance to the throws."
In individual results, Lockard set a personal record placing sixth and running a 12.58 on the 100 meter. He also set a personal record in the 200 meter with a time of 25.64 and placing fifth. Also placing in the 200 meter for the Wildcats was Gabriel Harvey, placing seventh with a time of 26.40.
Lockard placed third in the 400 meters, with a time of 56.78, and Logan Fisher set a personal record while placing seventh and hitting a 102.27 mark.
In the 800 meters, Gage Sites-Woods took first place honors with a time of 2:15.47. Marcus Smith followed with ninth place and a personal record time of 2:37.98. Wildcat runners competed very well in the 1600-meter race with Sites-Woods placing second, running for a 5:16.44 time. Thunder Gill ran like greased lightning for a personal best 5:21.45 and fourth place. Nulph also earned a personal record with a sixth-place finish and a 5:35.18 mark
Gill also placed fourth with a 11:42.38 in the 3200 meters.
In the 110-meter hurdles, Apple claimed second place and set a personal record of 18.24. Apple earned first place in the 300-meter hurdles, setting a personal best at 47.14. Pendleton County also took first place in the 4×400 relay. Sites-Woods, Fisher, Harvey, and Lockard set a 3:55.71 time.
In the field events, Sites-Woods threw the shot put 36 feet to place ninth. Ryland Copley followed at 13th with a personal best of 29-07.25. Evan Teter followed in 14th with a 28-10.00. In the discus, Teter threw for a personal best 88-09.50. Copley followed in 12, throwing for 83-03. Victor Rhodes threw a 47-05 as well and placed 19th.
Apple took third place honors in the high jump with a 5-4:00 while Harvey placed sixth with a 5. In the long jump, Apple leapt into second place with a personal best of 17-06.00. Harvey also set a personal best with a 16-02.50 and seventh place. Finally, Marcus Smith took ninth with a mark of 15-11.00.
After the Elkins event, the team traveled to Frankfort on April 18. 
On April 20, the Wildcats traveled to Keyser to compete in the Class A Potomac Valley Conference championships. Also present were Union, Pocahontas County, Petersburg, Tygarts Valley, Tucker County, Paw Paw, and East Hardy.
Lockard placed seventh in the 200-meter race with a time of 26.02. He also set a personal record while running 56.54 and fifth place in the 400 meters. Fisher took 12th place with a 1:03.21. In the 800-meter race, Sites-Woods earned fifth place with a time of 2:20.14. He also took fifth place in the 1600-meter race, earning a time of 5:16.66. Gill placed eighth with a 5:34.86.
In the 110-meter hurdles, Apple placed third and ran for a 19.88. He then placed second with a time of 48.21 in the 300-meter hurdles. Harvey took fourth and ran for a personal record of 49.95.
Pendleton County's team of Fisher, Copley, Teter, and Rhodes in the 4×100 meter relay took seventh place with a time of 56.33. In the 4×200, the team of Fisher, Smith, Teter, and Lockard placed fifth with a time of 1:56.21.
The 4×400 relay team of Fisher, Harvey, Sites-Woods, and Lockard earned a second place finish with a time of 4:00.16. Wildcat runners Gill, Sites-Woods, Smith, and Nulph ran for a time of 10:12.61 and fourth place in the 4×800 relay.
In the shot put, Teter threw for a personal best of 31 feet and 16th place. Copley followed with a 28-11.00 and Rhodes threw for a personal record of 17-04.00. Teter placed 14th in the discus with a distance of 88-09. Copley placed 19th with a 77-06 and Rhodes threw for a 44-05. 
Wilburn said that his athletes "have showed grit and effort to get results," adding that "I have to give props to the mid distance and distance crews. As a whole, they've battled sickness and injuries . . . and have continued to gut it out and get better each week."
"Our current team, compared to the other teams in the area, can compete talentwise," Wilburn explained, but added that "it makes it tough being one of the smaller teams in the area," when it comes to depth.