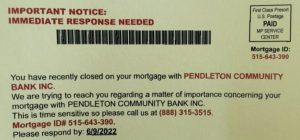 By Ammie Ruddle
Dwayne Davis, the assistant vice president and business development officer of Pendleton Community Bank advises customers to be cautious of potential scams. After a postcard proclaiming to be from PCB regarding a mortgage was mailed to a customer, Davis is taking action. 
He said, "Customers and residents should reach out to PCB before calling the number listed on the letter, email, or text message and giving out any personal information."
"PCB will likely call the customer directly if there is an issue regarding a loan or bank account," Davis said. 
"Many of the social media 'quizzes' are a front for acquiring personal information to use in order to steal identity or money," he explained. "These scam artists can find information using public records, hence the postcards about mortgages that have been circulating."
He also added, "that people should be mindful of giving out any personal information, especially on social media." 
NOTE: Use on front only if needed.