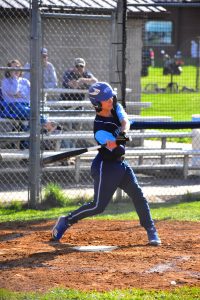 By Shawn Stinson 
Following a tough start to its week, the Pendleton County baseball team closed it out with two victories to prepare for the final stretch of the season. 
Musselman knocked off Pendleton 15-2 in five innings on April 20 in Franklin. It was the same story two nights later as East Hardy downed Pendleton 15-2 in five innings in Franklin. Pendleton bounced back the following day by edging Highland County 6-4 in Monterey, Virginia. Pendleton extended its winning streak to two games with a 6-2 victory against Tucker County on April 25 in Hambleton. 
Pendleton is now 6-8 on the season. 
The Applemen led 4-1 heading into the top of the fourth when they took advantage of a two-out walk to score six runs. Musselman plated five more runs in the fifth to claim the 15-2 run-rule victory. 
Allden Rexrode paced the Wildcats with two hits and a run. James Vincell recorded a run-scoring double in the loss. 
East Hardy took advantage of walks, hits and errors to score 10 runs in the top of the first inning en route to posting a 15-2 road victory. The Cougars added a single run in the second and tacked on four more runs in the fourth. The Wildcats scored single runs in the third and fifth. 
Brayden Beachler recorded the lone hit for Pendleton in the loss. Landon Colaw and Josiah Kimble each had a sacrifice fly for the Wildcats. 
Pendleton was able to end its losing skid behind the pitching performance of Vincell. The freshman hurled a complete game and allowed five hits to Highland County hitters. He struck out seven and did not walk a batter. Vincell had a single and two RBIs at the plate. 
Clayton Kisamore, Jayden Roberson and Beachler all went 2 for 3 for the Wildcats. Beachler and Kisamore both added an RBI. Rexrode was 1 for 1 with two RBIs and two runs scored. 
In the victory against Tucker, Kisamore went the distance on the mound. He struck out 12, allowed four hits and no earned runs in the win. He aided his own cause at the plate with a hit, two runs and an RBI. 
Rexrode was the hitting star again for Pendleton with two hits and two runs. Cameron Beachler added two hits and two RBIs. Vincell went 1 for 3 with two RBIs. Colaw also recorded an RBI for the Wildcats. 
Pendleton scored two runs in the first, two in the third and added two insurance runs in the seventh to pull away from Tucker. 
Pendleton coach Sam Yokum said he was pleased with his team being able to bounce back from the two blowout losses to post two victories. He praised the pitching performances of both Kisamore and Vincell. 
"They pitched well," Yokum said. 
Pendleton was scheduled to square off with Moorefield April 26 in Franklin before heading to Cooperstown, New York, for two contests against Jefferson. The two teams are set to battle at 1 p.m. Friday and again at 10 a.m. Saturday on Doubleday Field in Cooperstown. Pendleton will return home for a rematch against Highland County on May 2 in Franklin. Tucker will square off with Pendleton on May 3 in Franklin. Pendleton will look for revenge against East Hardy on May 4 in Franklin.